Make a beautiful handmade birthday card for someone you love and send them some birthday wishes. An easy DIY craft tutorial idea.
Complete step by step tutorial below!
Do you like to make and give handmade cards? I love giving a card to someone special that I made just for them and hear them say, "You made this! It is beautiful!"
This is a fun card to make with matching patterned paper.
Supplies Used to Make a Birthday Wishes Handmade Card
Items linked below may go to similar items when exact items couldn't be found online. Links are affiliate so when you purchase, I will get a small kickback to help fund the next tutorial!
How to Make a Birthday Wishes Handmade Birthday Card
Begin by choosing the coordinating paper, this is my favorite part!
Cut the sheets into strips and punch out A LOT of labels using a label paper punch.
On a piece of 12 x 12 white cardstock, glue the shapes evenly spaced apart.
Cut the 12×12 sheets into 6, 4 x 5 1/4 squares to adhere to the front of the cards.
Stamp birthday greeting onto a strip of white cardstock and use the same label paper punch to punch it out.
Ink around the edges of the birthday greeting label and add 3 small pearls to the bottom.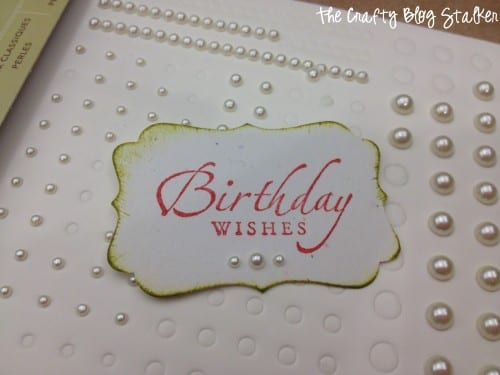 Tie a ribbon around the 4 x 5 1/4 square and put some adhesive foam dots on the back of the birthday label to make it stick up off of the page a little.
Lay a piece of ribbon over the rectangle card front and adhere by glue the two ends to the backside of the rectangle. Apply the birthday label to the front of the rectangle over the ribbon.
Glue the card front onto another piece of white cardstock that measures 5 1/2 x 8 1/2 and is folded in half.
Wallah, the card is finished and ready to be given to your favorite person for their birthday!
What is your favorite birthday card you have received? Share and leave a comment below!
Follow me on Pinterest and you can see all the DIY projects I'm pinning!
You Might Also Like These Tutorials: