Drink your coffee and smile with these funny mugs! Make a set of your own Stackable Coffee Mugs using vinyl and a Cricut. The SVG file is available too!
Funny mugs are much more entertaining than boring blank ones, would you agree? These coffee pun mugs are sure to make you smile as you fill your cup!
Supplies Used to Make Vinyl Stackable Coffee Mugs
Some links may be too similar items when exact items couldn't be found online.
Vinyl Stackable Coffee Mugs Video Tutorial
Like videos? I have a video tutorial for you! Please subscribe to my YouTube Channel so you don't miss out on any future video tutorials!
Cutting the Design
Grab the Coffee Puns SVG Cut File.
Upload the SVG file into Cricut Design Space and size the designs to fit your cups. I sized them to each be about 1.25 inches tall to fit in the open space of my mugs.
The file does give you an option to cut the sayings out of two different colored pieces of vinyl. Since they are so small I decided to make them all one color. To do this highlight all of the images and select "Attach".
Select "Make It" to send the design to your Cricut machine to be cut. Once in mat preview, change the quantity to 2, because you want two decals per mug.
Make sure to use premium vinyl because it is top-shelf dishwasher safe, so you won't have to handwash your new favorite mugs!
Once cut, peel the vinyl from the mat and cut the different puns apart. Then weed the vinyl decals. Since the designs were pretty small to fit my cups, I did have to move slowly and carefully.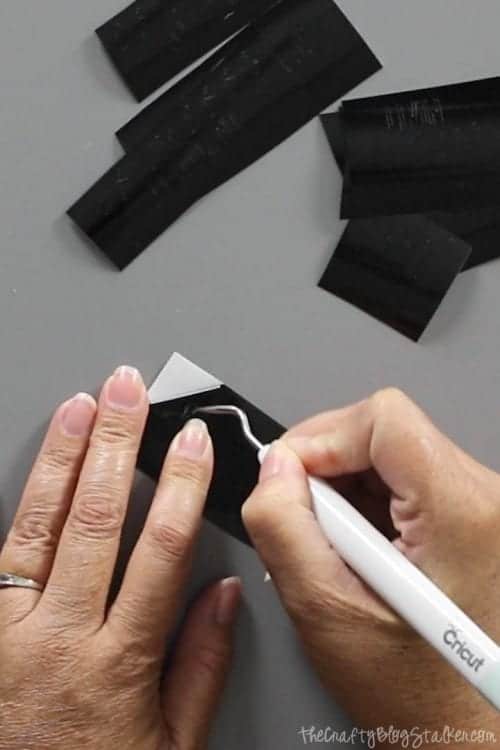 Applying the Vinyl to the Mugs
To mark the mugs where the vinyl decal is going to go, use a dry erase marker and draw a line down the mugs in the rack. Make sure to do the front and the back since we are applying two decals per mug.
Cut a piece of transfer tape just a bit larger than the biggest decal. Transfer tape can be used multiple times so we only need one piece to transfer the vinyl to all of the mugs.
Remove the paper backing of the transfer tape and apply, the sticky side down to the vinyl decal.
Carefully peel up the transfer tape, removing the vinyl from the backing paper.
Center the decal between the two dry erase marker lines. Lay the decal onto the mug and then rub with your thumb or finger.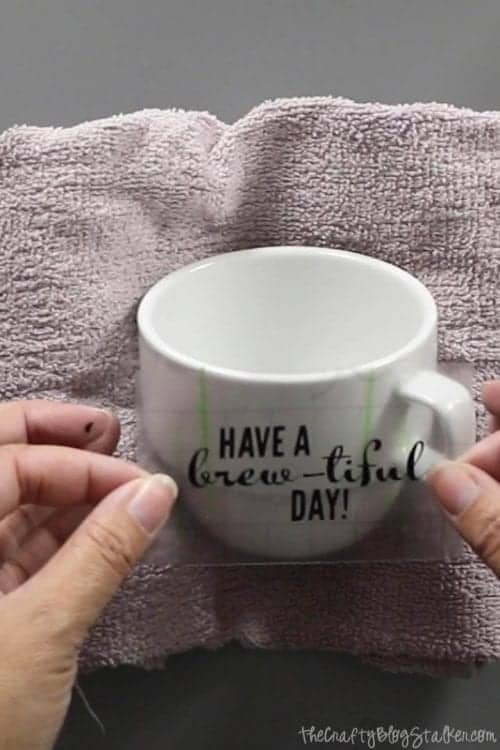 Slowly peel back the transfer tape, making sure the vinyl is sticking to the mug.
Repeat for the opposite side of the mug, and for the rest of the stacking mugs.
Aren't these stackable mugs fun?!
And the puns line up so perfectly in the rack!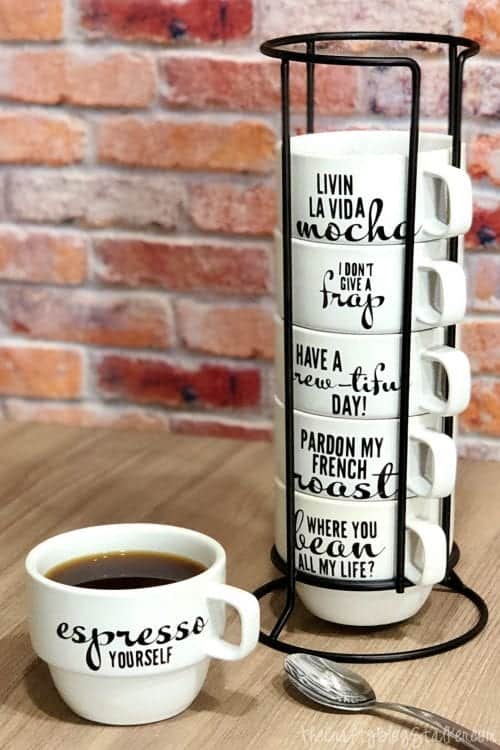 Our Crafting Essentials List:
Follow The Crafty Blog Stalker