Start your day off right with a filling and hearty breakfast. Choose from 20 recipe ideas that will definitely turn you into a morning person.
Deciding what to make for breakfast can be difficult. For some reason, breakfast is the hardest meal for me to create a menu for.
Not anymore! Now I can turn to this list whenever I am drawing a blank, and it can do the same for you too!
More Recipe Round-ups:
I'll be the first to admit that I don't love to cook, but I do love gathering around the table and talking about our day. To help with meal planning, I go to recipe round-ups where I can get lots of recipe ideas all in one place. That is why we love to share recipe round-ups!
Like 20 Easy and Tasty Salad Recipes for Dinner, 20 Easy Donut Recipes are Delish, and 23 No-Cook Ice Cream Maker Recipes.
Take a look around and see all of the recipes we have!
Hearty Breakfast Recipes:
Visit the website for the recipe step-by-step tutorial.
1. Ham and Egg Grilled Cheese Sandwich from The Crafty Blog Stalker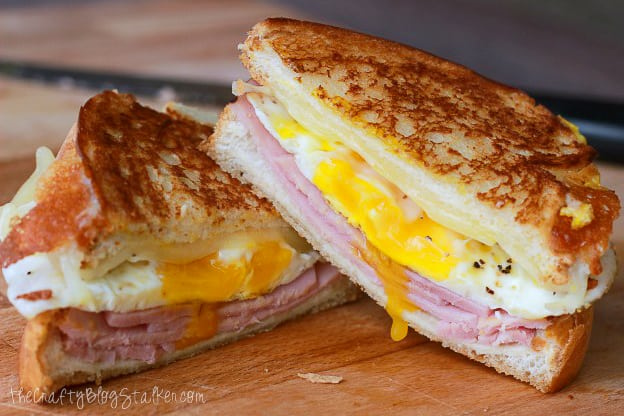 2. German Pancakes from Ashlee Marie
3. Sausage Rolls from The Crafty Blog Stalker
4. Quick and Easy Baked Egg Breakfast from Tried and Tasty
5. Breakfast Pizza from Bottom Left of the Mitten
6. Coconut Chocolate Chip Scones from Creations by Kara
7. Churro Waffles from Cupcake Diaries
8. Mexican Breakfast Tacos from Homebody Eats
9. Southwest Breakfast Casserole from Butter with a Side of Bread
10. Savory Breakfast Bowl from Two Peas and Their Pod
11. Breakfast Roll-Ups from Flavorite
12. Tater Tot Breakfast Casserole from Tornadough Allie
13. Scrambled Egg Breakfast Muffins from Life in the Lofthouse
14. Biscuits and Gravy from Or So She Says
15. Potatoe Sausage Casserole from Valentina's Corner
16. Savory Quinoa Breakfast Bowls from Easy As Apple Pie
17. Hashbrown Egg Bake with Bacon from Finding Zest
18. Mountain Man Breakfast from Iron Lodge
19. Cheesy Mashed Potato Egg Casserole from Julie's Eats and Treats
20. Loaded Breakfast Pot Pie from Hungry Couple
If you love these recipes, please help me by sharing this post on Facebook and Pinterest!
Our Baking Essential List:
Follow The Crafty Blog Stalker