A simple and delicious recipe for Sausage Rolls that makes a great grab-and-go breakfast!
Every family has dishes that were made in their home so often that when you make and eat them later in life they feel and taste like home.
Sausage Rolls is one of those dishes for me.
My mom would make sausage rolls for a weekend breakfast with a delicious gravy or to enjoy on the go to grab on our way out to school.
More Delicious Recipes:
Did you know that we love to share our most favorite tried and true recipes with you? Like these White Chocolate and Cranberry Oatmeal Cookies, Coca-Cola Chicken Drumsticks, and Blueberry Cream Cheese Pastries.
Be sure to look around the blog for more delicious recipe tutorials!
Ingredients You'll Need For This Recipe:
This post contains affiliate links.
1 pound Ground Sausage - brought to room temperature
Bread Machine Dough:
Making the Dough:
Put all of the ingredients in the bread maker in the order listed. Set your bread machine to just mix/raise the dough and take the dough out before it bakes the bread.
Place the dough on a floured surface.
Forming the Rolls:
Roll out the dough.
Spread the thawed, uncooked sausage over the dough.
Gently roll up the dough.
Using a piece of thread, cut the roll into slices about 1 ½ inches thick.
Place each slice into a greased dish.
Let the rolls rise for about 30 additional minutes.
Bake:
Place in a 400-degree oven for 18-20 minutes or until the tops are golden brown.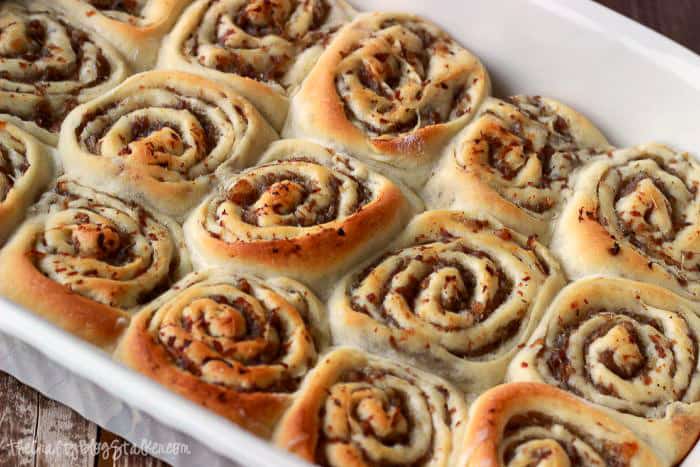 Serve hot out of the oven.
These can be stored in the fridge and reheated in the microwave (I even like them cold from the fridge).
These can also be made to go with your favorite gravy for a delicious take on biscuits and gravy!
Our Baking Essential List:
If you love this recipe tutorial, please give it a five-star review and help me share it on Facebook and Pinterest!
[mv_create key="165" type="recipe" title="How to Make Sausage Rolls Recipe" thumbnail="https://thecraftyblogstalker.com/wp-content/uploads/2015/09/sausage-rolls-recipe-2.jpg"]
Follow The Crafty Blog Stalker