Starting with a box of pancake mix, you can add fresh fruit to create a breakfast surprise for your family on a weekend morning.
My kids love pancakes for Saturday morning breakfast. I will often use the Aunt Jemima pancake recipe mix to make up a big batch of pancakes and add in different things my family loves.
The kids love giving me ideas of things to add to our pancakes - our favorites are blueberry pancakes and chocolate chip pancakes.
I sometimes do other fruit like raspberries and strawberries, and sometimes I add some chopped-up cooked bacon to the pancakes. It all depends on the flavor we are craving.
To help make my life just a little bit easier I will make a bunch of pancake batter on Saturday and cook up different kinds of pancakes.
My kids enjoy the pancakes on Saturday and I store the leftover pancakes in the fridge.
Throughout the week my kids grab a couple of pancakes out of the fridge and microwave them for 20 seconds and they have hot delicious pancakes for breakfast. It is such a time saver for me!
More Breakfast Recipe Ideas:
Did you know that we love to share our most favorite tried and true recipes with you? Like these Sausage Rolls, Easy Chocolate Glazed Donut Recipe, and this Fruit and Yogurt Parfait.
Be sure to look around the blog for more delicious recipe tutorials!
Ingredients You'll Need For This Recipe:
This post contains affiliate links.
Instructions:
Today I mixed up three batches of pancake mix in a large bowl.
First, simply add the Aunt Jemima pancake mix powder you need (per the box instructions).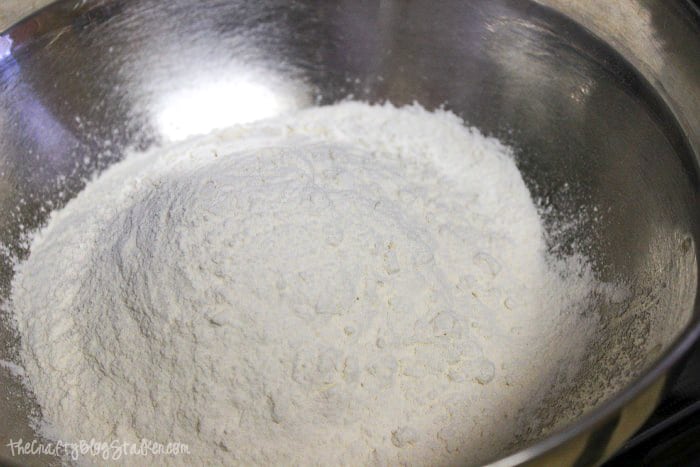 Pour in your water (per the box instructions) and mix until there are no large lumps.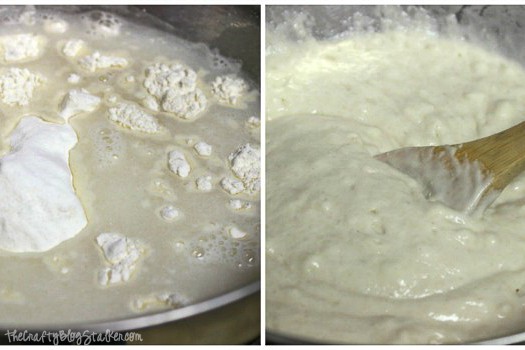 I then divided the batter mixture into 3 bowls. You only need to do this if you are making several batches with different mix-ins.
One bowl I left plain.
In another, I added ½ cup blueberries.
In the last, I added ¼ cup mini chocolate chips.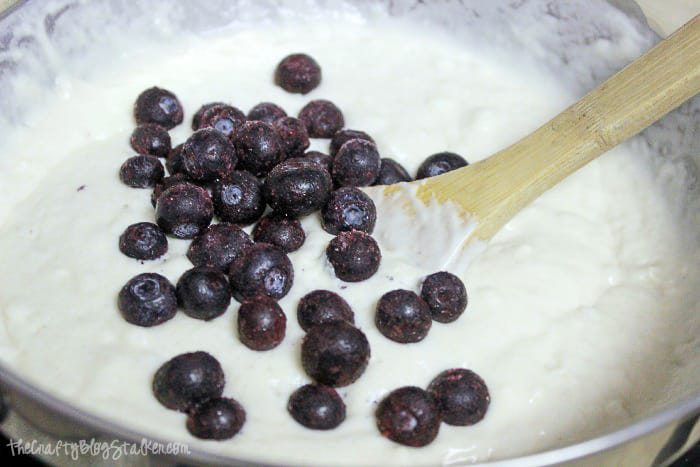 Set your heat at a medium setting or 375 degrees, grease with some spray.
Drop ¼ cup of batter onto a skillet or griddle for each pancake.
After a couple of minutes, the pancake should be browned and cooked and you can flip it over to cook on the other side.
Even though I used frozen blueberries this was enough time to cook the blueberries as well.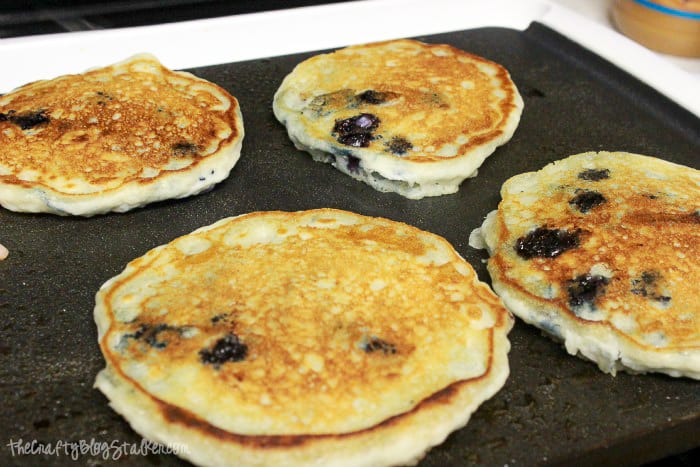 Serve up a stack with Aunt Jemima syrup and enjoy!
These extra fluffy pancakes with fresh blueberries are so good!
Easy blueberry pancakes for the win!
Our Baking Essential List: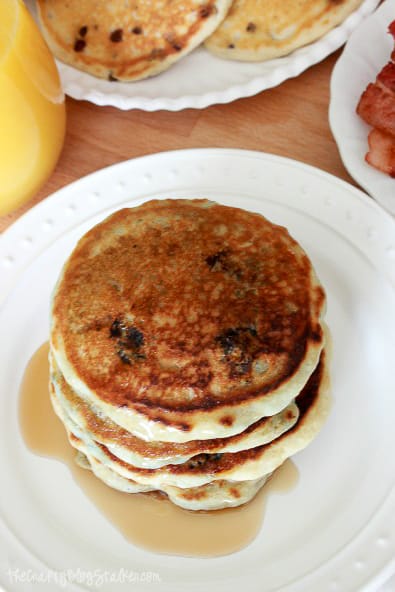 If you love this recipe tutorial, please give it a five-star review and help me share it on Facebook and Pinterest!
[mv_create key="199" type="recipe" title="How to Make Easy Step-by-Step Aunt Jemima Blueberry Pancakes" thumbnail="https://thecraftyblogstalker.com/wp-content/uploads/2015/11/aunt-jemima-blueberry-pancakes-03.jpg"]
[mv_create key="15" type="list" title="Recipe Round Up" thumbnail="https://thecraftyblogstalker.com/wp-content/uploads/2017/02/bread-maker-recipes-2.jpg" layout="hero"]
Follow The Crafty Blog Stalker