Baked eggs are an easy breakfast and are a tasty alternative to fried eggs. Here are step-by-step instructions on how to make baked eggs in the toaster oven. If you make a purchase using the links included, we may earn a commission.
Today's Baked Eggs recipe is one that could be made in your regular oven or a Toaster Oven. I prefer using a Toaster Oven, especially on a hot day - so my entire house doesn't get heated up by the oven.
This is also a fun recipe to have a variety of different toppings for people to choose from to make their own Baked Eggs. Today I am sharing my favorite ingredients to have in mine.
Recipe Tutorial Video:
Like videos? I have a video tutorial for you! Please subscribe to my YouTube Channel so you don't miss out on any future video tutorials!
More Breakfast Recipe Ideas:
Did you know that we love to share our favorite tried and true recipes with you? Like Sausage Rolls, Ham and Egg Grilled Cheese sandwiches, and Aunt Jemima Blueberry Pancakes.
Be sure to look around the blog for more breakfast recipe tutorials!
Ingredients You'll Need For This Recipe:
Gather your ingredients - you can really add things that you like to have in your eggs. I grabbed eggs, cheese, ham, onions, mushrooms, and spinach.
Butter
Fresh Spinach
Fresh Mushrooms
Onion
Ham
Eggs
Milk
Salt and Pepper
Mozzarella Cheese
Baked Eggs in a Toaster Oven
The first time I made this I just added everything into the ramekin to cook and it just DID NOT turn out well. Too much liquid. I should have realized that would happen because there is so much moisture in the mushrooms, spinach, and onions. So I tried it again in a different way and it worked great.
To start, precook the mushrooms, onions, and spinach. Add a bit of butter to a skillet and cook the mushrooms and onions together until they are tender.
Place the spinach on top and let it sit on top for a bit to steam cook it.
After a couple of minutes mix the spinach into the mushrooms. I am always surprised by how spinach can cook down to such a small amount.
Butter the sides of your ramekin and add some of your spinach and mushrooms.
Then add in other ingredients - like some chopped ham, turkey, or whatever meat you have on hand.
Next it is time for the eggs. If you like runny eggs you can crack the eggs directly into the ramekin.
If you prefer more of a scrambled egg, break the eggs into a separate containers. Add a bit of milk, salt, and pepper to taste. Then stir with a fork and pour the eggs into the ramekin.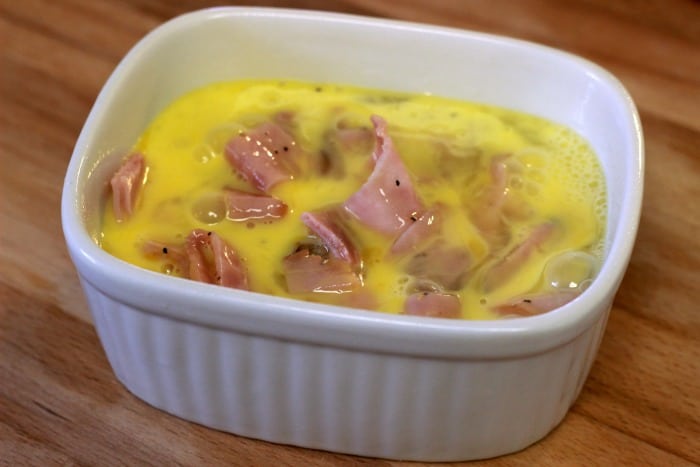 Most recipes I have seen for baked eggs have you adding the cheese to the top from the beginning. But I like to make sure my eggs are cooked all the way through and then add the cheese.
Turn on your toaster oven to about 375 degrees.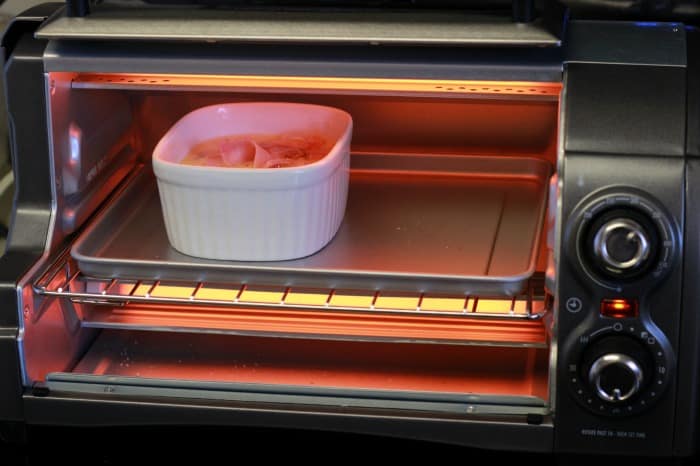 Bake your eggs for about 12 minutes and then check the eggs to make sure they are done to your liking.
Sprinkle the cheese on top and add some buttered bread to toast in the toaster oven.
Cook long enough for the cheese to melt and turn a light golden brown.
Serve and dig in!
This is a fun way to make morning breakfast with the family - just have all of the toppings ready for everyone to pick and choose what they want in their delicious baked eggs!
Our Baking Essential List:
Baked Eggs in a Toaster Oven
Baked eggs are an easy breakfast and are a tasty alternative to fried eggs. Here are step-by-step instructions on how to make baked eggs in the toaster oven.
Ingredients
1

tablespoon

Butter

1

handful

Spinach

½

cup

Mushrooms

¼

Onion - Chopped

2

Eggs

1

teaspoon

Milk

¼

cup

Mozzarella Cheese - Shredded

Salt and Pepper - to taste
Instructions
Heat butter in a skillet. Add your mushrooms and onions and cook until tender. Add your spinach and gently stir into the mushrooms until tender.

Add some spinach/mushrooms into a greased ramekin and top with some pieces of ham. Add your eggs - 2 whole eggs per ramekin or 2 scrambled eggs (I like to scramble with a bit of milk salt and pepper).

Bake in a 375 degree toaster oven for 12 -15 minutes or until the eggs are how you like. Add some cheese and return to the toaster overn until cheese is melted.
Title:
How to Make Baked Eggs in a Toaster Oven
Mentions:
30 Minutes or Less
Keywords:
toaster oven eggs
Last Updated:
September 6, 2023