On my side of the family, Potato Salad is a staple. Every family event we all ask my Mom to make her supper yummy Potato Salad. It is so good!
It is actually a very simple recipe and maybe that is what makes it so fantastic, or maybe it is all of that motherly love that she cooks with, but either way, this salad won't disappoint.
Ingredients for Potato Salad
Click here for the printable PDF version of this recipe.
4 Potatoes
4 Hard-Boiled Eggs
1/2 medium Onion
1 tsp Vinegar
Mayo
Salad Dressing
Mustard
Salt & Pepper
Let's start with the potatoes. Use a vegetable peeler and remove the skin.
Then comes the dicing. I used to dread dicing until I learned a fast and easy way to do it.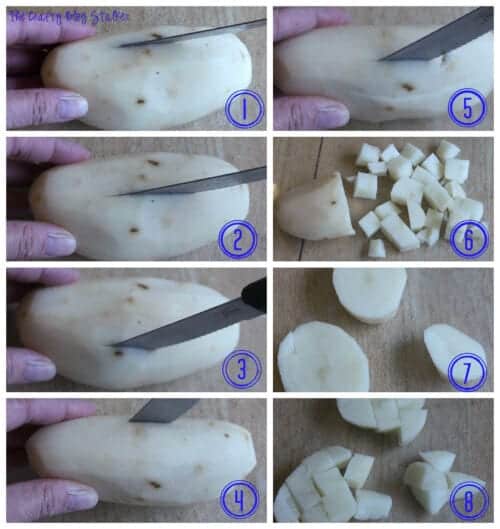 How to Quickly Cube a Potato
1-3) Hold the potato at the base and cut slices without cutting the base. This potato took 3 slices but it depends on the size of the potato and how big you want the chunks to be.
4-5) Turn the potato 1/4 turn and slice again without cutting the base. This potato took 2 slices on its side.
6) Your perfect cubes will fall away.
7) Then you only have to worry about cubing the ends into a couple of pieces
8) and cube.
I can cube a potato much faster using this method.
When all the potatoes are cubed put them in a saucepan and cover with water. Boil until the potatoes are easily pierced with a fork.
I think this is where my Mom's secret lies. Her potatoes are always perfect. Not so soft that they are crumbly or mashed and not too hard.
While the potatoes are boiling start boiling eggs.
Put the eggs in the bottom of an empty saucepan and then cover with water. Set the heat to medium-high. When the water starts to boil set the timer for 10 minutes and let the eggs continue to boil.  When the 10 minutes is up put the pan in the sink and run cold water into the pan to help cool the eggs.
Peel the eggs and slice them using an egg slicer.
Add the sliced eggs to a large bowl.
When potatoes are done cooking, strain the water and add potatoes to the bowl with the eggs.
Chop half of a medium onion (you can use the same method I used above on the potato) and add to the bowl.
My mom says the secret to her salad is she uses 1/2 mayo and 1/2 Salad dressing. Now, I don't know how to tell you how much to add because this is a personal preference.
Some like wet potato salad while others like it a bit drier. What I do is add a heaping scoop of both and stir it into the potatoes, and keep adding till it is at my preferred consistency.
Add a small splash of Vinegar, Mustard and Salt Pepper to taste.
Stir with a spoon until well combined.
You can serve immediately but the potatoes will still be warm from boiling.
I prefer to make Mom's Potato Salad the day before so it is nice and cold when it is time to eat.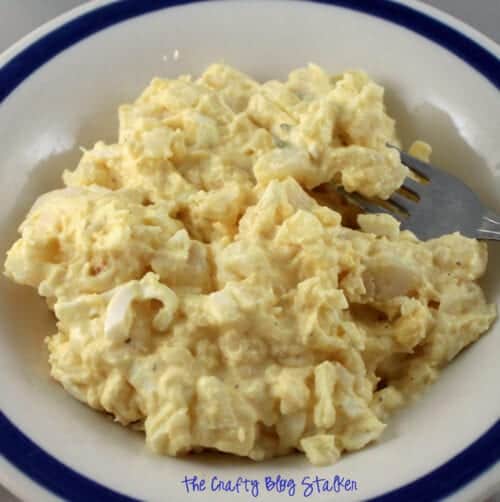 MMMMMM So Yummy!
This amount will feed about 6-7 people. If you want to feed more just remember – 1 potato to 1 egg. Add as much onion as you like and then mayo/salad dressing to taste. Easy Peasy!
Does this remind you of your Mom's Potato Salad? What other addition does she do? Share and leave a comment below!
Follow me on Pinterest and you can see all the DIY projects I'm pinning!
You Might Also Like These Recipes:
Follow The Crafty Blog Stalker