Steamed Butternut Squash in the microwave is a quick and delicious side for any meal.
Do you like to eat dinner? I love to eat dinner! Although I don't really enjoy cooking. My style of cooking is fast and easy... or take out.
This side dish recipe for butternut squash is super easy, so I thought I would share my recipe with you!
Easy Side Dish Recipes:
The purpose of the side dish is to compliment the main dish and make the meal more enjoyable. There are a few side dish recipes on the blog that definitely do that. Like these Cheesy Ranch Potatoes, Best Ever Spanish Rice, or this classic Mom's Potato Salad.
Ingredients You'll Need For This Recipe:
This post contains affiliate links.
Butternut Squash
⅓ Cup Water
Butter (optional)
Prepairing Butternut Squash:
One butternut squash is about 4 servings, depending on the size of the squash of course.
There are 6 in my family and all we all love squash so I am making 2, each squash weighs about three pounds.
Begin by peeling the squash. Make sure that you go a little bit deeper than the first layer of peel.
Cut the ends off of the squash, cut it in half, and then scoop out all of the seeds with a spoon.
Cut each half into chunks and put pieces into a microwave-safe bowl.
Add ½ cup of water to the bowl and cover tightly with plastic wrap.
Cooking the Squash in the Microwave:
Place in the microwave for 15 minutes on high. When the time is up, stick a fork in them to see how tender the pieces are.
You want the squash to be tender enough where the fork inserts very easily.
If they aren't done yet, place them back in the microwave for another 5 minutes.
Cooking time will depend on the size of the squash pieces and how large the squash was.
At this point you can drain the water and mash the squash, or you can serve as is.
For our family, the bowl goes straight from the microwave to the dinner table then each person easily mashes their pieces with a fork and adds a slab of butter.
MMMMM so good.
Tonight this steamed squash was the side dish to a frozen family size pot pie, so the squash was steaming in the microwave while the pot pie was baking in the oven. Easy Peasy!
Served up together, this was a delicious family meal with all of the fall feels.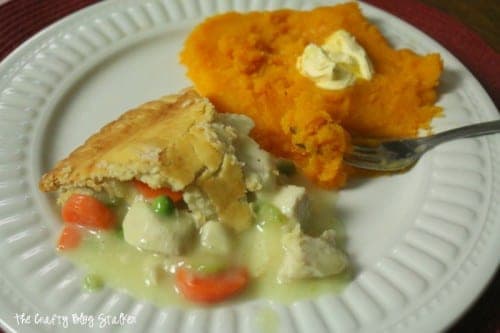 What is one of your family's favorite side dish recipes? Share and leave a comment below!
And if you make this Casserole Recipe, please share a photo! I'd love to see it.
Our Baking Essential List:
[mv_create key="10" type="recipe" title="How to Cook Butternut Squash in the Microwave" thumbnail="https://thecraftyblogstalker.com/wp-content/uploads/2015/10/steamed-butternut-squash-1.jpg"]
Follow The Crafty Blog Stalker