Make a yummy chicken salad sandwich that is great for lunch, dinner, or social events. Below is the best chicken salad sandwich recipe.
This is an easy make-ahead recipe. I love knowing that there is a delicious chicken salad in the fridge just waiting for me to get home!
More Delicious Recipes:
Did you know that we love to share our most favorite tried and true recipes with you? Like these White Chocolate and Cranberry Oatmeal Cookies, Coca-Cola Chicken Drumsticks, and Sausage Rolls.
Be sure to look around the blog for more delicious recipe tutorials!
Ingredients You'll Need For This Recipe:
This post contains affiliate links.
Dressing:
Make the Dressing:
Add all of the dressing ingredients together into a bowl, and mix.
Then place the bowl in the fridge until you need it.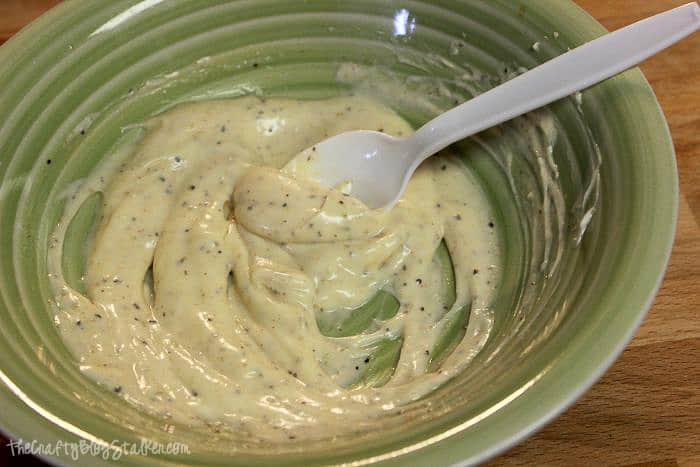 Prepare the Chicken:
I just love using rotisserie chicken in my recipes that call for shredded chicken - it is such an easy and inexpensive way to get shredded chicken.
Remove the chicken from the bones. You can use both white meat and dark meat.
Put the chicken meat in a bowl and shred it with two forks.
You can pull out your mixer and "mix" the chicken.
It works really well and will shred the chicken super fast.
To the chicken bowl, add the diced celery, onions, and dressing.
Stir until well combined.
If I have time and want to be extra fancy, you can add a cup of sliced grapes and about ½ a cup of cashews.
Yum!
Scoop the chicken salad onto croissants or your favorite rolls.
Add a side of fresh fruit like grapes or apples and you have a wonderful meal for your family.
Our Baking Essential List:
If you love this recipe tutorial, please give it a five-star review and help me share it on Facebook and Pinterest!
Follow The Crafty Blog Stalker