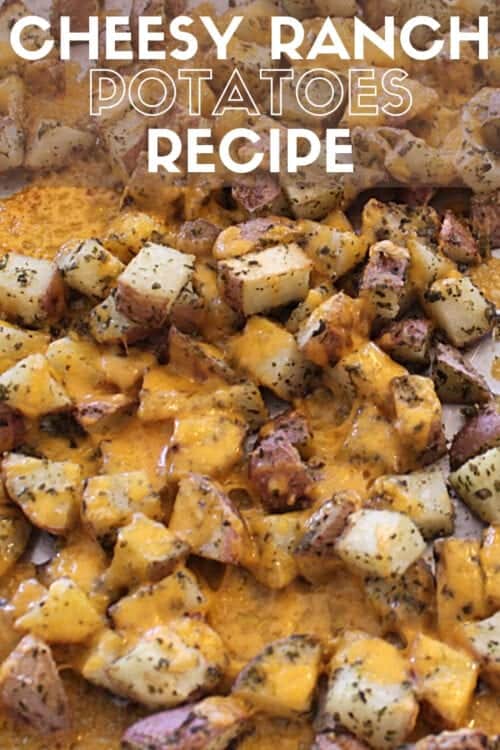 If you have not tried cheesy ranch potatoes, you are in for a treat! This side dish is a family favorite and they are really quite simple to make!
But first a quick tip.
Whenever I am in the kitchen cooking or cleaning I must have my tunes.
Did you know that if you put your iPod in a glass bowl it will magnify the sound to make your speakers even louder? You should try it, it really does work!
Now on to these tasty Cheesy Ranch Potatoes
Ingredients for Cheesy Ranch Potatoes
Click here for a printable PDF version of this recipe.
2 pounds of potatoes
a little less than 1/4 C vegetable oil
1 1/2 TBS The Best Homemade Ranch Recipe dry mix
2 Cups shredded cheese (any kind but sharp cheddar is my favorite)
How to Make Cheesy Ranch Potatoes
Start out by washing about 2 pounds of potatoes with a vegetable brush. The ones I am using today are red potatoes, but I have made these with just about every kind of potato, I just use what I have on hand.
Cut the potatoes into little square pieces.
Put all of the pieces into a large bowl.
1/4 of a cup of oil is a tad too much so measure out just a little bit less. Pour onto the potatoes.
Remember the Best Homemade Ranch Recipe I shared a little while back? Add about 1 1/2 Tablespoons of the dry Ranch mix to the potatoes.
Stir until the potatoes are well coated in the dry ranch mix.
Pour potatoes onto an ungreased cooking sheet.
Bake 450 for about 30 minutes. You want the potatoes just a little brown.
While the potatoes are baking, use a cheese grater and grate some cheese. I didn't measure the cheese but my guess would be that I used about 2 cups.
The cheese is my favorite part so I add a lot, but you can add as much or as little cheese as you would like.
When the potatoes are to the right brown crispiness that you like, sprinkle with cheese and put them back in the oven for a couple more minutes. Just long enough for the cheese to melt.
Oh yummy! These are so good!
Tonight they go perfectly with some pan-fried chicken tenders and a salad (salad not shown but it was there and it was tasty too!)
What is a delicious side dish recipe you would like to share? Leave a comment below!
Follow me on Pinterest and you can see all the DIY projects I'm pinning!
You Might Also Like These Recipes: