Spice up your Halloween party by serving these delicious cupcake recipes made with a charm of witches, ghosts, and monsters. What's more fun than a cupcake?
Halloween is such a fun time of year to bake for, especially if you are hosting a Halloween party!
More Dessert Recipes:
I'll be the first to admit that I don't love to cook, but I do love gathering around the table and talking about our day.
To help with meal planning, I go to recipe round-ups where I can get a lot of recipe ideas in one place. Like 25 Simple Popcorn Snacks, 20 Delicious Lemon Dessert Recipes, or 20 Simple Recipes for Homemade Cakes.
Halloween Cupcake Ideas:
Visit the website for the step-by-step recipe tutorial.
Traditional red velvet cupcakes with cream cheese frosting and a shocking addition of raspberry coulis. It's my new favorite Halloween treat!
This googly eye Halloween cupcakes are fun, easy to make, and adorable cupcakes you can make with your kids for a fun Halloween activity!
These pumpkin Halloween cupcakes combine pumpkin-chocolate cake with spiced cream cheese frosting and chocolate spiderweb toppers for a fun & festive Halloween dessert.
How cute are these Halloween Bat Cupcakes? These are so easy and are sure to impress! If you're in a real hurry you can purchase cupcakes from a bakery or the grocery store and add the toppers yourself.
Cute little Ghosts on Halloween Carrot Cake Cupcakes make an adorable —and not too spooky— treat for all the ghosts and goblins that come your way on Halloween. They are a fast and easy idea for Halloween cupcakes with a slightly healthy side.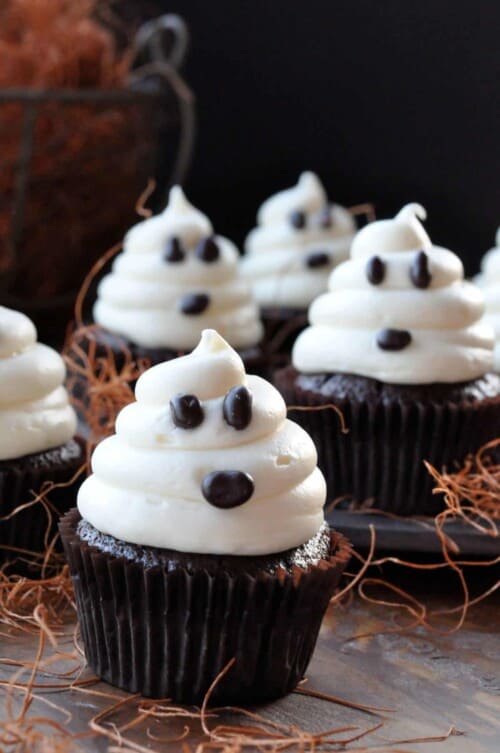 These graveyard cupcakes are easy to make, and are sure to be a hit at your next party!
These bloody cupcakes are a delicious way to celebrate the Halloween season. The combination of homemade frosting with vanilla cake mix will taste delicious with the fake blood and candy glass look decorated atop the cupcakes.
Our latest creation in the Pyper kitchen was these Zombie Eyeball Cupcakes. They look disgusting but they are totally edible, including the eyeball!
Such happy little Jack cupcakes. Your guests won't stop smiling!
A spooky spiderweb cupcake that'll be the hit of your Halloween party!
This Halloween Eyeballs Easy Halloween Cupcakes recipe creates a fun and easy eyeball topping that is both spooky and delicious!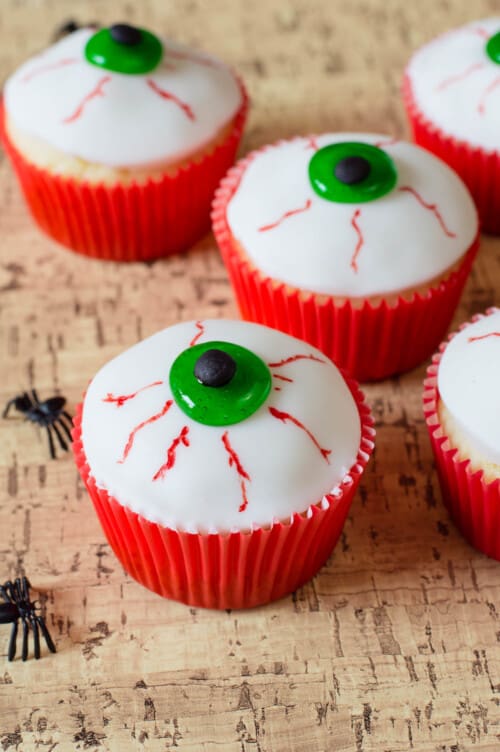 Soft Fluffy caramel cupcakes with chunks of snickers bars and topped with a chocolate frosting. It's easy to use candy eyeballs, black licorice ropes to turn these cupcakes into Halloween spiders.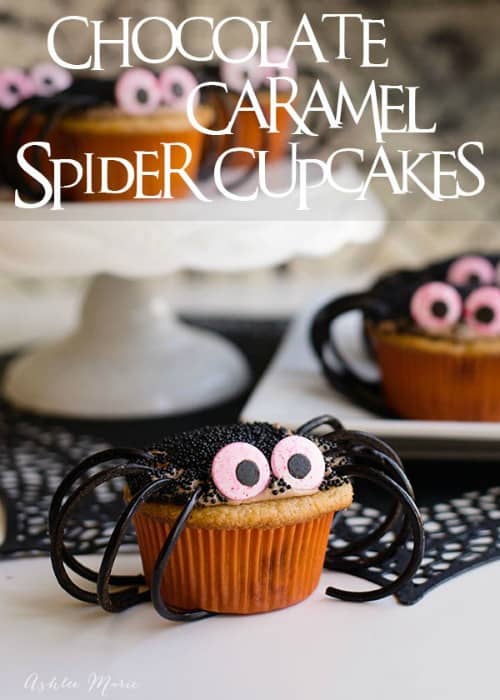 You can use any chocolate cupcake or muffin recipe for these scary skull cupcakes which are always are hit at any Halloween party I bring them to.
Witch hat cupcakes are easy to put together and they couldn't be any cuter! Plus they are nearly impossible to mess up, which is always a bonus with kitchen creations! Grab your kids and let's get cooking!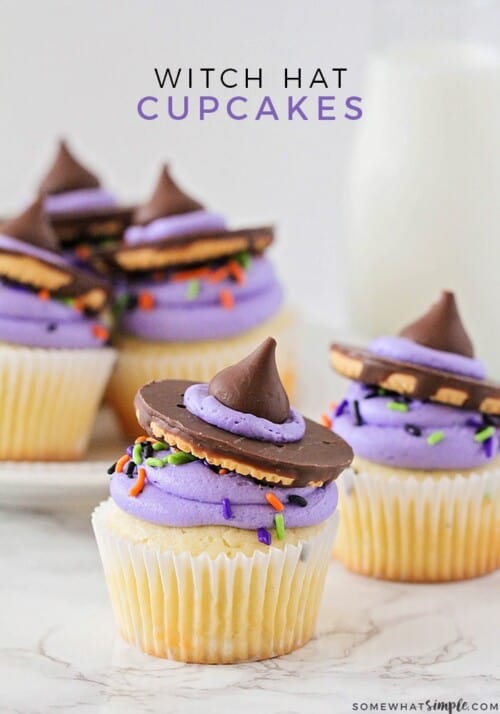 These fun treats are so simple to make you will want to make them year-round, not just for Halloween! Check out how easy these Monster Cupcakes are to make!
Halloween is so much fun with these spider web cupcakes! Deeply chocolaty, and so fun for the kids to make!
Deep, dark chocolate cupcakes. A different take on the classic Hershey's Special Dark recipes, with a couple twists that will please the chocolate lovers on your guest list!
This fun Halloween cupcake recipe and icing tutorial make blood-red brain cupcakes that are all-natural … no, they do not contain real BRAINS, but they are made with real ingredients and contain no artificial food coloring!
Reese's Frankenstein Cupcakes make with M&M's, chocolate chips, sprinkles. green frosting and topped with a Reese's Peanut Butter Cup for the fabulous head of hair!
Double double, toil, and trouble, chocolate cupcakes with frosting and bubbles make these as much fun to make as they are to eat.
If you love these recipes too, please help me by sharing this post on Facebook and Pinterest!
Our Baking Essential List:
Follow The Crafty Blog Stalker