We all love to take part in the fun of Halloween, but what do we do with all of that Halloween Candy? We bring you 20 Leftover Halloween Candy Dessert Recipes.
What do you do with Trick or Treat Halloween candy? Do you let your kids eat all they want to get rid of their stash, or do you supervise and monitor the candy intake?
If you're looking for some simple DIY recipe ideas to use that leftover candy, I'm here to help! You can make cookies, brownies, snack mixes, and more!
More Dessert Recipes:
I'll be the first to admit that I don't love to cook, but I do love gathering around the table and talking about our day.
To help with meal planning, I go to recipe round-ups where I can get a lot of recipe ideas in one place. Like 20 Moist Cupcake Recipes, 20 Delicious Lemon Dessert Recipes, or 20 Simple Recipes for Homemade Cakes.
Leftover Halloween Candy Recipes:
Visit the website for the step-by-step tutorial.
Serve this Pumpkin Bundt Cake at your fall parties. A simple DIY recipe tutorial idea topped with Milk Chocolate Harvest M&M's®. A perfect cake for Fall.
Make this delicious autumn harvest snack mix recipe to celebrate Halloween, Thanksgiving, or just the awesome turning of leaves that fall brings!
Snickers Pretzels Bites is a simple recipe that is super easy to make and utterly delicious!
I think one of the best parts of preparing for watching the big game is planning the menu! Today, I'm sharing this delicious SNICKERS® Cream Cheese Dip!
I honestly wasn't setting out to make a thin mint Girl Scout cookies copycat recipe but today at my church Christmas party one of the ladies said, "wow these taste just like a thin mint, but not as dry" and I thought yes, yes they do!
This recipe is perfect to make and bring to a party (perfect for an office party) or to have to snack at home while watching a movie with the kids.
This is my favorite new Fall dessert! It's the perfect communal dessert for parties, with or without kiddos. And, oh the varieties of yummy-ness that you and your guests can create!
Are you ready for an amazing dessert? I am so excited to share my SNICKERS® Almond Brownies with you today!
Chocolate cupcakes topped with Butterfinger frosting, these Butterfinger Cupcakes will be your new favorite treat! Top them with fun-sized candies and they will be a hit at any party!
10. Blizzard at Home from The Crafty Blog Stalker
Learn how to make a Blizzard at home with your favorite candy bar and ice cream. A step-by-step recipe tutorial.
Mix your favorite leftover Halloween candy into a cookie dough that can be frozen and then baked whenever you're craving cookies!
Make hosting a breeze by whipping up these Easy BUTTERFINGER® Trifles
These Witch's Brew Brownies are the perfect Halloween dessert recipe for using up all of your leftover Halloween candy!
Stuffed to the max with M&M's and Oreos! These Oreo cookie bars are an easy, no-mixer recipe that's ready in 30 minutes. Always a hit at parties!
16. Apple Nachos from The Crafty Blog Stalker
An easy DIY dessert recipe tutorial idea for apple nachos. Slice and top with your favorite syrups and candy pieces. Great for entertaining!
Chocolate peanut butter swirled cake and chocolate peanut butter swirled frosting makes these the ULTIMATE Reese's Cupcakes!
This M&M Caramel Popcorn recipe is so easy to make. Pour into paper cups and add my fun patriotic printable and movie night is ready to go!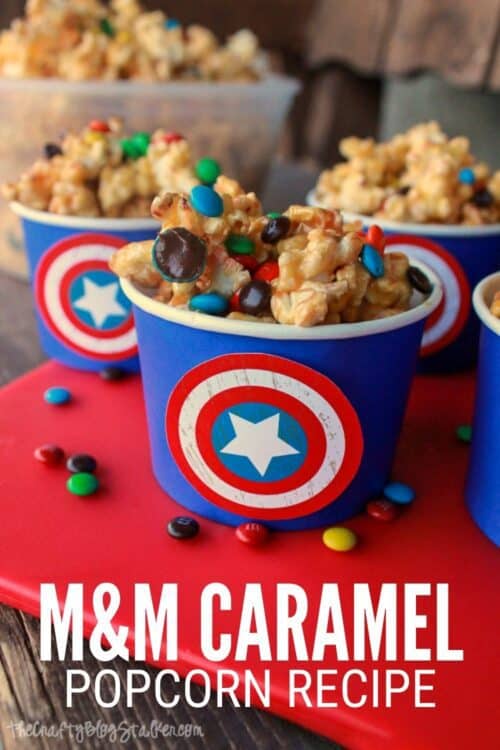 19. Twix Cupcakes from Deliciously Sprinkled
Chocolate Twix Cupcakes recipe. Chocolate cupcake topped with caramel buttercream frosting and a Twix candy bar.
Looking for an easy, but different kind of brownie to make this week? These Reese's Peanut Butter Bars are just the treat for you. Three times the peanut butter goodness in peanut butter brownie will have you reaching for more.
What Halloween candy is your favorite? I always try to get Reese's Peanut Butter Cups out of my kid's stash.
Our Baking Essential List:
Follow The Crafty Blog Stalker