This M&M Caramel Popcorn recipe is so easy to make. Pour into paper cups and add my fun patriotic printable and movie night is ready to go!
M&Ms are delicious, that is all there is to it!
So when I was planning a family movie night to watch some Captain America movies with the family I knew that a treat with M&M's would be perfect!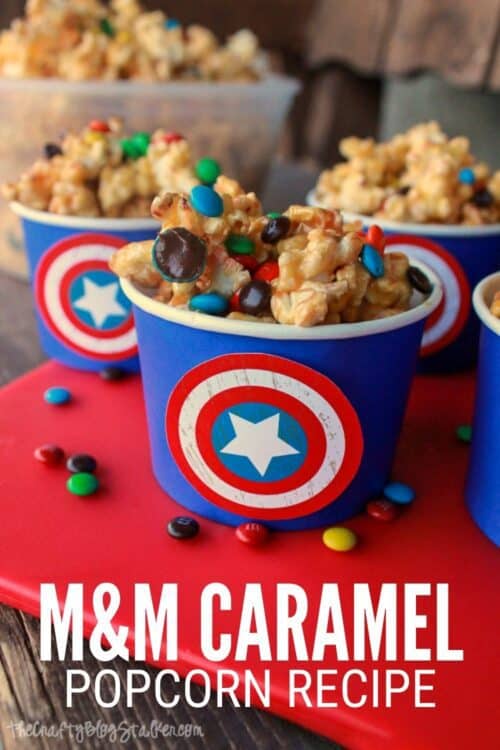 Video Tutorial:
Like videos? I have a video tutorial for you! Please subscribe to my YouTube Channel so you don't miss out on any future video tutorials!
More Dessert Recipes:
Desserts are my favorite part of any meal! Since I love cookies and cakes so much, we have several recipes to share with you. Like Oatmeal Chocolate Chip Cookies, these Chocolate Cake Pops with a Cake Mix, and Smores Rice Krispy Treats.
Be sure to look around the blog for more yummy Dessert recipes!
Ingredients You'll Need For This Recipe:
This post contains affiliate links.
Caramel Popcorn Recipe:
Before you begin making the caramel, put your popcorn in a big bowl and have the M&Ms measured and ready.
In a saucepan melt the butter. Add brown sugar, vanilla, and salt. Stir in corn syrup and combine well.
Add milk and cook over medium heat to about 210 degrees with a candy thermometer constantly stirring.
*I do not own a candy thermometer. What I do is cook the mixture at medium heat, constantly stirring. Once it comes to a low boil I keep stirring for 3 more minutes and then I take it off the heat.
I like soft chewy caramel corn, but if you want crunchier and harder popcorn then cook the caramel sauce a bit longer.
Once the caramel sauce is ready drizzle it onto the popcorn.
Stir the caramel into the popcorn. Add most of the M&Ms and continue stirring.
I reserve some of the M&M's to sprinkle on top of the treat cups.
Stir until all of the corn and M&Ms are covered in caramel.
Some of the M&M's with melt and that is okay.
Let cool for a few minutes before serving.
Next, grab some blue cups.
Print out my Free Patriotic Circles Printable and cut the circles out. Tape one circle onto each cup.
Fill the cups with the M&M Caramel Popcorn and top with a pinch of M&Ms.
Now you are ready for your family movie night! My kids thought this was so fun and they couldn't wait for their cups of popcorn.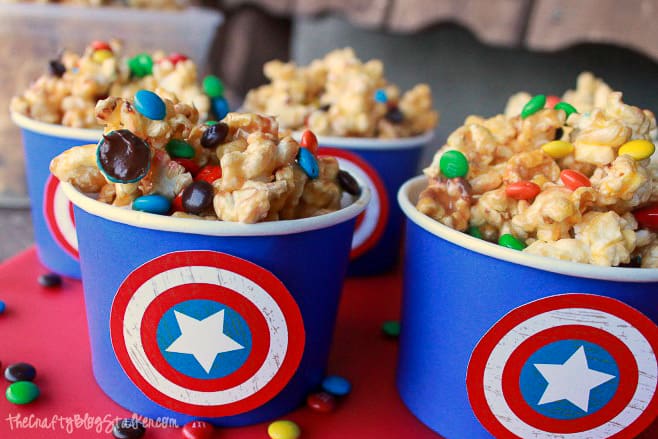 If you have any M&M Caramel Popcorn leftover, store it in an airtight container and you can enjoy it all over again later!
Our Baking Essential List: