Whether you're hosting a Super Bowl party or just watching the game with the family, these game day recipes are sure to please.
Gear up for the ultimate football showdown with our handpicked collection of 36 game day recipes!
Whether you're throwing a grand Super Bowl bash or planning a cozy game-viewing get-together with family, we've got the perfect game day foods to elevate your event.
Favorite Game Day Recipes:
Visit the website for the step-by-step recipe tutorial. All links will open in the same tab.
1. The Best Chip Clam Dip Recipe from The Crafty Blog Stalker
Whip up the best Clam Chip Dip for your next party. A hit with potato chips that keeps everyone coming back for more!
2. Little Smokies Wraps from The Crafty Blog Stalker
Delight in the simplicity and tastiness of Lil' Smokies Wraps, a perfect snack for any occasion. Dive into this easy DIY recipe tutorial for a savory treat!
4. Best Guacamole Recipe from The Crafty Blog Stalker
Discover the simplest yet most delightful guacamole recipe using just 3 ingredients! Perfect for any occasion. This quick and easy recipe is a hit when served with tortilla chips. Grab the recipe now!
5. Sausage Rolls from The Crafty Blog Stalker
Delight in these easy-to-make Sausage Rolls, the perfect quick breakfast or snack that promises a burst of savory flavors in every bite!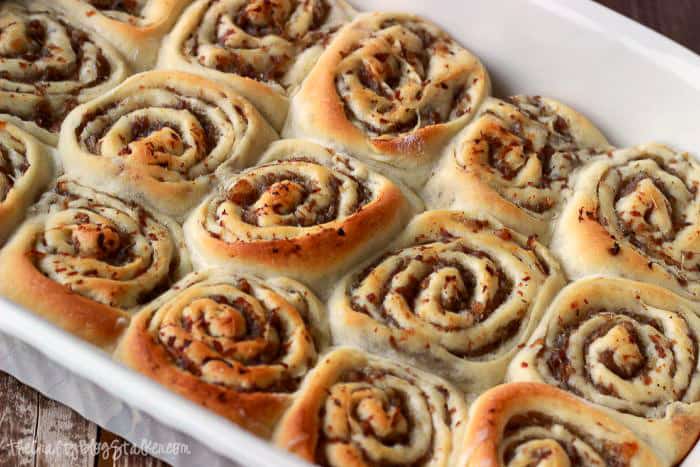 6. Quick and Easy Nachos from The Crafty Blog Stalker
Indulge in these quick and easy nachos, the perfect finger food for game day, or a delightful mid-day treat that guarantees a burst of flavor with each bite!
7. Pepperoni String Cheese Roll-Ups from The Crafty Blog Stalker
Savor the simplicity and flavor burst of Pepperoni and String Cheese Roll-ups. Serve with ranch dressing for the ultimate snack choice for game time, gatherings, or any occasion.
8. Sausage and Peppers Bruschetta from The Crafty Blog Stalker
Quick & easy to prepare, this sausage and peppers bruschetta is the perfect appetizer for family gatherings. A hit at any event!
9. Easy Homemade Pretzel Bites from I Heart Naptime
Whip up crowd-pleasing appetizers with this easy homemade pretzel bites recipe! Coated in melted butter and sea salt, they're the perfect snack and disappear fast!
10. Vegetarian 7-Layer Dip from Little Broken
Experience a fresher, healthier take on the classic 7-layer dip! Packed with nutritious beans and a variety of veggies, this cheese-free dip is bound to be a hit at any gathering.
11. Avocado Greek Yogurt Ranch Dip from Cooking Classy
Elevate your dip game with this creamy Avocado Greek Yogurt Ranch Dip, blending the rich flavors of avocado and tangy Greek yogurt for a delightful twist.
12. Baked Parmesan Zucchini Crisps from Jo Cooks
Savor these baked Parmesan Zucchini Crisps as a healthy and delightful snack or appetizer. Perfectly crunchy, they're a crowd-pleaser without the fryer!
13. Baked Firecracker Chicken Tenders from Creme De La Crumb
Savor these easy-to-make Baked Firecracker Chicken Tenders with a sweet and spicy Asian flair, a healthier alternative to the classic fried version!
14. Skinny Spinach Artichoke Dip from Happy Healthy Mama
Indulge in this Skinny Spinach Artichoke Dip - a healthier yet creamy and flavorful alternative that doesn't compromise on taste. Ideal for guilt-free snacking!
15. Coca-Cola Buffalo Wings from Culinary Hill
Savor crispy Coca-Cola Chicken Wings doused in a tangy soda sauce. A game-day hit that keeps everyone cheering!
16. Six Ingredient Cold Taco Dip Recipe from The Parent Spot
Delight in this fuss-free cold taco dip, a family favorite recipe with just six simple ingredients. Perfect for quick family gatherings!
17. Bacon-Wrapped Lil Smokies from Favorite Family Recipes
Savor the perfect party hit: sweet and savory Bacon Wrapped Little Smokies, made effortlessly with just four ingredients. They'll vanish before you know it!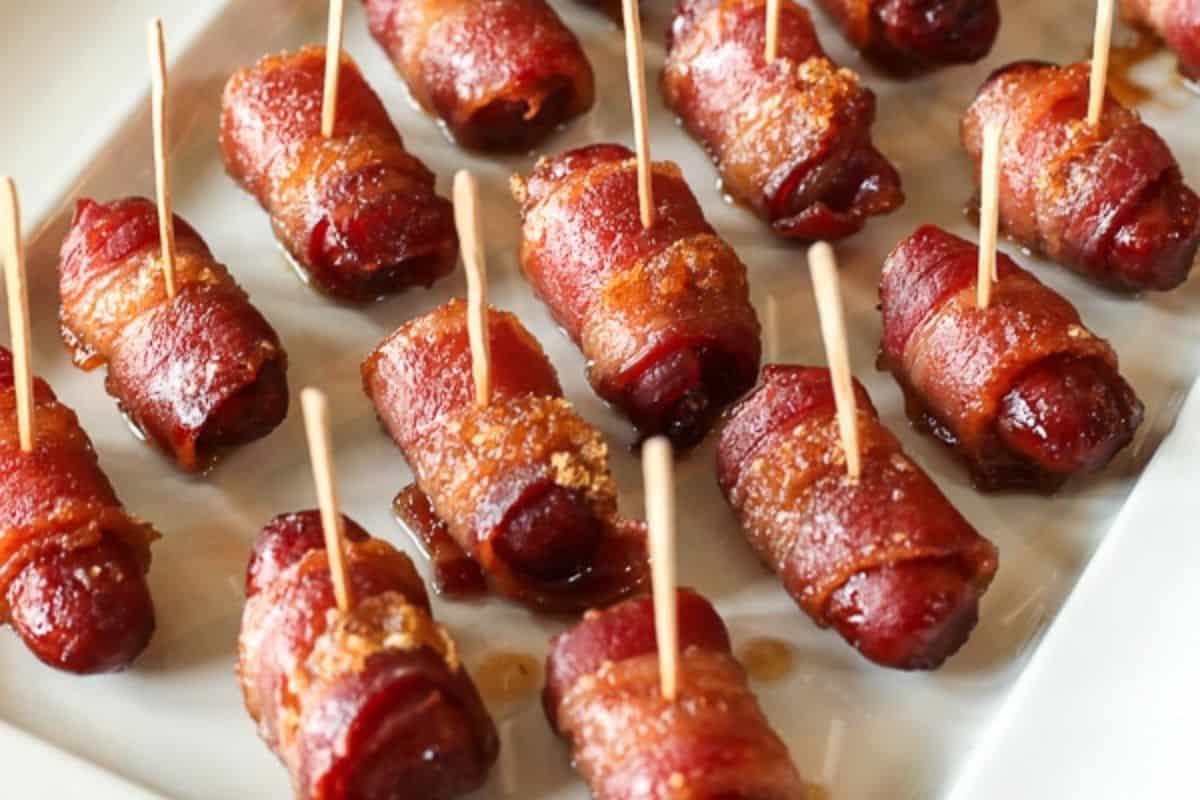 18. Philly Cheese Steak Dip from Creme De La Crumb
Indulge in the Philly Cheesesteak Dip, a melting pot of perfection with grilled peppers, onions, and tender steak, inspired by the iconic Philly Cheesesteak.
19. Ham and Cheese Rolls from OMG Chocolate Desserts
Savor these gooey Ham and Cheese Rolls, a delightful blend of puff pastry, mozzarella, pizza sauce, and ham, making a perfect party snack or a comforting after-school treat.
20. Sweet Vidalia Onion Dip from The View From Great Island
Indulge in this Sweet Vidalia Onion Dip - a hot, easy-to-make appetizer perfect for the big game, or holiday gatherings, guaranteed to have everyone asking for the recipe.
21. Philly Cheesesteak Egg Rolls from Carlsbad Cravings
Savor the iconic Philly Cheesesteak in a new form - as crunchy, cheesy egg rolls that encapsulate America's beloved sandwich delight.
22. Bacon Cheddar Ranch Dip from Deliciously Sprinkled
Savor the quick & easy Bacon Cheddar Pretzel Dip, a hit at any gathering! Ready in 10 mins with just 5 ingredients.
23. Bacon Cheeseburger Rolls from Spend with Pennies
Savory bacon meets cheeseburger in these easy-to-make rolls that both kids and adults adore! Perfect for a quick, delicious snack.
24. Slow Cooker Sweet & Spicy Sausage from A Night Owl
Experience the delightful balance of sweet and spicy with our slow-cooker sausage. This smoky, flavorful appetizer is set to become a party favorite!
25. Easy Jalapeño and Red Pepper Cheese Ball from Averie Cooks
Indulge in the Easy Jalapeño Cheese Ball, a tempting treat that brings a burst of spicy flavor with every bite. A foolproof hit that keeps you coming back for more!
26. Easy Taco Salad Cups from Just a Taste
Savor bite-sized taco salad cups: the perfect fuss-free party appetizer. Easy to make, easier to enjoy!
27. Jalapeño Popper Dip from Spend with Pennies
Spicy jalapeños meet creamy cheese & crispy Panko in this baked Jalapeno Popper Dip: your new go-to party appetizer!
28. Pig Shots from Great Grub
Savor oven-baked Pig Shots: crispy bacon, smoked sausage, and a zesty cream cheese blend with jalapenos, all glazed with honey BBQ. A crowd-pleaser!
29. Baked Potato Slices from The Cozy Cook
Crispy baked potatoes that are sliced and topped with cheddar cheese & bacon. When served with sour cream there is a burst of flavor in every bite!
30. Best Stuffed Mushrooms from Will Cook for Smiles
Savor these easy stuffed mushrooms, brimming with a simple yet flavorful filling of cream cheese, sautéed stems, and onion. A guaranteed hit!
31. Macaroni Cheese Bites from Old House to New Home
Indulge in these Mini Macaroni and Cheese Bites, the ultimate game day treat. Packed with cheesy goodness, they offer a delightful burst of flavor in every bite-sized piece!
32. Cowboy Queso from The Cozy Cook
Dive into this Velveeta Queso, a Cowboy's delight brimming with beef, beer, and black beans, enveloped in the rich, creamy goodness of melted Velveeta cheese.
33. Bite Sized Garlic Knots from I Am Homesteader
Delicious bite-sized knots made from pizza crust dough, soaked in a rich garlic butter sauce. A heavenly appetizer!
34. Air Fryer Jalapeno Poppers from Tasty Air Fryer Recipes
Savor crispy, bacon-filled Air Fryer Jalapeño Poppers - a low-carb, tailgate hit!
35. Loaded Tater Tot Skewers from One Little Project
Enjoy these Loaded Tater Tot Skewers, an effortless and delicious appetizer that's perfect for any occasion.
36. Sausage Stuffed Mushrooms from The Crafty Blog Stalker
Create crowd-pleasing Sausage-Stuffed Mushrooms for your next gathering! Perfect for special dinners or tailgates, and easy to make.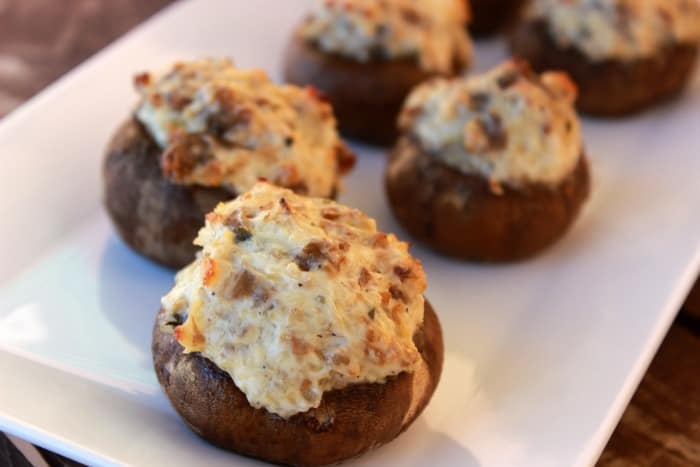 Our Baking Essential List:
Title:
36 Game Day Recipes for Your Next Football Party
Keywords:
game day recipes
Last Updated:
November 1, 2023