The best way to beat the heat is with a great tasting refreshment. Check out the 22 tastiest non-alcoholic drinks in this article.
What does your ideal hot summer day look like?
For me, it includes either a reading good book or playing my favorite new game on my phone while I swing freely in my hammock in the backyard, with a nice cold drink on the table next to me. Oh, how I want to go there right now!
There are so many ways to enjoy nice cold drinks when it's hot outside. You can sit back and relax or you can get together with friends. Have backyard barbecues or play games at the park all with your favorite mocktail within arm's reach.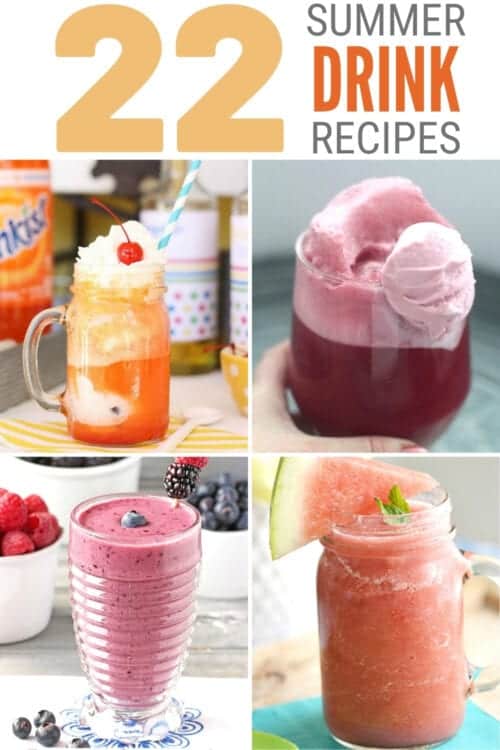 More Recipe Round-ups:
I'll be the first to admit that I don't love to cook, but I do love gathering around the table and talking about our day. To help with meal planning, I go to recipe round-ups where I can get lots of recipe ideas all in one place.
That is why we love to share recipe round-ups! Like these 7 Really Good Pasta Dinner Recipes, 23 No-Cook Ice Cream Maker Recipes, and 20 Dark Chocolate Lover Recipes.
Take a look around and see all of the Recipes we have!
Refreshing Summer Drinks:
Visit the website for the step-by-step recipe tutorial.
Blender drinks like slushies are a really fun recipe option for kids. It is really hard to mess up a drink and my kids have always loved getting creative with the ingredients.
This very Berry Smoothie is bursting with fresh berries and is so refreshing to drink. It is great for a snack or pick-me-up any time of the day.
4. Dirty Diet Soda from The Crafty Blog Stalker
Dirty Sodas are delicious drinks with soda flavor shots of coconut syrup. Make your own non-alcoholic mixed soda drinks with MiniSyrup.
Our Captain America Kids Drink celebrates red, white, and blue drink is easy to make and perfect for the kids to drink.
If you love orange juice then you are sure to love this orange juice slushie recipe!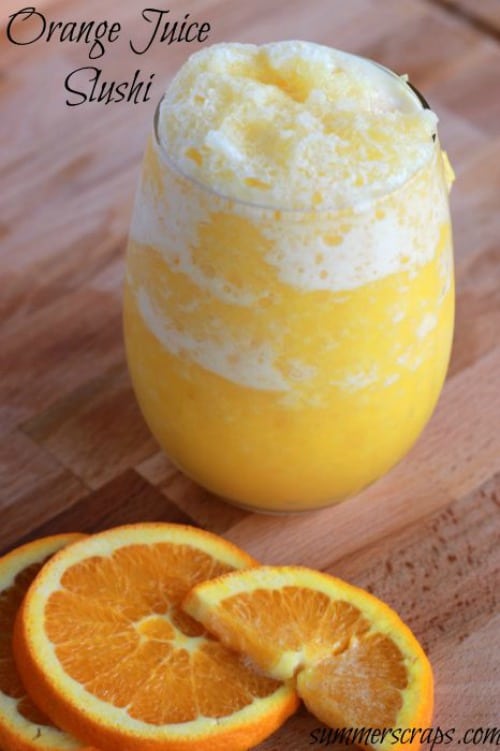 7. Coke Floats from Like Mother Like Daughter
You will love the combination of sweet creamy vanilla ice cream with refreshing Coca-Cola for a coke float treat.
A creamy soda is swirled with sweet strawberry syrup and served over ice. This is the perfect drink for summer!
Sonic Ocean Water Recipe: The most gorgeous and refreshing summer drink around! The perfect non-alcoholic drink for picnics or the Fourth of July.
Use these delicious fresh fruit syrups and homemade lemonade to create a fun flavored lemonade bar! Perfect for summertime!
This drink literally SCREAMS summer with its flavors! And the Raspberry Lemonade Sorbet is the perfect finishing touch to this fun and beyond tasty drink!
I whipped up this amazing tropical smoothie recipe that I know you are going to love as much as I do.
Keep the fun of summer going with this float into the summer ice cream float bar. The kids will love it! It's what summer is all about.
14. Orange and Cream Soda Lemonade from Premeditated Leftovers
This Orange & Cream Soda Lemonade is a cold, homemade summer drink that will make lots of friends. With a mix of oranges and lemons, this is a great drink to tame the summer heat.
This Pink Sherbet Punch is only 2 ingredients for a fizzy, frothy drink! Add frozen fruit for a garnish and you've got a party punch great for baby showers, Valentine's Day, or summer gatherings!
This delicious and beautiful smoothie has a layer of creamy raspberry smoothie, topped by a layer of peach smoothie for a perfectly creamy and tasty breakfast or snack.
Grab your blender because your next summer drink is right here with Peanut Butter Frozen Hot Chocolate topped with peanut butter whipped cream.
Refreshing & simple Orange Julius takes a minute to make and tastes just like the real thing. It is a favorite family treat!
Lemon Lime Slush Party Punch is the perfect drink for summer parties. Just one of the many easy party punch recipes we love.
It doesn't have to be after 5 o'clock to enjoy this Cherry & Berry Spritzer. So sit down and pour a glass, your day will be so much better because you did.
Kids will love sipping on this drink in the summer! Great idea for birthday parties, St. Patrick's Day, and Halloween, too! Gummy worms are frozen in a punch mixture and emerge from the ice as the drink is enjoyed! So much fun!
I decided to bring Disneyland to me, and make one of my favorite drinks from one of my favorite restaurants in the park, the Blue Bayou. This Mint Julep is alcohol-free and tastes refreshing, this green drink copycat is spot on!
Which drink are you most excited to try?
Our Baking Essential List:
Title:
22 of the Tastiest Non-Alcoholic Drinks for a Refreshing Summer
Mentions:
30 Minutes or Less
Keywords:
non alcoholic summer ​drinks
Last Updated:
August 9, 2023