Learn how to store your spice jars in a drawer. From Cricut labels to clear drawer inserts, this DIY project will help you organize your spice drawer. If you make a purchase using the affiliate links included, we may earn a commission.
Are your spices driving you crazy? Can you find what you're looking for when you need it?
One year ago we remolded our kitchen and I was so excited to get a dedicated spice drawer, I thought for sure it would be easier to organize than a spice cupboard.
Well, it is easier to see what you have, unless you have piles of spices on top of each other like I had.
My drawer definitely needed some organizing help, and hopefully, this can help if your spices are a mess too.
This is an easy project but does take a couple of hours to complete.
Supplies You'll Need to Create this Project:
My labels were made using the Cricut Maker 3 but this design can be cut on any Joy, Explore, or Maker model.
Before purchasing supplies, make sure to measure your space with a tape measure so you know your drawer size or area.
Before:
This is before my spice drawer transformation. This is just a mess of spices!
I have a lot of spices. Can you find the onion powder? Yeah, neither could I!
Write Down What You Have.
First things first, we need to know what labels we need to make.
I got out my trusty notebook and pulled all of the spices out and wrote down what they were.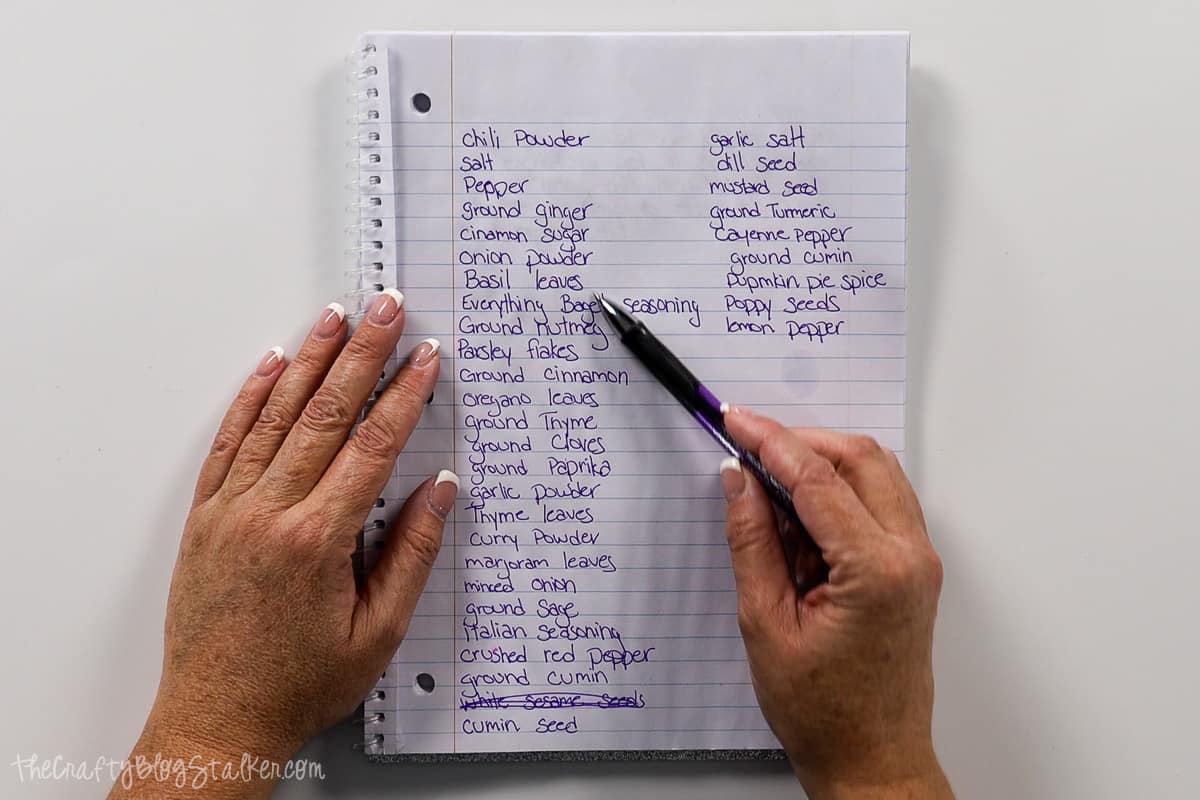 Cricut Design Space:
This is not an SVG file but is a project in Cricut Design Space that you can use too.
The text boxes are editable and you can create more labels by copying and pasting.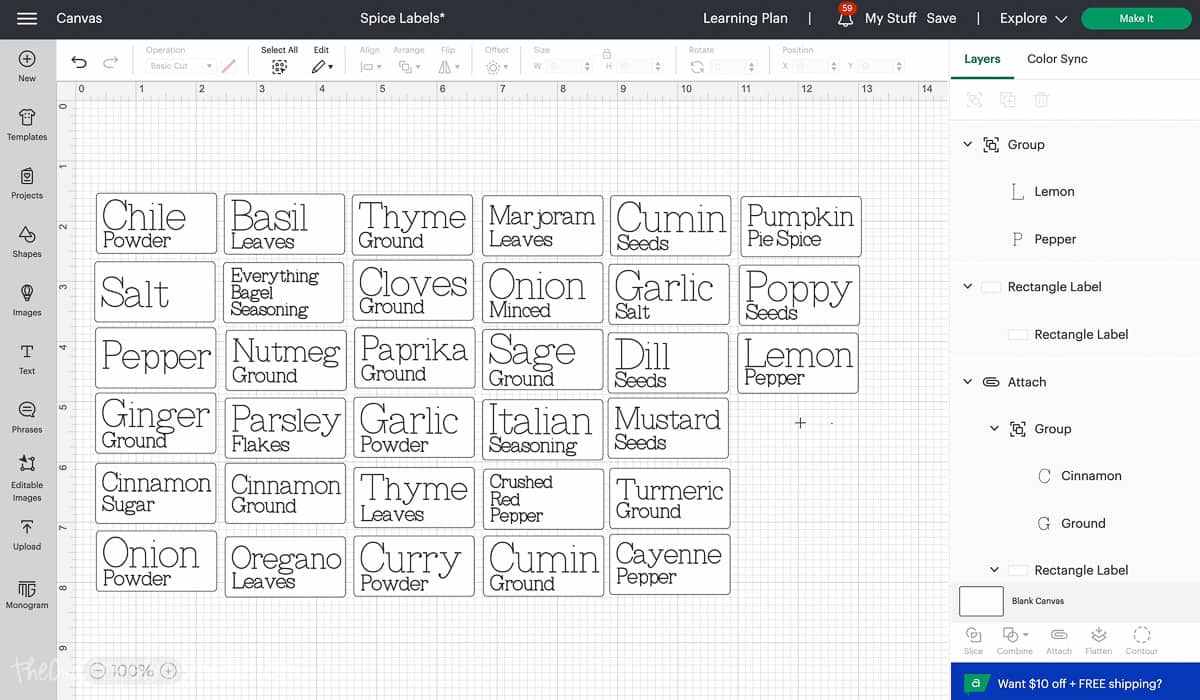 For some spice names, you may want to adjust the font size a bit to make sure the name fits on the label.
I needed a total of 33 labels.
Before sending it to the Cricut, make sure to attach the text to the rectangle labels.
Cutting the Labels:
Once your labels are ready select "Make It".
Load the pen in housing A, load the vinyl, and the Cricut does all of the hard work.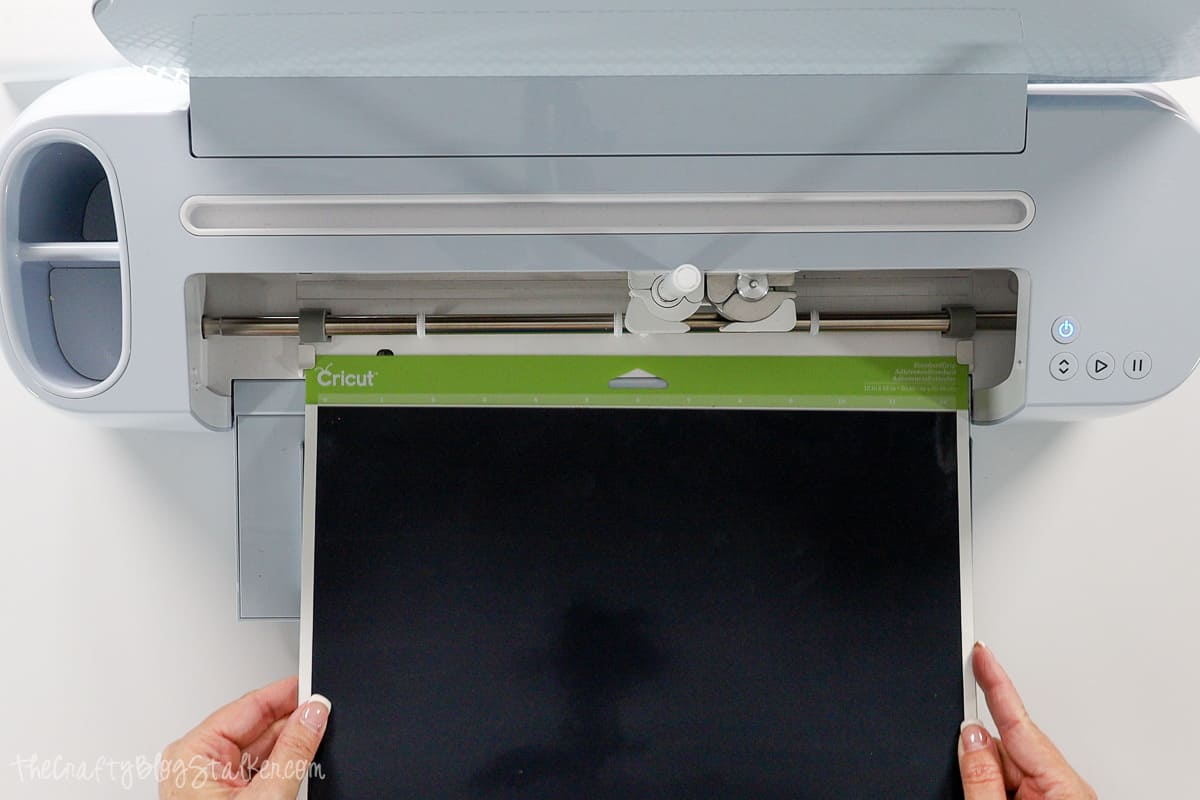 While this is a small project, it did take my Cricut about 20 minutes to write everything out and cut the labels.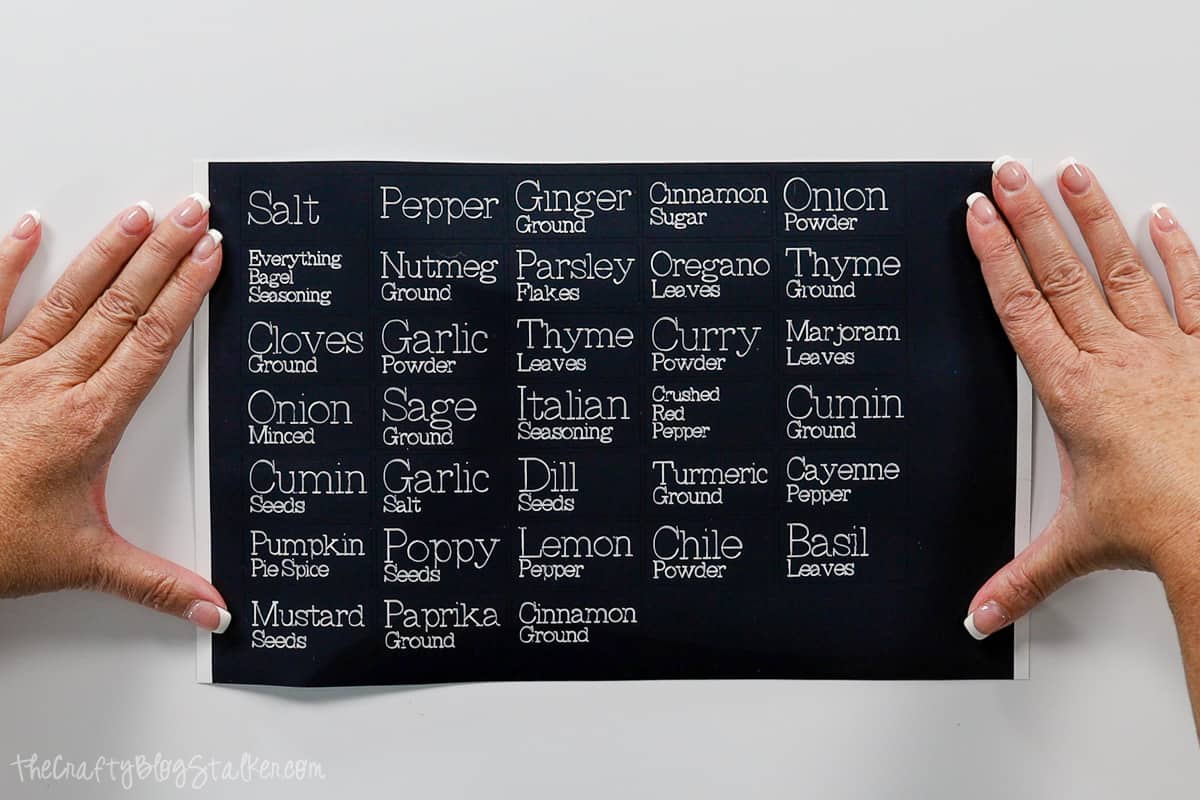 Transferring the Spices:
The new jars I bought came with a small collapsible funnel that worked great!
I poured all of the onion powder into the new jar.
Then applied the label, centering it onto the front of the jar.
When applying the labels to the rest of the spice bottles, I lined them up with this one so they would all be in the same place.
Cleaning the Drawer:
I also found these really nifty tiered spice drawer insert trays. They are clear acrylic and can be overlapped so they will fit the width and length of your drawer.
If you keep your spices in a kitchen cabinet then I suggest a standing spice organizer or riser of some kind. They really help a lot!
After:
This was such a great idea, I absolutely love my DIY spice drawer organizer! It is a million times better.
The very first row holds our most used spices, the others are in alphabetical order on the next two rows, and the back row holds our larger containers.
The best part is when I use a spice, I will be able to quickly put it back in its place when I am done with it.
After this easy DIY, I am just one step closer to an organized kitchen!
Happy organizing!
Frequently Asked Questions:
How do you organize large amounts of spices?
If you have enough drawer space, a new spice drawer can really help keep your spices visible without having to dig through them.
For shallow drawers, you can lay the spices on their backs. If your drawer height is deeper, you can stand them up and label the lids.
If a spice cabinet is your only option, consider tiered racks that can hold multiple jars that maximize your space.
If you have a junk drawer, consider swapping it out and using it for spices instead. It is much more useful.
How do you store spices in small kitchens or small spaces?
Another great place to store your spices is in a wall-mounted spice rack. There are lots of different sizes available so you can fit everything you need.
These can also be installed on the inside of cupboard doors, so if you want a hidden option, this will work as well.
If needed, you could also place them in upper cabinets, kitchen drawers, or in the pantry on a shelf.
Or, if you have the counter space, you could consider countertop spice racks.
There are many different ways of storage. It is just a good idea to find one that is convenient and works for you.
Is it better to store spices in glass or plastic?
Spices can be purchased in both glass and plastic containers, but plastic containers are porous and may slowly let small amounts of air into the container.
Because of this, I prefer glass containers, but plastic jars are fine if you use the spice up pretty quickly.
Always refer to the expiration dates to know exactly how long your spices are fresh.
Where should I put spices?
All kitchens are built differently, and if you have an old kitchen there might not be an ideal location.
You want to keep spices within arm's reach. I like right of the stove since I am right-handed, but if you are left-handed maybe you want them to the left of the stove.
Our Crafting Essentials List:
Title:
How to DIY Spice Drawer Organization with Cricut Labels
Mentions:
clean house, vinyl
Keywords:
spice drawer organizer diy
Last Updated:
June 1, 2023