Garages and kitchens get the most attention when it comes to home improvements, but don't overlook your front door! Here's how to give yours a fresh new makeover.
In July we moved into our new house!
This is me about to walk into it the first time after the papers and everything had been signed.
I absolutely love my new home, and the best part is all of the opportunities I have with the house to add my own style.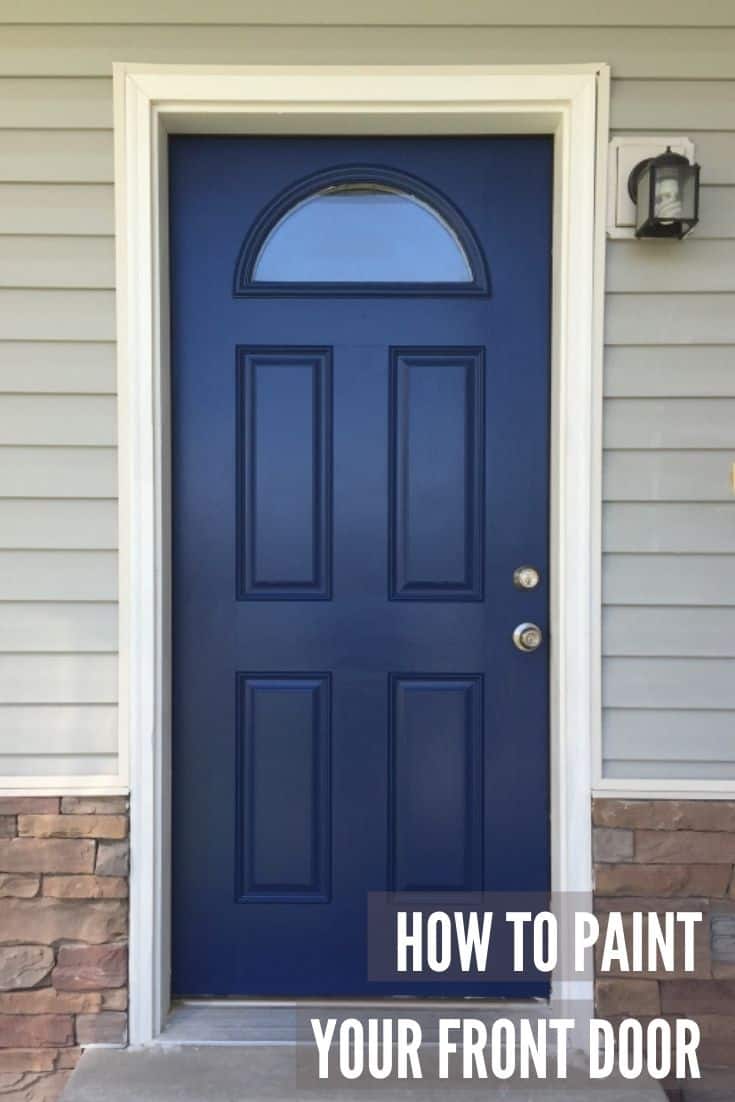 More Painting Tutorials:
Isn't it crazy how something as little as paint can change the whole feel of a room? Here are a few more painting tutorials I'd love to share with you. Painting the Entryway, How to Choose Paint Colors, and our Living Room Accent Wall with a Stencil.
Take a look around and see all of the craft tutorials we have!
Supplies You'll Need to Make This Craft:
This post contains affiliate links.
The new paint color is called Calm. Isn't it a pretty hue of navy blue?
Prep Your Door:
I painted my door while still on the hinges. This made it a lot easier than having to take it off and then put it back on.
Lay down some newspaper or a drop cloth to cover the floor to catch any drips or splatters.
Wrap the doorknob and lock with plastic wrap and then tape around with painter's tape.
You could just cover the knob and lock with painter's tape, but the plastic wrap is super easy and since it sticks to itself, it works great.
Also make sure to apply painter's tape around any windows, or sides of the door if you don't want those painted.
Painting the Door:
If your door has any panels or decorative trim, paint that first.
My door has both. Rectangle panels along the front and trim around the half circle window at the top.
Then you can apply paint to the rest of the door.
Repeat for a second coat.
The Modern Masters Door paint has great coverage. I did two coats on my door and it looks amazing.
The container is only about a third gone, so I am thinking of painting the back doors too.
Before and After:
Here is the before of my plain boring white door...
And here is the transformation!
I think it looks great and is definitely much less boring than before. Now, I have a whole new door into my home.
Our Crafting Essentials List:
Title:
How To Paint Your Front Door: A Step By Step Guide With Pictures
Keywords:
paint your front door
Last Updated:
August 30, 2023