Get in the spirit with these easy fall wreaths with step-by-step instructions from popular bloggers. It's never been easier to add fall flair to your decor!
Fall is in the air, can you smell it?
It may be warm today, but that winter chill will be pushing itself in before you know it!
That means it is time to start decorating for Fall and Autumn!
More Craft Idea Posts:
Idea posts are awesome because they give you lots of ideas all in one place! Here are a few more idea posts that I think you might like: 20 Fall Leaf Crafts, 20 Sublimation Crafts, and 20 Fall Kids Crafts.
Be sure to look around the blog for more Craft Idea Posts!
Easy Fall Wreaths:
Visit the website for the step-by-step tutorial.
Create a Canning Lid Wreath out of Mason Jar Lids and Washi Tape. An easy DIY craft tutorial idea that can be made to match any season.
All you need are a few paper bags and a foam round for making this pretty Fall wreath that will look great on your front door. Adorn with a few acorns or an arrangement of silk flowers from the dollar store for an extra pop of color.
3. Hydrangea Wreath from It All Started With Paint
Hydrangea wreath for fall using grapevine wreath and silk faux hydrangeas. Easy fall wreath DIY project.
How to Make a paper wreath using pages from a vintage book. An easy DIY craft tutorial idea for beautiful home decor that you can display all year long.
I was searching through the image library in Cricut Design Space and found some adorable 3-D pine cones. I decided to make a beautiful holiday wreath that I can use for the fall or winter holiday season.
Last year I made a plain burlap wreath. It took me a while to actually put it up on my door. I just wasn't sure how to dress it up for a holiday. I have since used it for almost every season! Spring, summer, and now fall.
Make a fun Paper Chain Fall Wreath. Turn those paper scraps into a beautiful handmade wreath. An Easy DIY Craft Tutorial Idea.
You've seen those gorgeous Paper Cone Wreaths all over Pinterest. Since they look easy enough to make, I thought I'd give one a try this is my first attempt at making a paper cone wreath and so far I'm hooked!
Apples are one of my very favorite things to decorate with for fall, so when it came time to start bringing in those natural elements, I decided to make my own DIY apple wreath.
Don't you just love simple projects? This one started with a vision to build a shutter out of some pallet wood. With that vision, I also wanted to hang a wreath on it.
I can't stop daydreaming of crisp breezes, apple cider, and sweet little boys in Halloween costumes. I know I say it every year but I absolutely adore everything about Autumn! I thought you might want to get a heads-up on your Fall wreath door decor.
This Easy DIY Fall Wreath brings some festive decor to your home, and can also serve as an amazing hostess gift!
This Fall Grapevine Wreath is just so easy to create. It's got a rustic elegance that looks both high end & expensive but costs less than $10 to make!!
This has been on my "to-do" project list for a while. The oranges and greens are my absolute favorites! I always enjoy combining natural elements with fabrics and felts for a warm look. Throw in a little burlap ribbon and perfection!
Fall is my favorite season. I just love all the warm, cozy colors Fall brings too. I have a friend who loves Fall as much as I do and since I am thankful for her friendship, I made this Fall Rosette Wreath for her to enjoy.
16. New Fall Wreath from Confessions of a Serial DIYer
I decided to abandon the oranges and yellows this year in favor of a more subtle palette. What do you think?
Do you love fall decorations? Well, if you want to make an easy, fast and gorgeous fall wreath, look no more. I know you want to make this!
Today I'll be showing you step-by-step instructions on how to make a Burlap petal wreath. And because it's time for Fall, the instructions today are for a burlap pumpkin version.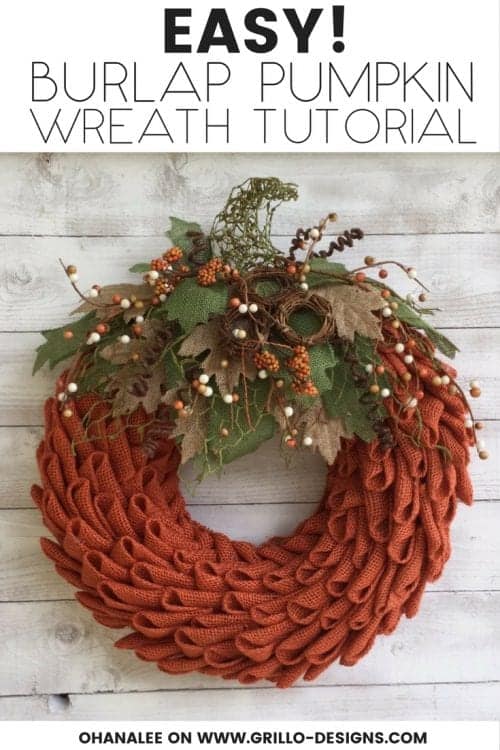 The florals and picks used to decorate this wreath are from Dollar Tree! So not only is this wreath stupid simple to make but it's super cheap as well! But the best part is that there is NO HOT GLUE required to make this wreath!
This darling pumpkin wreath using a Dollar Tree wire pumpkin frame looks like something out of a home decor magazine!
Our Crafting Essentials List:
Follow The Crafty Blog Stalker