Make your own Felt Flower Scarf using a Sizzix Big Shot. DIY craft tutorial includes easy to follow instructions for a fashion accessory that your style!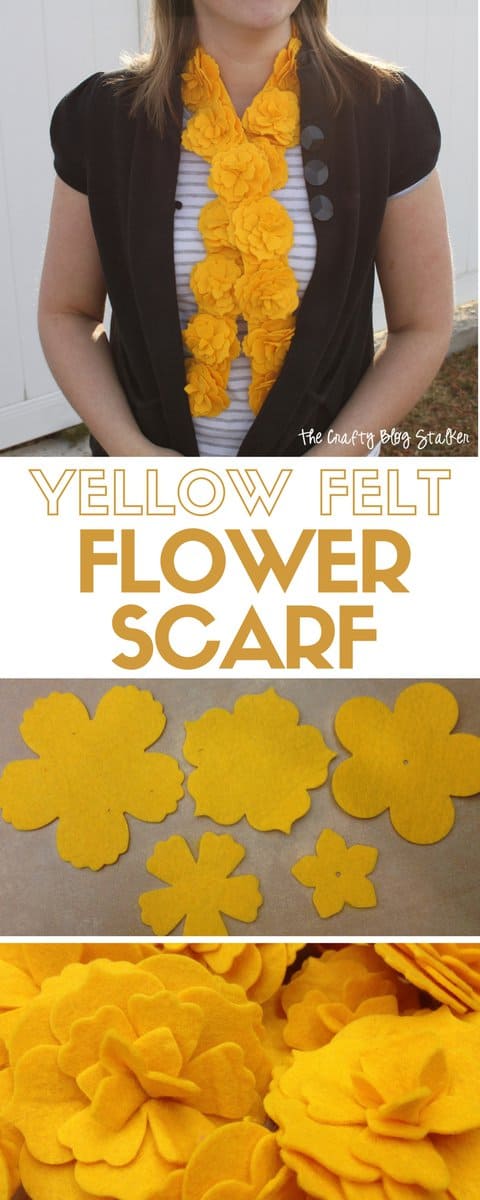 Have you seen the beautiful felt flower scarfs popping up all over the internet? I love them all and have been drooling over them for quite some time. Finally, I decided it was time to stop drooling and start making.
Supplies Used: Some links may be too similar items when exact items couldn't be found online.
Note: I used two different Bigz Sizzix Dies to get the different layers to my flower. Sadly, the two dies I used are retired and no longer available to purchase. They were called the Bigz Island Flower and the Bigz L Fun Flowers, just in case you want to try and track them down.
How to Make a Yellow Felt Flower Scarf
Begin by cutting the flower shapes out of the yellow felt with the Big Shot and Flower Die. 
Stack the flowers to get a nice full felt flower and stitch the center with some needle and thread.
The finished flower had a diameter of about 3-inches. I made a total of 17 flowers for my scarf that is 38-inches long, but depending on the length of your scarf you could make more or less felt flowers.
This big pile of finished felt flowers looks so fun!
For the scarf base, cut a strip of felt about 2 ½ inches wide and 38 inches long. Sew each flower onto the strip of felt with a couple stitches around the bottom layer of the flower. I also rounded and trimmed the ends of the scarf so corners wouldn't poke out behind the flowers.
The felt flower scarf turned out better than I pictured! And, I have gotten compliments every time I have worn it! It is a thinner scarf so it is easy to wear all day since it isn't big and bulky.
What color would you make this felt flower scarf in? Share and leave a comment below!
And let's be friends on Pinterest so you can see all the fun DIY projects I'm pinning!
You Might Also Like:
Follow The Crafty Blog Stalker