How to Make a Decorative Standing Clipboard. An easy DIY craft tutorial idea for chores, grocery lists, pictures and more. Makes a great handmade gift!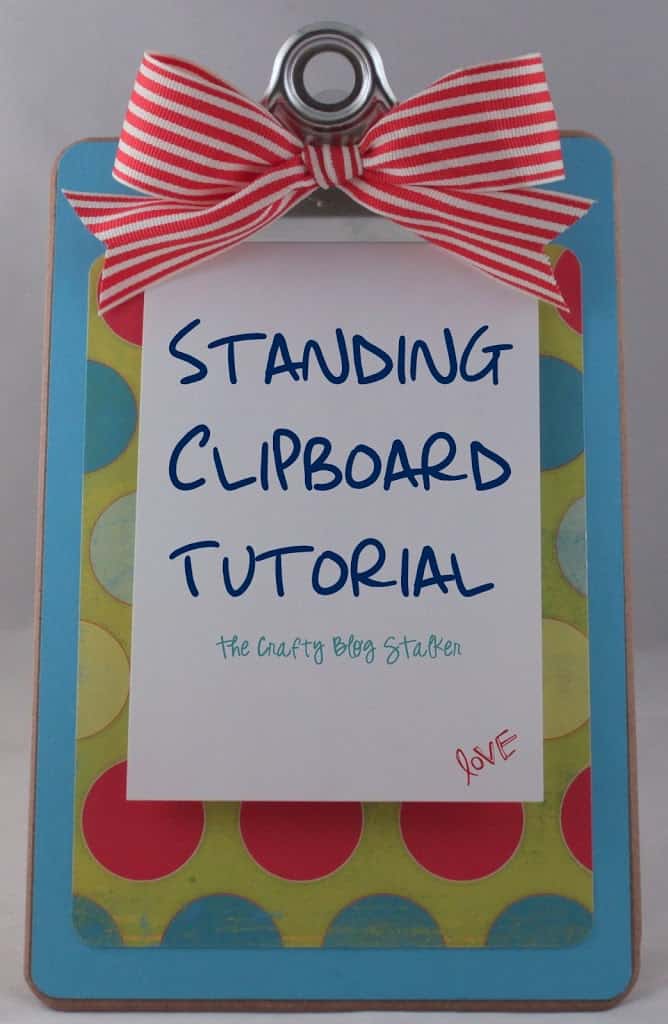 Last week I went to SNAP!, a Creative Blogging Conference. This is such an amazing conference filled with informative classes, inspiring speakers, and the best part, fun roomies! We had a two-bed hotel room stuffed with 6 amazing bloggers! We stayed up late every night and had some pretty interesting conversations.We all decided to exchange roomie gifts and this is what I came up with.
A fun thing to do when attending a conference and rooming with others is to bring roomie gifts and this Standing Clipboard was my gift to my new friends.
Supplies Used: Some links may be too similar items when exact items couldn't be found online.
How to Make a Decorative Standing Clipboard
1. Cut the solid piece of cardstock to 5 11/16 x 8 11/16 inches.
2. Lay the paper underneath the clip in the clipboard, and put a pencil mark where the metal piece is.
3. Measure how far in the metal piece goes so you will know how deep to make your notch.
4. Measure out the area that needs to be cut using the marks and measurements from steps 2 and 3.
5. Cut out the notch.
6. The piece of card stock should fit in around the metal piece. You may need to cut small adjustments so it will fit just right.
7. As you can see the square corners don't look as nice.
8. So take a Corner Rounder Punch to all four corners and they will fit the clipboard much better.
9. Using your adhesive of choice, put adhesive on the back of the solid cardstock, slide into place and then push down to secure
10. Out of the patterned paper cut a 5 x 7-inch square, round the corners like in step 8, and add glue to the back and adhere on top of the solid piece of card stock.
11. It is looking cute already, but we aren't finished yet!
12. Take a piece of a fun ribbon, I like the ribbon that is a little thicker.
13. Tie a simple bow.
14. To make the perfect ends on the bow take the length of ribbon coming out of the knot and fold in half.
15. Cut in and up towards the folded side.
16. Walah! perfect ends to your bow!
17. To attach the bow to the clipboard use some hot glue.
18. Look how cute! Only one more step and it's the mystery ingredient!
The back piece is what makes the clipboard stand. It is the easel backing to a frame! How smart is that?
19. Hot glue the back frame piece to the back of the clipboard.
And it's all done! So Cute!
Wouldn't this look so cute on your desk as a way to keep notes or To-Do lists handy, or even holding a cute picture! It could double as a frame!
Here are all of the Standing Clipboards that I made. Each one is unique.
What would you do with your own Standing Clipboard? Share and leave a comment below!
And let's be friends on Pinterest so you can see all the DIY projects I'm pinning!
You Might Also Like: