How to make Hanging Lolly Art great for bedroom decor or party decor. An easy DIY craft tutorial idea using patterned paper.
Complete step by step instructions and tutorial below!
The last couple of weeks I have been having a lot of fun making things to decorate my girl's room.
The latest project is these hanging lollies! They are super simple to make and look awesome hanging from the ceiling.
Supplies Used to Make Hanging Lolly Art
Items linked below may go to similar items when exact items couldn't be found online. Links are affiliate so when you purchase, I will get a small kickback to help fund the next tutorial!
How to Make Hanging Lolly Art
To begin, choose 3 coordinating patterned papers. The large and medium lolly will each take 2, 12 x 12 sheets, and the smaller will take 1, 12 x 12 sheet.
Large Lolly – 4 strips of paper that measure 6 x 12.
Medium Lolly – 4 strips of paper that measure 5 x 12.
Small Lolly – 3 strips of paper that measure 4 x 12.
All lollies are made the same way.
Lay each strip of paper in the Score Board lengthwise and score every 1/2-inch. Then accordion fold the strip of paper.
When all 4 pieces are scored and folded, glue the ends together so you have a large circle.
When you push the sides down it will make a lolly. To secure the lolly take a smaller scrap of paper (I used the white circle to the left of the lolly) and pile on the hot glue.
Lay the circle with the glue in the center of the lolly before it is pushed down, push the sides down into the center where the glue is.
Add a little bit more hot glue into the very center to hold it nice and tight.
Take a coordinating color or pattern of the paper and cut another circle and hot glue it on. Use a punch or die to get a perfectly cut circle.
Top it off with a little strip of ribbon, button or other embellishments.
Here are all 3 of the finished lollies on the floor. (I love how the colors coordinate each other!)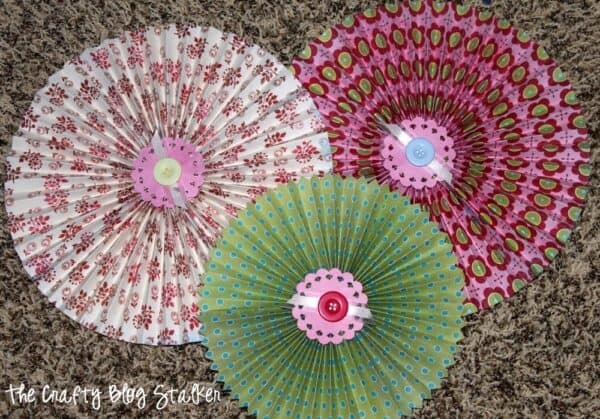 Hot glue a length of fishing line to the back and hang from the ceiling.
The lollies twist and turn slowly as they hang and are a fun touch to my girl's bedroom. They love them!
Have you made other home decor with Paper? What have you made? Share and leave a comment below!
Follow me on Pinterest and you can see all the DIY projects I'm pinning!
You Might Also Like These Tutorials: