Prepping for Thanksgiving by cleaning and home decor crafts. Easy DIY craft tutorial ideas for a burlap table runner and place mat. This shop has been compensated by Collective Bias, Inc. and its advertiser. All opinions are mine alone.
Is your house the one that everyone goes to for family parties and neighborhood get-togethers for Thanksgiving? These types of events are my very favorite part of this great holiday.
Both my husband and I come from pretty large families. I have 6 brothers and sisters, and my husband has 6 brothers and most of them have families of their own. This time of year is filled with lots of fun visits, meals and often, weekend guests. I want to make sure that everyone who comes to my home feels comfortable, relaxed and ready to have a good time. To me, that means making sure everything is clean, in its place and that my home decorations are gorgeous and festive.
Cleaning isn't my favorite part of getting ready for guests, but when I have the right tools I can get the job done quickly and effectively. Since family will start dropping by soon, I need to get ready. So I went to my local Walmart and purchased some new cleaning supplies to help make the cleaning task a bit easier.
I purchased Scrubbing Bubbles® Toilet Cleaning Gel, Disinfectant Scrubbing Bubbles® Bathroom Cleaner, and of course, some Windex® Original Glass Cleaner.
A room that we always end up in is the kitchen. So the tutorial I want to share with you is a very simple table runner that you can make out of Burlap.
Table Runner Tutorial
The burlap I used is a beautiful cream color and actually has strands of gold throughout. It really is very pretty.
Supplies Used: Some links may be too similar items when exact items couldn't be found online
I want my table runner to have the natural fringe of burlap, but burlap can be difficult to work with especially if you want all of the sides to look even. The threads never seem to run perfectly straight so when you cut and begin pulling your fringed ends will all be different lengths. I am going to show you how to get burlap fringe perfectly even for a gorgeous table runner.
I want my table runner to be about 12 inches wide and about 48 inches long. The burlap fabric has a 54-inch width so I cut a piece that is about 16 inches long.
Then, I just started pulling threads out one by one, working on one side at a time.
This is one side of my table runner and you can see how on the end of the side the fringe is 2 1/2 inches long and on the other it is not quite 1 inch.
When you trim all of the fringe to the same length, it squares up the strip. I wanted my fringe to be about 3/4-inch so I cut a strip of paper to that width and used it as my guide as I cut along that side.
Repeat on the opposite side. Although this time, continue pulling until your solid/un-pulled burlap is to your desired width. Then square up by trimming the fringe to the same 3/4-inch.
I wanted the ends of the table runner to be a little bit longer so I trimmed those edges to have a 3-inch fringe.
If you would like you can comb your fringes to make them straight and tangle free.
You will make a mess with all of the fibers and threads so be prepared to sweep and or vacuum when you are finished. 🙂
You will love how your table looks when your new table runner is is laid out. Add a nice centerpiece to the center and your table is set!
You can also use this same method to create matching placemats. I wanted my placemat to be 12×18 inches, so the piece I started with was about 15×21 inches.
Now that my table is all set, the next thing I need to do to get ready for my guests is to clean.
Check out the full Thanksgiving Tablescape here.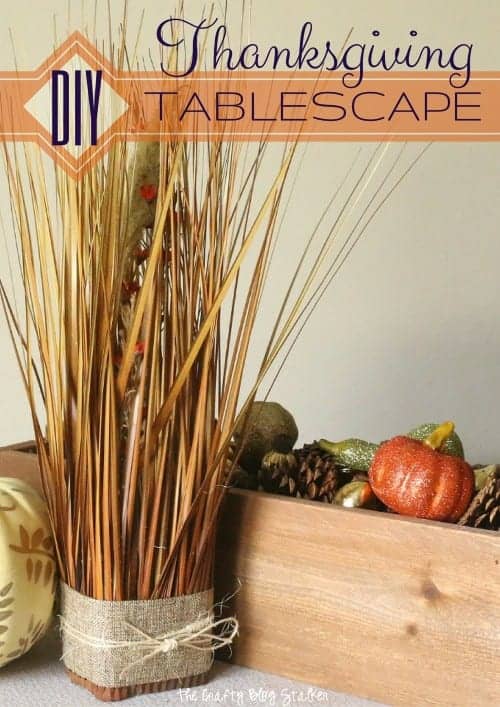 I want to know, what do you do to get ready for Thanksgiving? Leave a comment below.