The table's centerpiece sets the tone for your Thanksgiving meal. These colorful ideas show how you can decorate your table in style this holiday.
Don't let the turkey all the praise at this year's Thanksgiving dinner!
Create beautiful table decor that will wow your friends and family.
Below are 20 easy DIY craft tutorial ideas that are fun, simple, and elegant that YOU CAN MAKE!
Thanksgiving Dinner Table Decor:
Visit the website for the step-by-step tutorial.
When I was planning this pretty table as a place to share a meal with friends, I chose mainly shades of white and cream, with just a little peachy-orange for accents and a bit of greenery and brown to ground the arrangement.
This year DIY a beautiful Thanksgiving Tablescape with these 5 project tutorials. Pieces can be used alone as home decor, or together for a festive fall tablescape.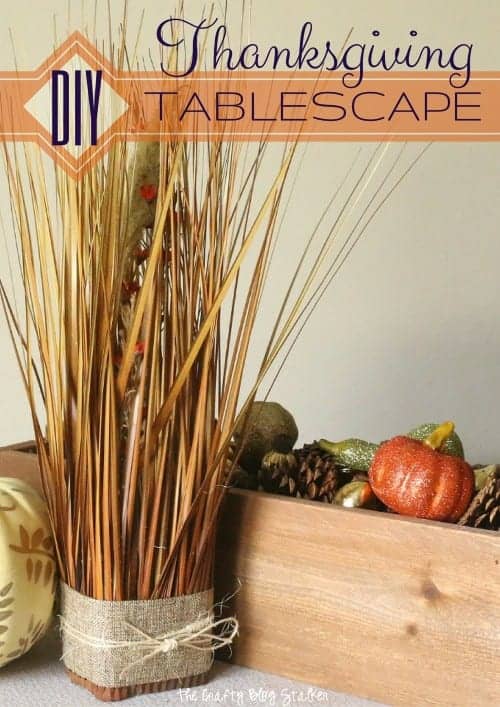 Free Printable Labels for your Thanksgiving food and name tags for place settings. Along with cheap and simple ideas for decorating your table.
This was a really fun design project with an emphasis was on ease, but, Warning, Bittersweet is messy but its beauty makes the clean up worth it
This little Thanksgiving table was designed to occupy the children and make them excited to have their own little place to eat at the kid's table. Don't forget the personalized place cards!
Simple and inexpensive dining table decorations for easy entertaining for fall. This apple table setting couldn't be easier to make – it takes just a few minutes and no floral expertise is required!
With Thanksgiving right around the corner, I wanted to create gold Thanksgiving-inspired table settings and decor. My favorite were these DIY napkin rings made with Christmas floral picks.
The mix of this jute runner, the different woods, pumpkins, and dried hydrangea flowers is one of my favorites.
When planning our Thanksgiving tablescape, I knew that I had to use cotton in some way. I decided to center my whole table around cotton.
Today I'm sharing a fun tutorial on making your own BURLAP & CORN HUSK TABLE RUNNER for your Thanksgiving dinner tables. If you have a few sewing skills, you can whip this up in no time at all, and probably costs less than $15.00 to make.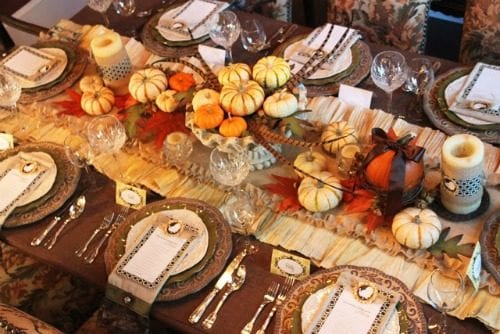 I can tell you that it's really not necessary to go all out for your Thanksgiving table. Just a few accessories here and there can make your table look festive and gorgeous. And let's face it, the most important part of the table is the food anyway, right?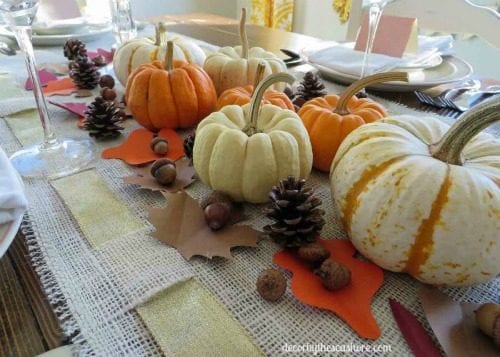 We actually celebrated our Canadian Thanksgiving at the beginning of October, so this kind of gives me the opportunity to celebrate Thanksgiving twice. I usually keep my tablescapes fairly simple and always love to incorporate natural elements as much as possible.
I wanted to create a simple yet elegant Thanksgiving tablescape this year and I think it came together quite nicely. This table took me less than an hour to put together and it will take you even less time since you most likely won't be hauling your kitchen table outside for a little photo session.
I was so excited for the chance to design a tablescape for our local Home Show this weekend! So if I'm going to take the time to set a table in a FANTASTIC way it's going to be for Thanksgiving.
While I typically always use real china for dinner, I often pull out paper plates for leftovers and desserts. However, when I went out to purchase some Thanksgiving-themed plates, I didn't find any that really coordinated with the simple gold and white color scheme I am trying to achieve this year. Solution? Thanksgiving Turkey Plates
So many fun and exciting memories happen around this time of year. So why make things stressful and complicated when it comes to putting together a beautiful dinner table?
We're hosting at our house this year, and there's nothing I love more than creating a seasonally festive table setting. I'm going to share my layout strategies and show you how to create a simple but elegant tablescape with items you probably already have at home.
By adding these simple green colors, we brought nature indoors and created the perfect Thanksgiving tablescape!
Today I'm sharing all the sources for my tablescape, and also a step-by-step guide for how I put it together. I hope it inspires you as you start thinking about special details you could add to your Thanksgiving tablescape this year as well.
Once I accept that summer is truly over, I immediately begin to start planning for holiday festivities. So let's dive in – read on to see my rustic Thanksgiving tablescape ideas!
How do you like to decorate for Thanksgiving? Leaves and pumpkins or oranges and golds? Share and leave a comment below.
Our Crafting Essentials List:
Title:
Easy Thanksgiving Table Decor Ideas: Creative Tablescapes
Keywords:
thanksgiving dinner table decor
Last Updated:
September 13, 2023