A simple ham glaze recipe made of brown sugar and mustard is the perfect addition to a Favorite Things Party with friends. An easy DIY recipe tutorial idea. This shop has been compensated by Collective Bias, Inc. and its advertiser. All opinions are mine alone. #ForTheLoveOfHam #CollectiveBias
The holidays are my very favorite time of the year. There are cookies, singing Christmas carols, stringing lights, making handmade gifts, and of course, celebrating with friends and family.
I did a first this year, and that is I decided to throw a Favorite Things party for some of my friends. Which if you don't know how this kind of party works check out this post from How Sweet This Is. There are even free printables that you can use. I downloaded this one for the facebook event I created.
To start the party off right, we all enjoyed a delicious ham dinner. Now I have to tell you I was very excited bout this but a little nervous too, because my husband is actually the main cook in the family and he wasn't going to be around to cook. So that meant it was all on me! BUT the ham turned out amazing and was sooo good. I am so excited about how this ham turned out so I am going to go backward and share how I prepared it.
It all started at my local Walmart where I picked up my Hormel Cure 81 bone-in ham that was Cherrywood flavor.
If you have never cooked ham before (I hadn't), it really is so easy. The hams are precooked, so you really need to just warm them up in the oven and complete cooking instructions are included.
Remove the ham from the package and place in a large roasting pan with the large cut side of the ham facing down. Add 1 cup of water to the pan, cover the pan securely either with foil or the roasting pan lid. Bake at 325 degrees for 10 minutes per pound.
Next, comes the glaze. I used a simple Brown Sugar and Mustard Glaze.
Ingredients
1/2 cup packed brown sugar
3 tablespoons honey
1 tablespoon mustard
1 tablespoon pineapple juice
Directions
In a small bowl, mix all ingredients with whisk until well blended.
The glaze is added at the very end. When the ham is finished cooking, take out of the oven, and increase the oven temperature to 425 degrees. Remove ham from the pan and pour out the water from the bottom and then place the ham back in the pan. Spread the glaze all over the ham giving it a nice thick layer.
Place back in the oven for 5-10 minutes.
Oh, it smells amazing coming out of the oven and looked gorgeous on my table.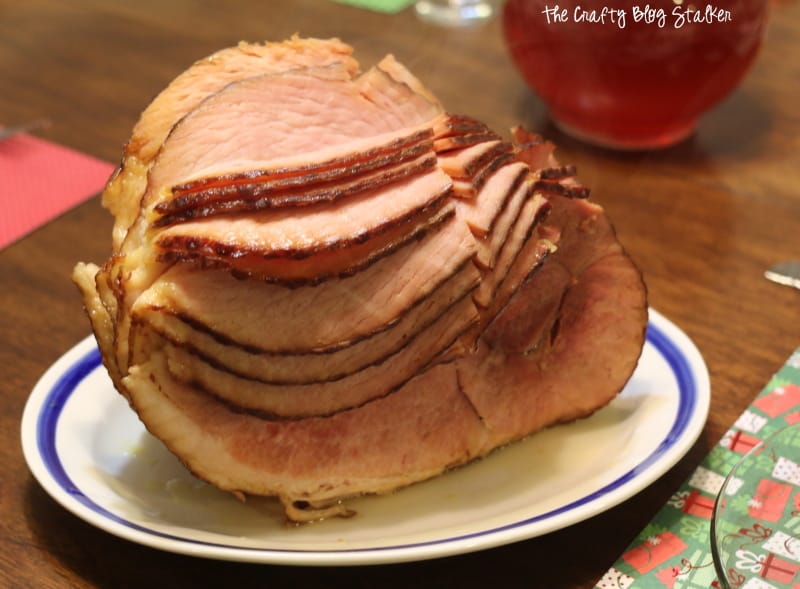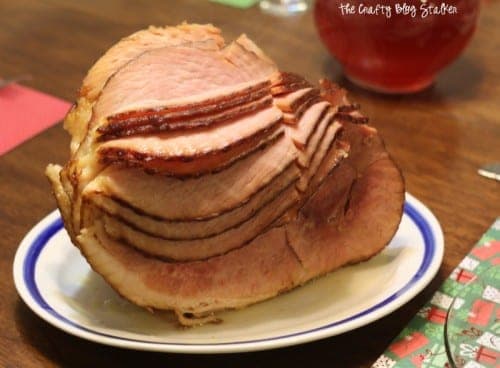 Dinner really was so yummy, and we had so much fun chatting and laughing.
After dinner, we moved to the living room and did our Favorite Things gift exchange.
Overall, the dinner party was a huge success. Sometimes you just need a good excuse to get together with friends and laugh until it hurts.
I'd love to hear about your favorite way to celebrate with friends and family during the holidays? Share and leave a comment below.