Enjoy 35 Free Printable Summer Coloring Pages and Activities! From beach fun to outdoor adventures, keep your kids entertained with engaging summer-themed resources. If you make a purchase using any affiliate links below, we may earn a commission.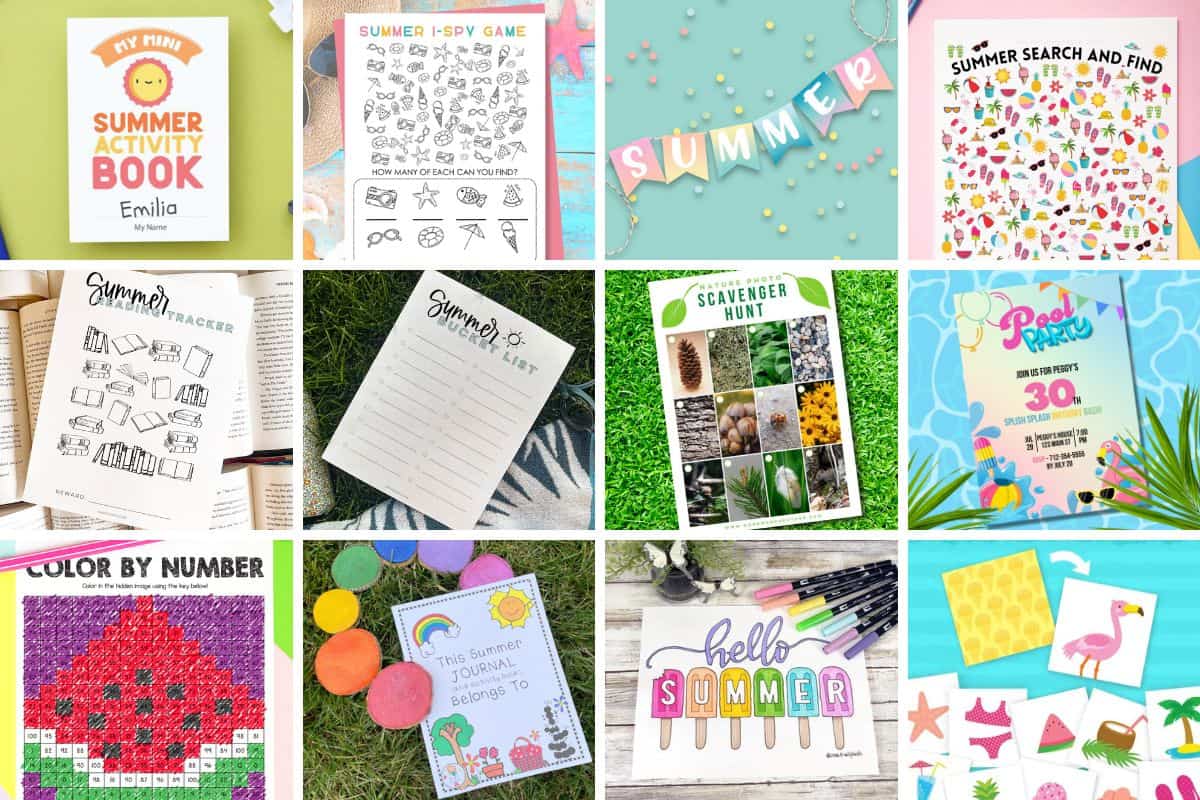 Summer is here, and it's time to embrace the sunny days and warm adventures!
Keep your little ones entertained and their creativity flowing, with this collection of 35 Summer Printable Coloring Pages and Activities.
Summer Printable Coloring Pages:
All of these awesome printables are for personal use only. Visit each website to grab the download. No physical products will be sent.
All designs are digital, no physical products will be sent.
**For PERSONAL USE ONLY you do not have permission to redistribute**
1. Summer Coloring Sheets from Smiling Colors
Experience the joy of summer with our 3 free printable Summer Coloring Pages! Perfect for home or vacation, let the coloring fun brighten your day.
2. Summer Search and Find from The Crafty Blog Stalker
Engage kids with the Summer Search and Find Printable, a delightful and entertaining activity for the sunny season!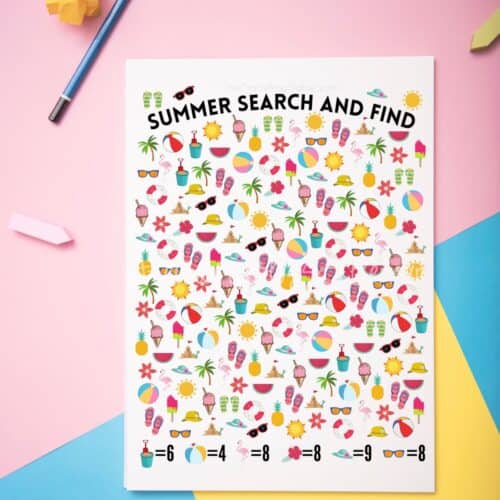 3. Summer Bucket List from Lemon Thistle
Plan your best summer ever with our Free Printable Summer Bucket List! Capture exciting activities and create lasting memories. Get the template now!
4. Nature Scavenger Hunt from Homemade Heather
Keep kids active with free Nature Scavenger Hunt printables! Explore the outdoors and have fun with this engaging activity.
5. Summer I-Spy Game from The Girl Creative
Download our Free I Spy Printable Activity for Summer! Break from screen time with this engaging worksheet that doubles as a coloring page. Enjoy a fun game of I-Spy for all ages.
6. Hello Summer Coloring Page from Creatively Beth
Celebrate summer with our Hello Summer FREE Printable and Coloring Page! Perfect for kids to color or frame as home decor.
7. Summer Recipe Card from Try It Like It Create It
Organize your summer recipes with our free Summer Recipe Card! Print, trim, and fold for a stylish front and back design. Happy cooking!
8. Summer Journal from Laura Kelly Design
Get ready for a summer of memories with our Free Summer Journal Printable! Download and start capturing your summer adventures today. Happy journaling!
9. Summer Color by Number Watermelon from Artsy Fartsy Mama
Boost number fluency with Free Printable Summer Color by Number Worksheets. Fun and engaging practice for kids!
10. Summer Mini Activity Booklet from Tried and True
Keep your kids entertained and beat summer boredom with our Printable Mini Summer Activity Booklet! Packed with engaging activities for mind and body.
11. Summer Wall Art from A Hundred Affections
Discover the cottage-core style with our Summer Wall Art Free Printable! Get decorating tips and add a touch of whimsy to your home.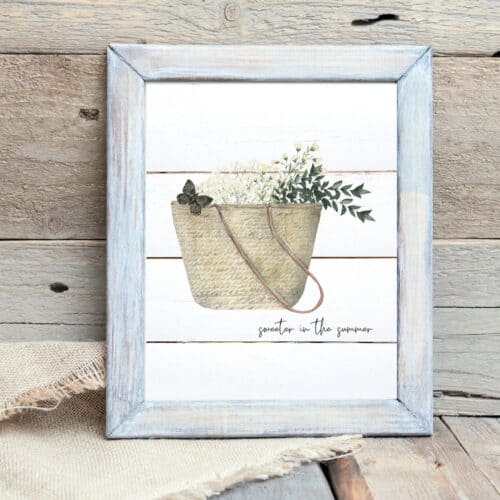 12. Summer Reading Tracker from Hand Lettered Printables
Track your summer reading goals with our Free Printable Reading Tracker! Choose from three different tracker options. Start your reading adventure now!
13. Write your Summer Story from Ink Happi
Create your summer story with our Summer Printables! Capture memories and document your adventures. Get ready for a memorable summer!
14. Coloring Pages of Sea Animals from Simple Nature Decor
Enjoy beach-themed fun with our Sea Creature Coloring Page Printable! Perfect for kids' summer activities. Let their creativity shine!
15. Summer Party Invite from Michelle James Designs
Dive into summer fun with our Summer Party Invite Template! Create a personalized pool party invitation using this editable template in Canva. Let the celebration begin!
16. Summer Banner from Laura's Crafty Life
Elevate your summer celebrations with our Free Printable Summer Banner! Perfect for BBQs, pool parties, or any summertime fun!
17. Happy Summer Postcards from Made With Happy
Send summer love with our colorful Happy Summer printable postcards. Just print, write a heartfelt note, and spread the joy through snail mail.
18. Memory Game for Summer from Ayelet Keshet
Enjoy summer with our printable Memory Game! Create, play, and make lasting memories with this fun project for kids and families.
19. Printable Summer Activity Page from Artsy Fartsy Mama
Get summer-ready with our free printable Summer Activity Page! Enjoy hours of fun with engaging activities. Let the summer adventures begin!
20. Summer Word Scrambles from Tree Valley Acadamy
Enjoy summer with our fun Word Scramble puzzles! Keep older kids entertained during a vacation with these engaging challenges. Let the summer fun begin!
21. Summer Dot Marker Coloring Pages from The Artisan Life
Entertain your kids with free Summer Dot Marker Coloring Pages with a beach ball, sandcastles, and ice cream cones!
22. Summer Coupon Book from Artsy Fartsy Mama
Maximize your summer fun with our Free Printable Summer Coupon Book! Enjoy a wide range of exciting activities and treats. Let the good times roll!
23. Summer Printable Preschool Worksheets from The Keeper of the Memories
Discover our Summer Printable Preschool Worksheets! Engage your little ones with fun Math and ocean activities. Get them thinking and learning this summer!
24. Summer Charades Game for Kids from Darcy and Brian
Enjoy Summer Charades Game for Kids! Adapt for different ages and themes, creating laughter and cherished memories. Let their imaginations soar!
25. Summer Word Search from Play Party Plan
Keep bigger kids busy with our Free Printable Summer Word Search! Find summer-themed words in this engaging hidden words puzzle.
26. Nature Walk Collection from Nifty Mom
Explore Nature Walk Ideas for Kids with our printable activity sheet! Enjoy fall walks with a Nature Walk Collection for active and engaged adventures.
27. Summer Word Finds from Real Life at Home
Enjoy our Free Summer Word Finds Printable Set for Kids! Easy puzzles with summer-themed words and coloring pictures. Keep kids entertained!
28. Summer Bingo from The Best Ideas for Kids
Enjoy our Free Printable Summer Bingo cards! Perfect for kids, this fun activity can be played at summer parties or taken to the beach.
29. Coloring Pages for Kids from Mom Brite
Enjoy our Free Summer Coloring Pages for Kids! Perfect for summer vacations or hot days, these printable pages will entertain and inspire creativity.
30. Summer Word Search Coloring Page from Artsy Fartsy Mama
Celebrate any hot summer day with our Free Printable Word Search Coloring Page! Find summer-themed words and add color to create a personalized masterpiece.
31. Printable Cookout Coloring Pages from Live Laugh Rowe
Enjoy our adorable Summer Coloring Pages! Perfect for cookouts, these pages will entertain and bring joy to kids of all ages. Let the creativity begin!
32. My Summer Doodle Book from Hello Wonderful
Entertain kids with our DIY Mini Summer Doodle Books! Free printables that are perfect for road trips, parties, or lazy summer days. Easy to assemble and fun for all ages!
33. Beach Flip Flops Coloring Page from Real Life at Home
Color our Beach Flip Flop Coloring Page! This awesome coloring page is perfect for kids and adults. Enjoy a relaxing and fun activity!
34. Free Printable Coloring Pages from Easy Peasy and Fun
Celebrate summer with our free printable Summer Coloring Pages! Capture the season's essence with vibrant colors. Enjoy the coloring fun!
35. Word Search for Summer from Crafting a Lovely Life
Entertain kids this summer with our free printable Word Search for Summer, it guarantees hours of fun. Enjoy the excitement of finding all the words!
Our Printables Essentials:
Title:
35 Summer Printable Coloring Pages and Activities
Mentions:
30 Minutes or Less, Crafts for Kids
Keywords:
Summer Printable Coloring Pages
Last Updated:
August 23, 2023