Check out this free printable camping bucket list. It is a great way to help plan your perfect camping trip for the whole family! If you make a purchase using any affiliate links below, we may earn a commission.
Are you ready to make your summer break an unforgettable adventure?
A camping bucket list printable is a fun way to help your kids make their outdoor dreams come true. It is the perfect way to try fun things and new places.
Get ready to take your next camping trip to new heights and explore outdoor activities in a way that gets everyone excited about the great outdoors!
Download the Free Printable Template:
These digital items are for Personal Use Only - You do not have permission to redistribute them.
Included are 4 PDF files with 2 different designs:
1 on 1 Fill in your own
2 on 1 Fill in your own
1 on 1 Prefilled entries
2 on 1 Prefilled entries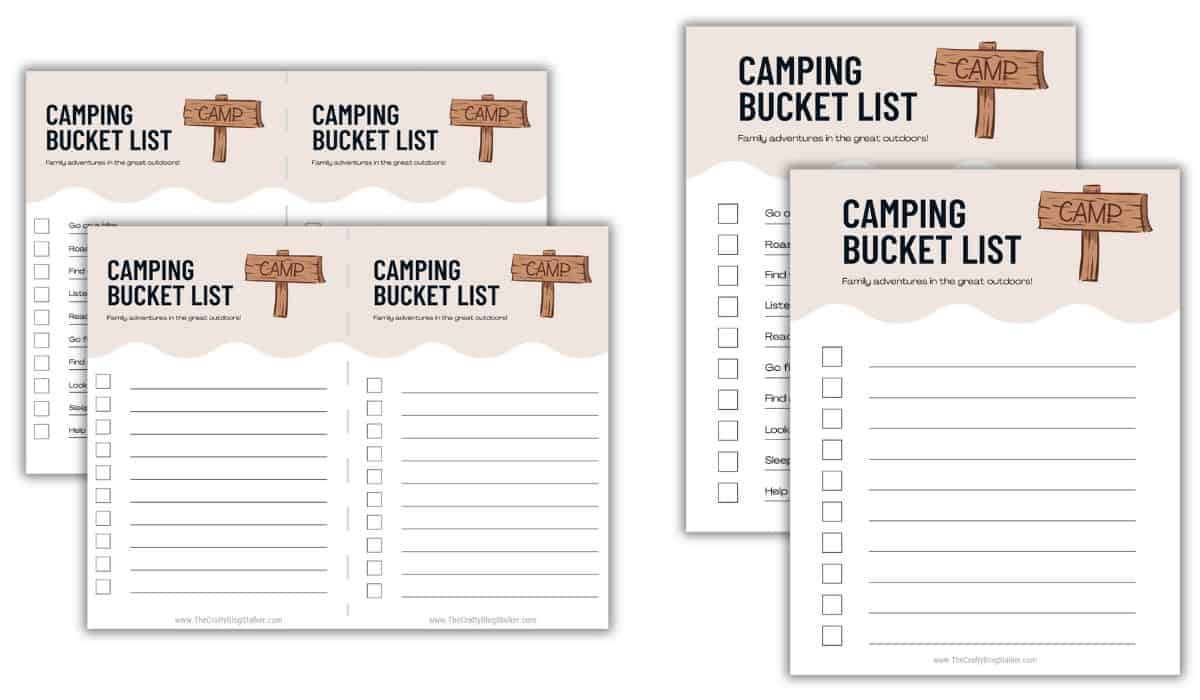 If you would like a watermark-free version, you can purchase that here at an extra cost.
Optional Fill-In Entries:
If you are wanting to create your own list of things to do for a more customized camping experience, here is a list of activities.
Play a game with the entire family
Count wild animals during the road trip to camp
Identify types of clouds seen while camping
Make a fort using only sticks and branches on the ground
Fly a kite (if you are near an empty field, of course)
Make homemade ice cream
Eat watermelon
Go berry picking
Blow bubbles
Go on a hike
Go on a nature scavenger hunt
Read a new book
Go on a bike ride
Make an eco-friendly bird feeder with seeds
Feel free to add your own ideas as well!
This is sure to be the best summer vacation filled with exciting activities.
Our Printables Essentials:
Title:
Free Camping Bucket List Printable for Summer
Mentions:
Crafts for Kids
Keywords:
camping bucket list printable
Last Updated:
August 23, 2023