Learn how to glitter pumpkins. It is an easy and fun DIY craft. Add your glittered pumpkins to wreaths, centerpieces and more. You can make it!
I love the colors of fall. I am fortunate to live close to the mountains and one of my favorite things to do this time of year is take a drive up through the canyons and look at all of the trees changing colors. It really is quite beautiful. The greens, reds, oranges, and browns are just breathtaking.
The glitter colors I chose for my pumpkins are inspired by all of the changing colors of fall. I wanted to bring those colors indoor and enjoy them every day.
This technique I am going to show you really will work on almost any type of surface you want the glitter to stick too. Since its fall, I chose pumpkins.
I also have a video tutorial if you would prefer. If you like my video subscribe to my YouTube Channel so you don't miss out on any future video tutorials!
Supplies Used: Affiliate links below may be too similar items when exact items couldn't be found online.
How to Make Glitter Pumpkins for Fall Decor
First, apply a coat of Mod Podge. It doesn't need to be too heavy, but you also don't want it to be too light. So just a good amount will do. How is that for instruction. 🙂
As soon as you are done painting on the Mod Podge shake on the glitter. Pour the glitter all over the pumpkin over the craft tray.
I love craft trays because they make it so easy to collect all the glitter that doesn't stick to your project and pour it right back into your container to use it again. This is a must-have tool if you like to use glitter.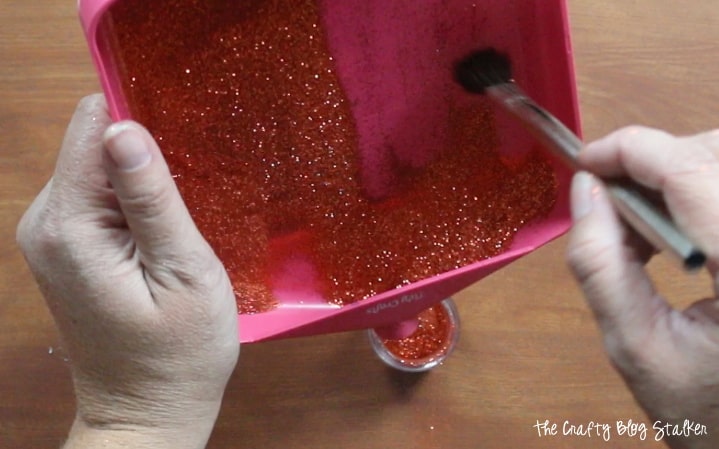 When all of the glittering is done, apply a clear coat. This will help the glitter adhere and less of it will fall off when handling.
When the glitter pumpkins are completely dry you can add them to your fall decor. I put them inside of wood planter box centerpiece with some ruffled strips of paper and small gold ornaments.
Here is a side view so you can see what it looks like as the centerpiece on my dining room table.
I would love to know what is your favorite way to enjoy the fall season? Leave me a comment below.
And let's be friends on Pinterest so you can see all the DIY projects I'm pinning!
You Might Also Like: