Honey Sandalwood Soap Pucks are a great Man Gift Idea. DIY Soap recipe takes 30 Minutes, PLUS a free printable perfect for gift giving.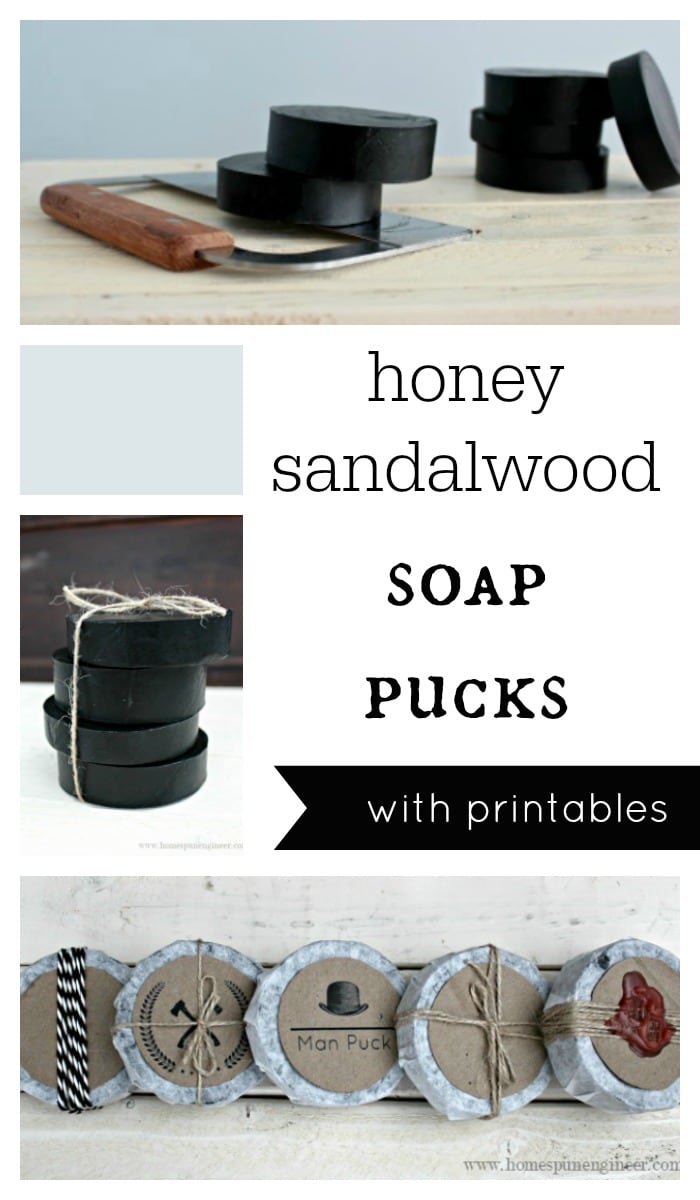 These honey sandalwood soap pucks will leave the man in your life smiling and smelling great. Plus, there are some great packaging printables included.
Hi! Mistie from Homespun Engineer here. I'm very excited to be a monthly contributor at The Crafty Blog Stalker. Thank you so much, Katie! There are so many things I love to create, but I am finding that I have a true passion for creating beauty, bath, and home recipes.
For this soap, I am focusing on men. Not only does this soap smell manly -- no frills here -- but it comes in black. Even Batman only works in black. If that wasn't justification enough, let's throw one more manly aspect in, it's a puck.
However, this soap is a moisturizing, pore-cleansing, acne-fighting, rich, and warm-smelling bar of luxury. I said that the sandalwood fragrance is manly, but it is actually one of my top favorite scents. I adore sandalwood and my husband knows it. --wink, wink--
Now, no worries -- you DO NOT need to be a soap-making expert. There is no messing around with lye or other intimidating chemicals. You do not have to wait weeks for this soap to cure and be ready to use. You can easily make this recipe in your kitchen in less than 30 minutes and have ready-to-use soap in a day.
How to Make Honey Sandalwood Soap Pucks
Ingredients: Affiliate links are to similar items that can be found online for your convenience.
Yields: (6) 1" soap pucks
If you are new to soap making or using natural ingredients, do not be overwhelmed. I was able to find all of the ingredients in my own local stores. The soap base and fragrance can be purchased at a craft store, and the oils and charcoal powder can usually be found at any natural/health stores.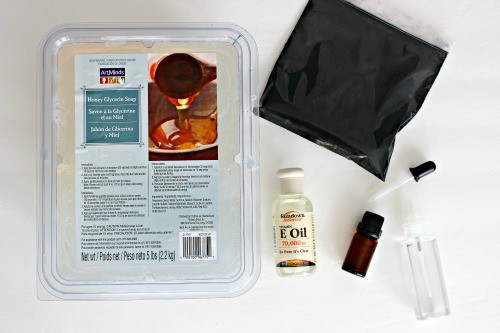 Begin by measuring out your soap base. I used a kitchen scale. (be sure to measure your bowl first, then fill your bowl with the soap and deduct the weight of the bowl).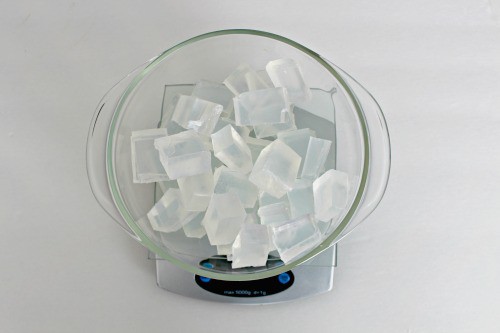 Bowl = 26.7 ounces. Bowl + Soap = 46.7 ounces. Total of 20 ounces of soap.
Microwave the soap base in 30-second intervals. Stir between each interval until fully liquefied.
Add in your soap fragrance, oils, and charcoal powder. Mix slowly and thoroughly until well combined.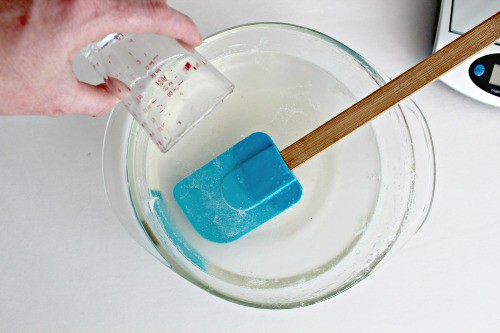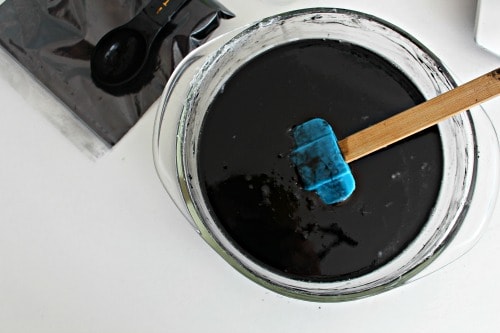 Pour the mixture into your cleaned Pringles chip can. It's okay if the mixture is still very warm.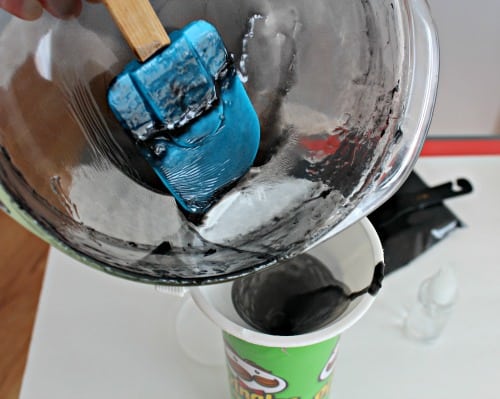 If you notice air bubbles coming to the surface of your mixture, just mist a few squirts of rubbing alcohol into the can. This will release the air pockets.
Allow your can to sit at least 6 hours, I waited overnight. Try not to disturb the mixture while it is setting to prevent any additional air pockets. When the can is cool to the touch and the soap is solid you can remove it from the can.
Use wire cutters or strong scissors, to cut the top lip of the chip can. Once you have that opening started you can easily peel away the can from the soap giving you a beautiful cylinder shape.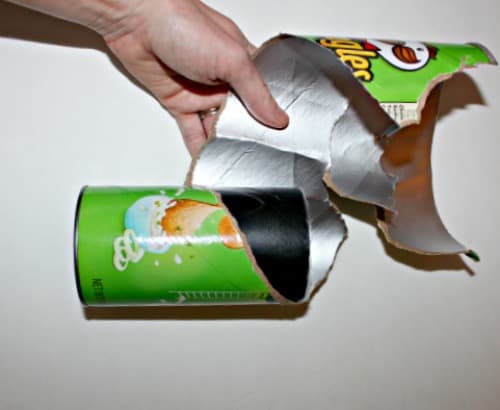 Cut your soap into 1" pucks.
You are ready to Lather, Rinse, and Repeat! Though the puck itself is a nice solid black the lather should be a full frothy white.
The best way to package these is by using coffee filters. Set the puck in the center of the filter and fold into the center, working your way around. Tape in the middle to secure. You can then embellish using the printables provided.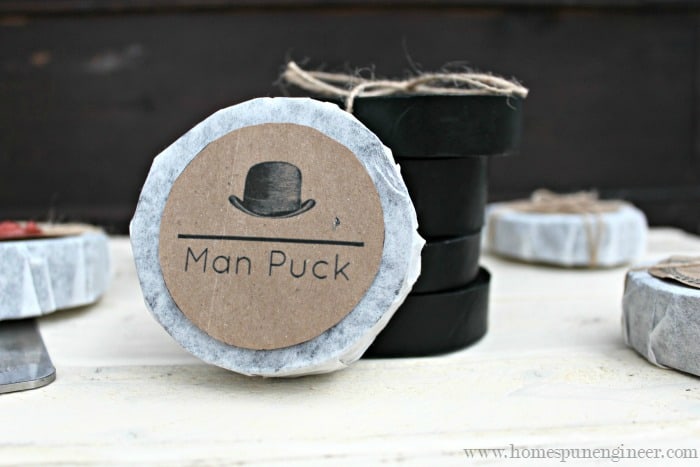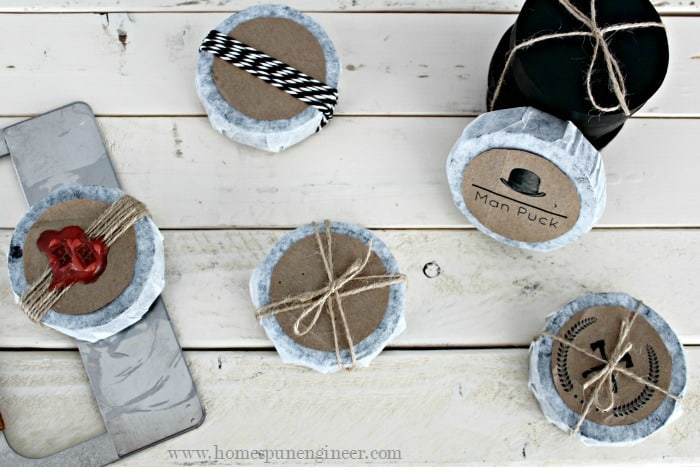 I hope you (or the man in your life) enjoy these Honey Sandalwood Soap Pucks!
And let's be friends on Pinterest so you can see all the DIY projects I'm pinning!
You Might Also Like:
Title:
How to Make Honey Sandalwood Soap Pucks
Mentions:
Manly Gift Ideas
Keywords:
honey sandalwood soap pucks
Last Updated:
August 23, 2023