Plan your own holiday gift exchange with this Santa Sack Swap Exchange Game. Great for groups of 10 or more! Includes printable instructions. If you make a purchase using the links included, we may earn a commission.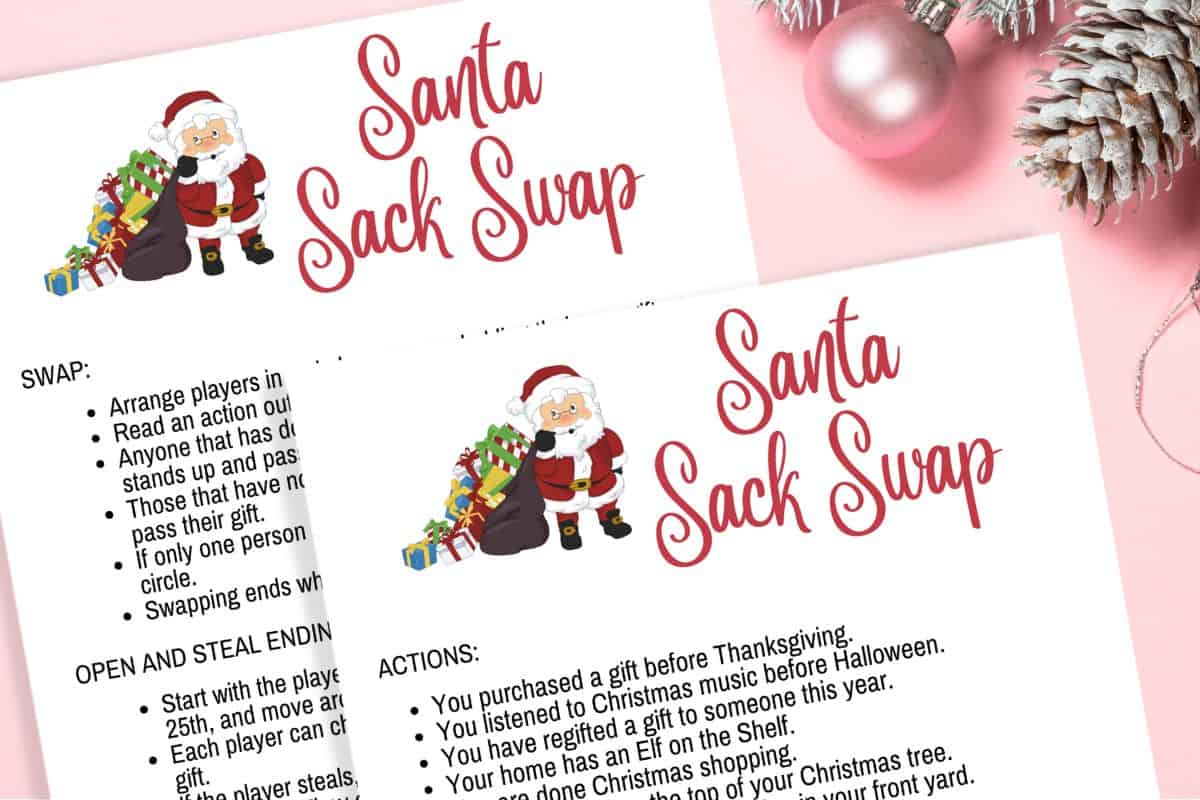 I love my big family and when we get together for Christmas parties we have a lot of fun!
First, when I say big, I really mean huge. There are 7 siblings, all with spouses and kids. Plus, several of our kids have spouses and kids too! Needless to say, it can get crazy and loud.
For my family, I created this gift exchange game that is perfect for large groups!
I think this will be a fun game and I am excited to play it.
Frequently Asked Questions:
Why I love Printables:
Printables are a great way to make something at home that costs much less than if you were to buy it in a store. Plus, you can print off as many as you need!
That is why I love to create printables to share with you. I figure if I love them and appreciate them, then you probably do too!
What Printer I Use:
I have the HP Envy Inspire printer in my home office. This printer does EVERYTHING and I absolutely love it!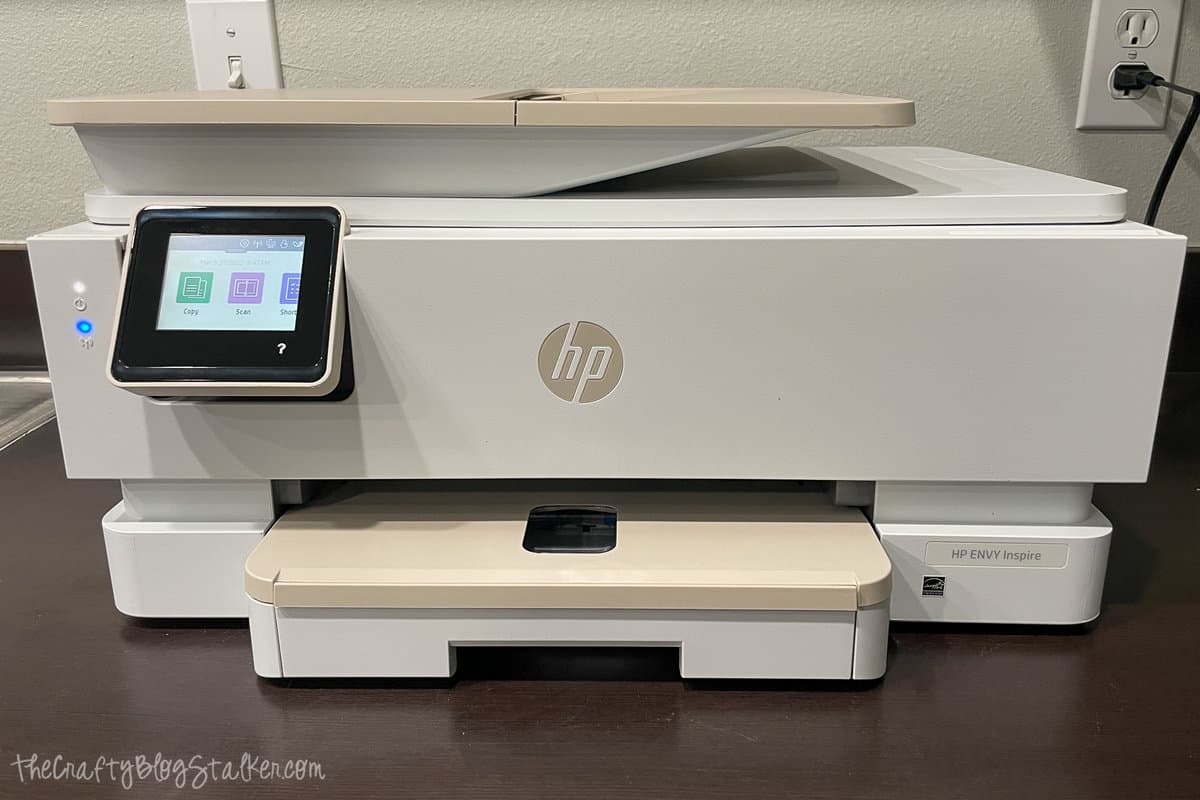 It can print, copy, scan, 2-sided printing, and can print beautiful photographs as well. I wasn't kidding when I said it can do everything!
What Printer Ink I Use:
The HP Envy Inspire printer came with HP ink, and 6 months free of HP Instant Ink.
In the beginning, I had no idea what Instant Ink was, but it is now my favorite part of the printer!
HP Instant Ink is a subscription to the high-quality HP ink that works best in your printer anyway!
You sign up for a plan that works best for you, and you pay a small monthly fee depending on how much you print each month. Your printer then knows when you are low on ink and will automatically send it directly to you at no additional cost!
That means you don't have to worry about running out in the middle of printing your child's book report that is due the next day!
You can cancel or change your subscription plan at any time, so you can make sure you have the ink you need when you need it, and that it will fit into your budget!
Here is a quick snapshot of their available plans.
If you are using an HP printer, this really is such a great idea and a lifesaver. I can't tell you how many times we have made that 11pm trip to the store to get printer ink cuz we ran out, but we needed something printed ASAP.
As a quick tip, if you this link to subscribe, you'll be getting a $10 credit to start with Instant Ink without any payment. This amount will be enough to use Instant Ink on a 10-page plan for 10 months! What a great value!
How to Play Santa Sack Swap:
For our large group, we do nice gifts with a spending limit of $20 per gift, and should not be gender specific. That way anyone will enjoy it.
Arrange players in a circle, everyone holding their own gift.
Read an action out loud.
Anyone that has done that action this Christmas season, stands up and passes their gift to the right.
Those who have not done that action stay seated and do not pass their gift.
Swapping ends when all actions have been read.
Open and Steal Ending:
Start with the player whose birthday is closest to December 25th, and move around the circle clockwise.
Each player can choose to open their gift or steal an opened gift.
If the player steals, then it is the turn of the player who was stolen from. They can then open, steal, or keep.
Each gift can only be traded three times before it can no longer be stolen.
Open without Stealing Ending:
After all of the actions have been read, see if anyone has their own gift. If more than one, they can trade. If only one person, then they can trade with anyone.
Everyone opens the gift they are holding.
Open them one by one, or all at the same time. Whichever way you prefer.
Actions:
One action is read each round, and the actions are a fun way to see how others in the circle celebrate Christmas.
Some of the actions include:
Your home has an Elf on the Shelf.
You handmade a gift this year.
You listened to Christmas music before Halloween.
You have an inflatable decoration in your front yard.
You're on the naughty list.
The printable includes 25 actions, but feel free to use as many as you want. That's the great thing about this game is you can make it last as long or as short as you want.
Grab the Santa Sack Swap Printable:
The printable includes everything you need to play Santa Sack Swap.
You will get one sheet with the rules, and one sheet with the actions.
Our Printables Essentials:
Title:
Santa Sack Swap a Christmas Gift Exchange Game with Printable
Mentions:
Christmas, DIY Games
Keywords:
christmas gift swap game
Last Updated:
November 27, 2023