I worked with HGTV HOME by Sherwin-Williams for this post to bring you my story on how I found the perfect paint color for my design style. The paint was supplied by Sherwin-Williams, but all opinions and experiences are my own.
Choosing a paint color can be a very stressful thing. You want it to look perfect and match what you have dreamed up in your mind - but there is that nagging thought of what if it doesn't look like I want it too? I know these questions all too well.
Our New Home
We moved into our home 18 months ago, we all loved it because of the size and it gave everyone their own space. The owners before had painted everything a creamy white, and I mean everything. Walls, trim, ceiling, doors, the same creamy white.
When we first moved in I thought this would be easy to decorate with, and tried to add splashes of color, but I always had plans for what I would do someday when we painted.
Days turned into weeks, then months, and now we've been here for over a year and a half. I have hung a few things but really not many, because I knew it wouldn't look the way that I had envisioned. I was finding it very difficult to find my style in a sea of cream. So I just kept dreaming of someday.
Recently, my husband and I had this conversation for about the 20th time when we agreed that someday was now, and we needed to stop living in someone else's house and work on creating our own home.
The Color Scheme
Over the past 18 months, I had saved many different color pallets to Pinterest but they always had the same color scheme of gray, blue and yellow, and whenever I pictured what I would do in my home these colors would always pop up. This is one of my favorites.
Now that it was actually time to paint it was time to really decide, and I was a little surprised at how much that scared me and how unsure I was of the colors I had been dreaming of for 18 months. I headed to www.painton.com to finalize and bring to life what I saw in my mind.
It is a great website sponsored by Sherwin Williams that shares Collor Collections, Inspiration, Product information, and my favorite the Color Visualizer where you can change the paint color on walls of different rooms to see if it matches your style. You can even upload your own photo to see the colors on your own walls!
What Gray is the Right Gray?
I decided to go with my original thoughts and go Gray on the walls with white on the ceiling, trim, and doors. I headed to Lowes to get some samples of the grays to do some test strips on my walls.
I painted the strips on a couple different walls so I could see how the different colors looked in different areas of the room. I even had a vote on Instagram asking for votes on the perfect shade.
After all of that, I decided that all of the shades were a touch dark. I went back to strong>www.painton.com and played with the lighter shades of the colors I had originally chosen. That is when I decided on Repose Gray. In my eyes, it really is the perfect shade, it's not blue, not a greige (beige/gray) but a true gray. I had my paint color!
We ordered 5 Gallons of Repose Gray and 7 Gallons of Oxford White in Sherwin Williams Showcase Satin Finish.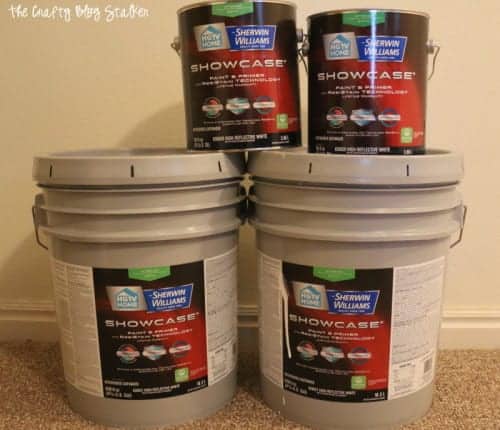 Time to Paint
Now, all that's left is to paint! We were painting a pretty big area, our main level that consists of a sitting room, living room, kitchen and dining area, then up the stairs and the upstairs hallway.
I'm not going to lie, we actually hired a painter because it was such a big a project. We are so glad we did because he got everything done in two days!
The Finished Repose Gray
I'm starting with this lovely picture of a door. Isn't it pretty? I'm really starting here because this is the best picture to show you the contrast between the repose Gray and the Oxford white. In some of the pictures the two colors look very similar, but here you can see there definitely is a difference.
The upstairs hall.
Kitchen view from the Dining Room.
Living Room view from the Dining Room.
Living Room
Sitting Room
I have to say I am so pleased and super excited about my home. The colors came out EXACTLY how I had dreamed and imagined them to be. Now I can finally start decorating and hanging my some of my favorite things on the wall!
Are you dreaming of taking on a big painting project?