The right bookmark can make your reading experience even better! And this bookmark keeps track of what you have read! Print using your printer and HP Instant Ink. This post is an advertisement for HP Instant Ink and contains affiliate links.
Reading is something that I have just gotten back into. I honestly hadn't read a book in years and then one of my daughters recommended I read a book that she really enjoyed.
Ever since I have been reading like crazy. I forgot how much I really enjoyed it!
As a fun way to keep track of the books I have read, I created this bookmark and I hope you enjoy it too!
More Free Printables:
Printables are a great way to get crafty at home, and here at The Crafty Blog Stalker, we have many free printables we'd love to share with you! Like Duck Duck Jeep Printable Tags, Summer Search and Find, and Zootopia Activity Sheets.
Be sure to look around the blog for more fun printable craft tutorials!
Frequently Asked Questions:
Why I love Printables:
Printables are a great way to make something at home that costs much less than if you were to buy it in a store. Plus, you can print off as many as you need!
That is why I love to create printables to share with you. I figure if I love them and appreciate them, then you probably do too!
What Printer I Use:
I have the HP Envy Inspire printer in my home office. This printer does EVERYTHING and I absolutely love it!
It can print, copy, scan, 2-sided printing, and can print beautiful photographs as well. I wasn't kidding when I said it can do everything!
What Printer Ink I Use:
The HP Envy Inspire printer came with HP ink, and 6 months free of HP Instant Ink.
In the beginning, I had no idea what Instant Ink was, but it is now my favorite part of the printer!
HP Instant Ink is a subscription to the high-quality HP ink that works best in your printer anyways!
You sign up for a plan that works best for you, and you pay a small monthly fee depending on how much you print each month. Your printer then knows when you are low on ink and will automatically send it directly to you at no additional cost!
That means you don't have to worry about running out in the middle of printing your child's book report that is due the next day!
You can cancel or change your subscription plan at any time, so you can make sure you have the ink you need when you need it, and that it will fit in your budget!
Here is a quick snapshot of their available plans.
If you are using an HP printer, this really is such a great idea and lifesaver. I can't tell you how many times we have made that 11pm trip to the store to get printer ink cuz we ran out, but we needed something printed ASAP.
As a quick tip, if you this link to subscribe, you'll be getting a $10 credit to start with Instant Ink without any payment. This amount will be enough to use Instant ink at a 10-page plan for 10 months! What a great value!
Supplies You'll Need to Create this Project: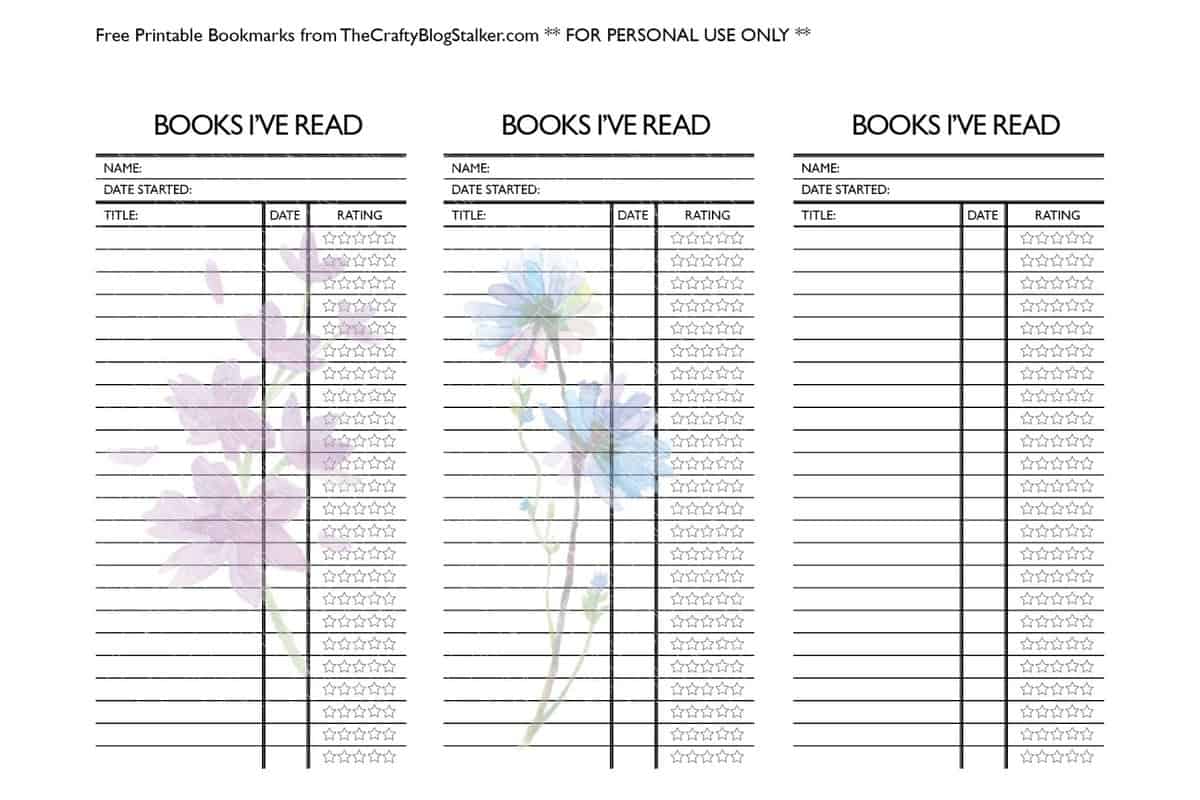 Instructions:
Print using any home printer.
Each sheet has 3 bookmarks, two with watercolor flowers and one without the watercolor design.
Cut the 3 bookmarks apart using the paper trimmer.
Then round the edges using the corner rounder paper punch.
Keep track of your reading by filling out the title and date finished on the bookmark. You can even give the books a star rating so the next time someone asks you for your good book recommendations you will be ready!
Our Printables Essentials:
The HP Envy Inspire All-In-One Printer is great for home or a small office!
HP Instant Ink makes sure we have printer ink when we need it, all for a small monthly subscription fee.
I love to print my printables on this 65lb cardstock. It makes my printable projects more sturdy and long-lasting.
This Fiskars Paper Trimmer is easy to use and cuts nicely without frayed edges.
Follow The Crafty Blog Stalker