Craft a magical mermaid tail with our simple DIY guide. Ideal for kids who love the sea and mythical stories, this project sparks hours of pretend play. If you make a purchase using the affiliate links included, we may earn a commission.
Hey there, ocean dreamers and crafty mamas!
Ever find your little ones flipping their imaginary fins and wishing they were mermaids?
Well, today's your lucky day! We're diving deep into a magical DIY project that's as simple as it is enchanting—making a mermaid tail for dress-up.
Supplies You'll Need to Create this Project:
Cardboard Monofin:
Begin by placing the flip-flops on the cardboard and drawing the shape of the monofin around the base of the shoe.
You can make your fins any shape that you like.
This next step is for the adults.
Take a sharp utility knife or razor blade and cut the shape out of the cardboard.
Assembly:
To secure the flip-flops to the cardboard, use strips of gorilla tape and apply across the flip-flops onto the fin cut out.
I started in the middle of the sandal and made sure there was enough tape to wrap around the back side of the monofin.
Using smaller strips Secure the heels of the flip-flops to the cardboard.
Cover the rest of the flips flops by adding more strips of gorilla tape.
Paint the monofin with a coat of white spray paint.
This makes it easier to paint and decorate the monofin later.
Embellishing:
Painting and embellishing is by far the most fun part of creating your own mermaid tail.
Here the kids took charge of designing their own mermaid tails, and they had a blast.
To really bling up the monofin, they added some sparkle by gluing on some plastic rhinestones.
If you want the kids to have full control, use some craft glue to adhere the rhinestones.
Or if an adult doesn't mind helping, you can use a hot glue gun.
Then wait for everything to dry. You could even watch The Little Mermaid while you are waiting!
Show Off Time:
Now it is time to play with the monofins, and of course, take lots of pictures.
They all turned out so cute and they each did a fabulous job!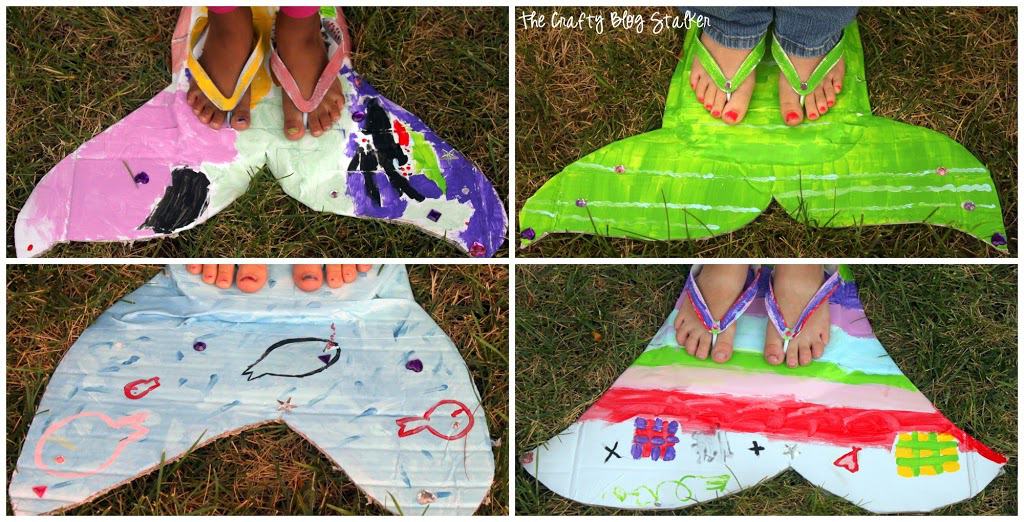 Hopefully today we created some fun memories today.
These mermaid tails are not water-proof and will fall apart if soaked in water.
These monofins are for pretend play while on dry land. 🤣
Our Crafting Essentials List:
Title:
How to Make a Mermaid Tail for Dress-Up
Mentions:
Crafts for Kids
Keywords:
how to make a mermaid tail
Last Updated:
September 26, 2023