Animal Shaped Sponges make great tub toys, pool toys or something fun to put on that baby shower gift packaging. Use your Cricut to cut out the shapes!
This was such a fun and simple craft to do, and now I can't stop thinking about all of the possibilities! Of course, they are great tub toys, but they could also be added to gift packaging, teach shapes or letters, or really ANYTHING!
To make these cute little guys, I got some help from my Cricut. I am not an artist so I knew I wouldn't be able to freehand the animal shapes, so the Cricut took care of that for me. I went into the Cricut Design Space and found 6 perfect animal shapes.
Their file name is nothing fancy as you can see in the picture below. They are called Pig, Monkey, Fish, Turtle, Teddy Bear, and Elephant, (Yup, I hope you can remember those high-tech names!) but you can see in the picture exactly which files I used.
*note: I did cut off the loop on the teddy bear's head, but I simply did that with a pair of scissors after it was cut out.

I wanted the shape of the animal to take up almost the entire size of the sponge so I adjusted the size to where they would fit perfectly. To do that you drag on the bottom right corner of the square for the image. As you drag it will get bigger or smaller and it will even keep track of the size so it is super simple to do.

While all the layers of the animals are cute, I don't need them. I only need that base outline shape. Select the shape and then to the right of the screen you can see where you can edit it, select layers and it shows all of the different layers to the shape. Since I only want the bottom one, I select the others and it puts a slash through the eye icon to the right of it, meaning I don't want to see it. Then when I go to cut it, it will only cut out that base outline shape.

When all shapes are adjusted, hit the button to cut and the Cricut will do the rest of the work for you.!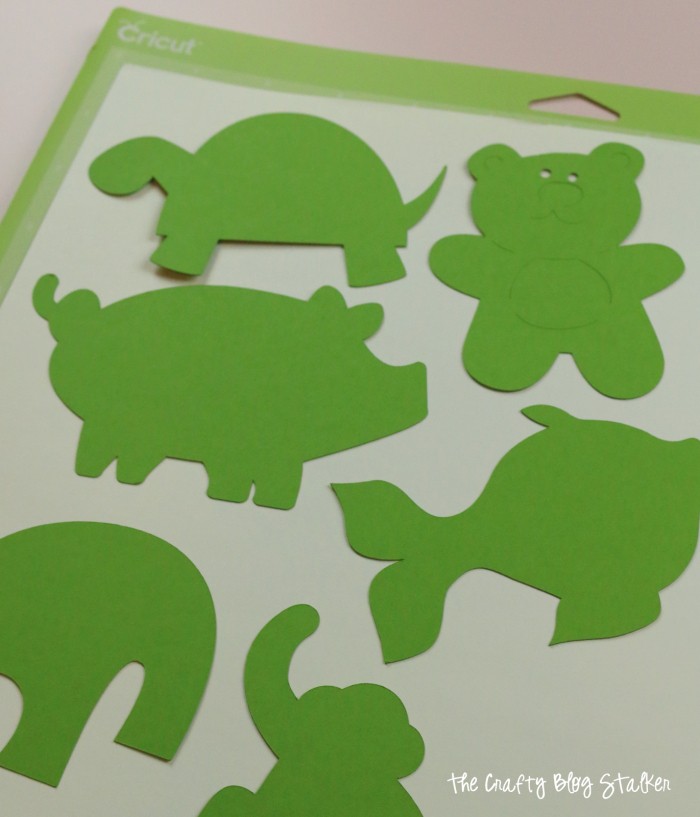 To see how I finished the Animal Shaped Sponges watch the video below.
Aren't they cute? I would love for you to share what you are going to do with them? Leave a comment below.
Follow The Crafty Blog Stalker