This lotion recipe includes three ingredients and printable labels. This lotion smells just like fresh lilacs! Make it for yourself or share it as a gift. If you make a purchase using the links included, we may earn a commission.
When I was young, I loved going to my Grandma's house, and whenever I stepped onto her back porch all I could smell was lilacs. She had a row of lilac trees and I just loved how they smelled.
Even now that I am older, every time I smell the scent of lilacs I think of my grandma and playing in her backyard.
Needless to say, I love the smell of lilacs.
Craft Video Tutorial:
Like videos? I have a video tutorial for you! Subscribe to my YouTube Channel so you don't miss out on any future video tutorials.
Supplies You'll Need to Create this Project:
You don't have to purchase the gallon bottle, you can find it in smaller quantities.
Instructions:
Begin by measuring out your lotion base. I used a scale to measure 10 ounces.
Per ounce of lotion base, add 5 drops of lilac and 3 drops of bergamot.
Since I am making 10 ounces, I added 50 drops of lilac, and 30 drops of bergamot.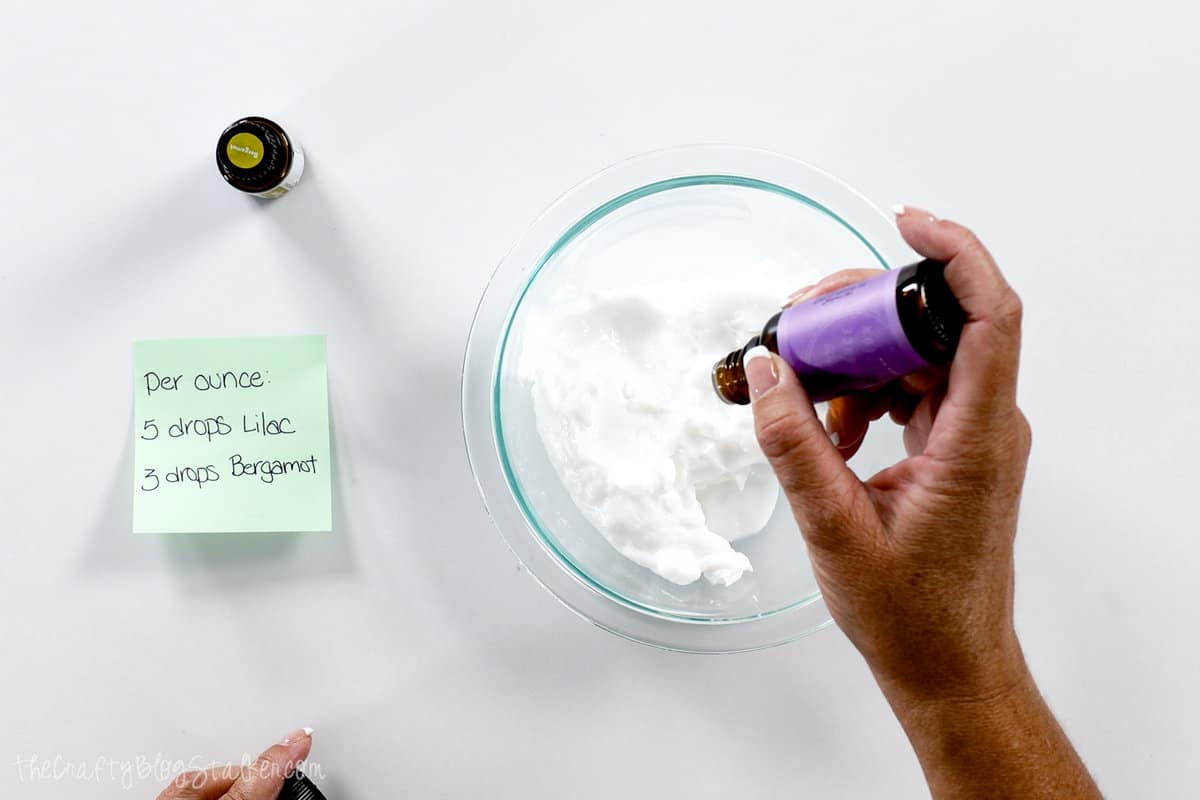 I found this to be a good ratio. Not super strong and overpowering, but not so faint it couldn't be smelt. A happy medium.
Stir the oils into the lotion until well combined. While stirring you will be able to tell when all of the oil is mixed into the lotion.
I used a funnel to get the lotion into the bottle. Since the lotion is thick, I just tapped the lotion bottle on my tabletop to move the lotion down the funnel.
You could also put the lotion in a bag, cut the corner and squeeze the lotion from the bag into the bottle.
Lilac Lane Lotion Label:
Grab the free printable labels and print them on sticker paper.
Use either a paper trimmer or a pair of scissors to cut the labels apart.
Cut a rectangle of the holographic sheet that is slightly larger than the label.
Remove the backing liner to the holographic rectangle and center the label on it, face down.
Wipe down the bottle with a lint-free cloth and Isopropyl alcohol to remove any greasiness from the bottle.
Remove the backing liner on the printed sticker label and place it on the front of the lotion bottle.
Don't they look great? And the lotion smells amazing!
Our Crafting Essentials List:
Title:
How to Make Lilac Scented Lotion Recipe
Mentions:
30 Minutes or Less, Simply Earth
Keywords:
lilac scented lotion recipe
Last Updated:
September 19, 2023