How to Make the Cutest Owl Stuffies. An easy sew pattern perfect for the beginning sewer. Cute as Home Decor or toys! An Easy DIY Craft Tutorial Idea.
Aren't owls the cutest?! They have been my favorite animal for quite a while. I even have several pieces of jewelry that are adorned with these cute little animals.
Supplies Used: Some links may be too similar items when exact items couldn't be found online.
How to Make the Cutest Owl Stuffies
To begin, sort your fabric scraps into piles of colors and patterns that coordinate well together.
Print and cut the Owl Pattern PDF.Lay the pattern pieces over the fabric scraps, pin in place and cut.
If you would like, you can pay attention to fabric grain and direction, but if you are a beginner, you don't worry about it. I cut out the pieces twice to make 2 owls.
Place the largest circles for the eyes first and pin into place. Once the eyes are in place you'll know where to place the beak. Pin the beak and sew into place.
When I sewed the pieces together, I was lazy and just used the black thread that was still on my machine from my Lace T-Shirt Refashion. I wanted to be able to see the stitch lines to give my owl some character. Yes, we will call it character, not laziness.
After the beak, pin the two layers of the eyes exactly where you want them and sew them to the owl body.
For the black of the eyes, don't sew around them in a circle. Instead, do several zig-zag stitches inside the circle.
I like the stitching around the body to be seen, so we are not going to place the pieces inside out, but place them with the right sides facing out.
Stitch around the edge of the owl, making make sure to leave an opening to put the stuffing in.
There are many different types of stuffing you could use for your new owl friend. I choose to fill him with rice. The rice gives him a good solid stuffing so he can stand on his own on a shelf but can also double as a rice bag and you can either freeze him or heat him in the microwave.
After he is stuffed, sew the gap securely so none of his stuffing will fall out.
Aren't they cute! My two little guys are made the same way, but I switched which fabric was on the front and on the back.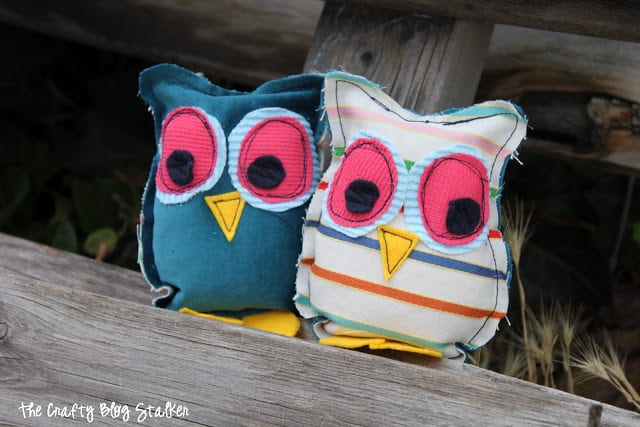 These cute little guys were actually made for a Christmas in July Swap. I will be honest, I really wanted to keep them because they turned out so cute. But I decided that if they made me happy hopefully they would make someone else happy as well. So I packed them up and shipped them off.
Now I need to make some more!
Who would you make these Cute Owl Stuffies for?? Share and leave a comment below!
SAVE HOW TO MAKE THE CUTEST OWL STUFFIES O YOUR FAVORITE PINTEREST BOARD!
And let's be friends on Pinterest so you can see all the DIY projects I'm pinning!
You Might Also Like: