This post is brought to you by Consumer Crafts and Blueprint Social. All opinions are my own. #ShopConsumerCrafts
Follow this tutorial to make a vintage Mercury Glass Ornament. A beautiful keepsake ornament for your Christmas Tree that you can keep or give as a gift.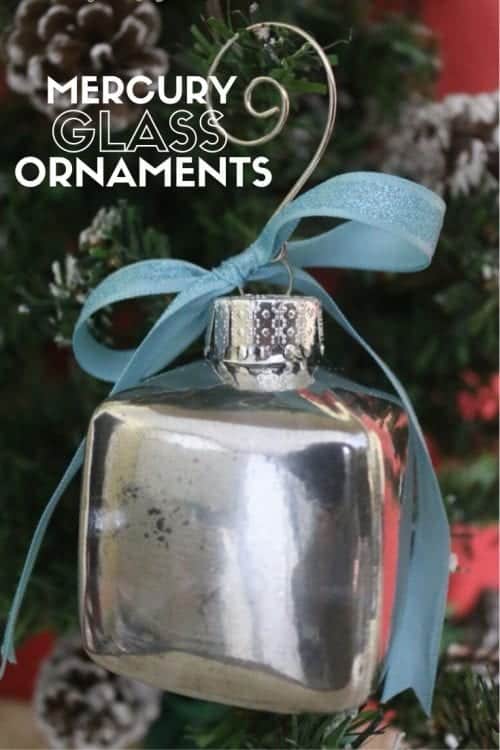 The holiday season is all about fun family traditions. Every year all of the women in my family do a handmade ornament exchange. There are 8 of us, so each year we make 8 of the same ornament and they exchange them at Thanksgiving. So everyone goes home with 8 unique handmade ornaments.
This year I turned to Consumer Crafts for help with the supplies for my ornament. Consumer Crafts is an amazing online resource for craft supplies. They easily have the lowest prices, over 1,400 craft tutorials, and awesome project ideas on their blog, Crafts Unleashed.
I wanted to give my ornaments that vintage mercury glass look, and it is actually quite simple to do.
Supplies Used to Make Mercury Glass Ornaments
Some links may be on similar items when exact items couldn't be found online.
Glass Cube Ornaments
Krylon Looking Glass Spray Paint
Blue Glitter Ribbon
Spray Bottle
Paper Towel
Vinegar & Water
How to Make Mercury Glass Ornaments
It snowed yesterday, so my snowy back lawn is the perfect backdrop. Since I am spray painting, I took it outside. I love the look mercury glass look but not on everything I own.
In a spray bottle, mix 1 part water to 1 part vinegar. I used about ¼ cup of each. I also used a foam block and bamboo sticks to hold the ornaments for me. This way I could spray them without touching them.
Steps
Lightly mist the glass
Apply a light layer of Looking Glass spray paint
Dry 1 minute
Lightly mist the glass
Apply a light layer of Looking Glass spray paint
Dry 2 minutes
Pat dry with a paper towel
Repeat if necessary
I did two rounds of the steps. My ornaments were still partially clear, but I could definitely see the silver Looking Glass as well. You can do as many layers as you want to get the look that you like.
Here are the Mercury Glass Ornaments drying after all of their layers.
To add a little bit of color to the ornament, I tied a bow at the top of the ornament with some blue glitter ribbon.
These ornaments are super simple to make and are very elegant looking. The ribbon tied to the top could easily be switched out to match any color or theme of your Christmas Tree.
Do you have a handmade ornament that you cherish? Share and leave a comment below!
You Might Also Like These Tutorials:
Follow The Crafty Blog Stalker