Make a manly bouquet filled with beef jerky and some sweet treats. Below is the Manly Beef Jerky Bouquet step by step tutorial.
You love your guy, right? But man is he a pain to shop for! If this is true for you too, I am here to help because my husband is the same exact way!
I made this for my sweet husband for Valentine's Day. He loved it and it was a big hit at his office. Sadly, this was before my blog so I don't have tutorial pictures but it was really pretty easy to put together.
This DIY bouquet is such a great way to honor any man. Perfect for Valentine's Day, Father's Day, an Anniversary, or birthday.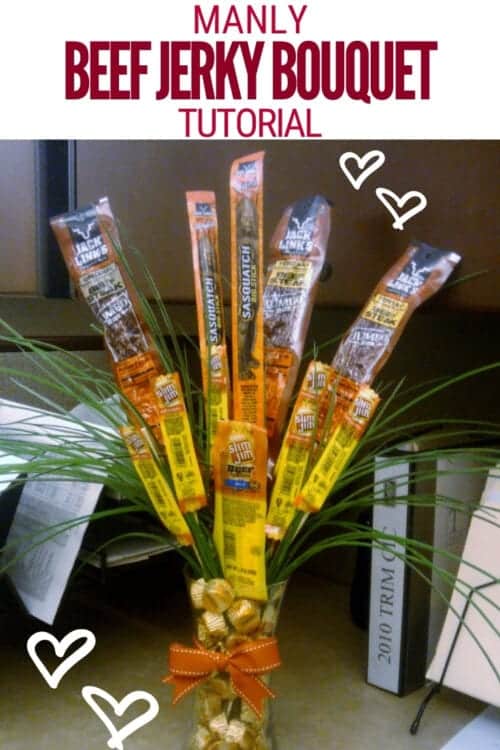 Supplies You'll Need to Create this Project:
This post contains affiliate links.
How to Make a Manly Bouquet:
Begin by painting the wood skewers green to match the greenery. Tape the sticks to the back of the jerky sticks. I cut several of the sticks so they would be different lengths coming out of the vase.
Tie a ribbon around the vase before you fill it and it is much easier to handle.
Put only a handful of the candies at the bottom of the vase. Add the greenery to the vase followed by the jerky skewers and just move them around till the arrangement looks good. Tip: Have the highest point be the center and as the arrangement goes out to arrange shorter skewers.
Add additional candy to the vase to help hold the skewers in place. This will also help hide the skewers from view.
The last bit of candy you will want to place one by one so you can get the perfect placement to hide the skewers inside.
There you have it, a perfect Manly Bouquet!!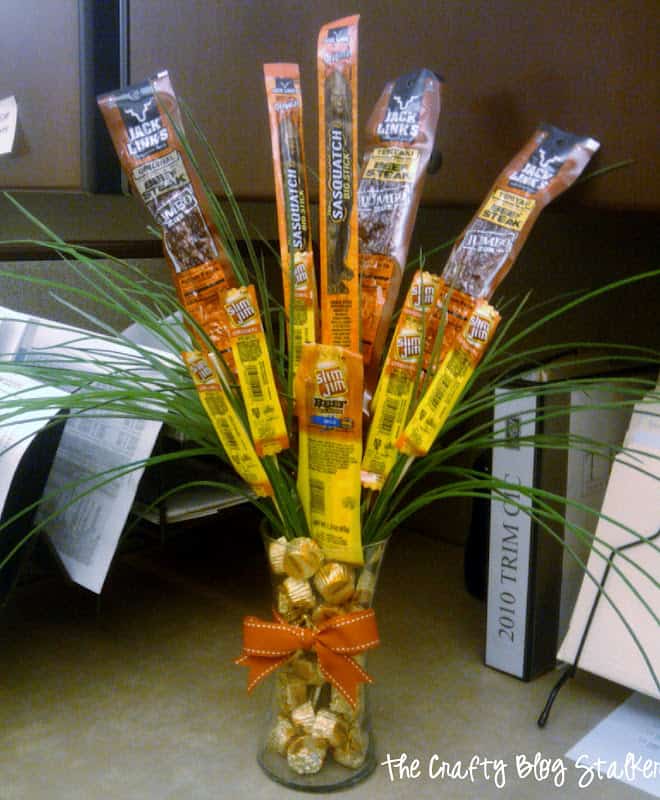 When you make a Beef Jerky Bouquet please share a photo! We'd love to see it.
Our Crafting Essentials List:
Title:
How to Make a Manly Beef Jerky Bouquet
Mentions:
Manly Gift Ideas
Last Updated:
October 25, 2023