Make your favorite man a manly bouquet filled with jerky and some of his favorite sweet treats. Perfect for Valentine's Day, Father's Day, or his birthday.
You love your guy, right? But man is he a pain to shop for! If this is true for you too, I am here to help because my husband is the same exact way! I made this for my sweet husband for Valentine's Day. He loved it and it was a big hit at his office. Sadly, this was before my blog so I don't have tutorial pictures but it was really pretty easy.
I made this Manly Valentine Bouquet for my husband's Valentine gift several years ago and it is still one that he talks about. Sadly, this was before my blogging days so I don't have tutorial pictures for you. But it was really pretty easy so I will explain how I made it and if you have any questions you can ask in the comments below.
Supplies Used to Make a Manly Valentine Bouquet
Some links may be on similar items when exact items couldn't be found online.
How to Make a Manly Valentine Bouquet
Begin by painting the wood skewers green to match the greenery. Tape the sticks to the back of the jerky sticks. I cut several of the sticks so they would be different lengths coming out of the vase.
Tie a ribbon around the vase before you fill it and it is much easier to handle.
Put only a handful of the candies at the bottom of the vase. Add the greenery to the vase followed by the jerky skewers and just move them around till the arrangement looks good. Tip: Have the highest point be the center and as the arrangement goes out to arrange shorter skewers.
Add additional candy to the vase to help hold the skewers in place. This will also help hide the skewers from view.
The last bit of candy you will want to place one by one so you can get the perfect placement to hide the skewers inside.
There you have it, a perfect Manly Valentine Bouquet!!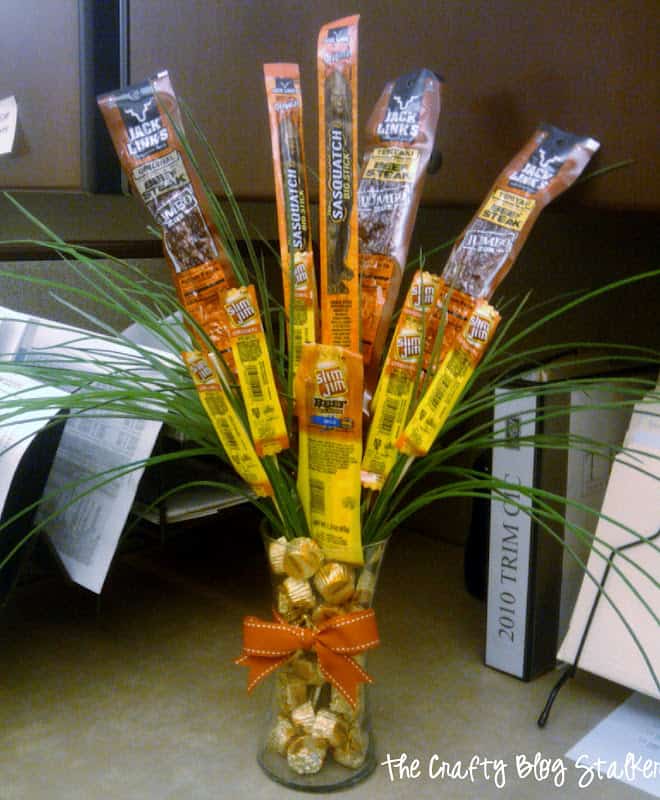 What holiday or special event will you make one for? Will you add different treats or candy? Share and leave a comment below!
Follow me on Pinterest and you can see all the DIY projects I'm pinning!
You Might Also Like These Tutorials:
Follow The Crafty Blog Stalker