Make a Stormtrooper T-shirt for your favorite Star Wars fan! Below is the complete step-by-step tutorial using Cricut and Heat Transfer Vinyl.
Do you have someone in your home that is a lover of all things Star Wars? If so then this Stormtrooper T-Shirt will be the perfect project for you!
My son asked me to make him a Storm Trooper T-Shirt for an upcoming Disneyland trip we are going on. I made him and my husband one. They were so fun to make so I thought I would show you how I did it!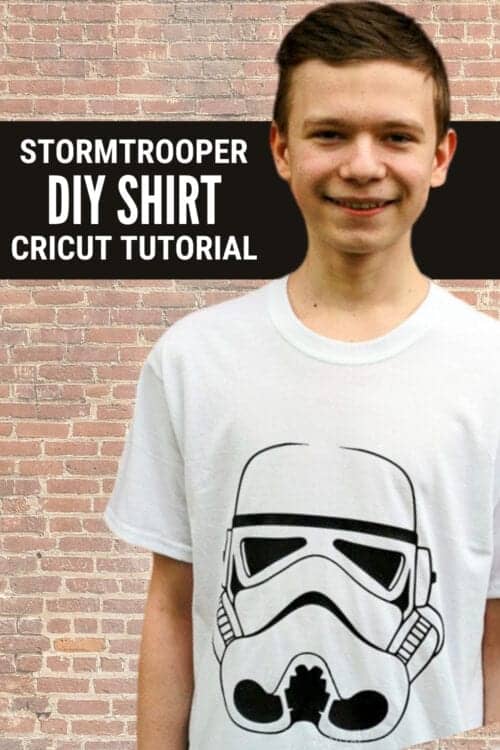 More Tshirt Cricut Tutorials:
Making your own shirts is just one of the things you can create with a Cricut cutting machine. And, since they are so fun to make, we have several tutorials to show you how! Like this Reading Shirt - I Just Want To Read Books, this Senior Hoodie, and this I'm So Freaking Cold Sweatshirt.
Be sure to look around the blog for more fun craft tutorials!
Supplies You'll Need to Create this Project:
This post contains affiliate links.
Cricut Design Space:
Once in Cricut Design Space, there are several official Star Wars images to choose from. There are many great designs but I didn't see exactly what I was looking for, so I went to google.
I found the image searching for "Stormtrooper Helmet". I found the perfect single-color design.
Then back to Cricut Design Space and where I uploaded the image.
*This method is fine for personal use, but you cannot use this method for anything that you will sell or profit from. Most images found will have copyrights, and you can get in trouble using them for profit without permission.
If you would like to see a complete step-by-step on How to Upload an Image Into Cricut Design Space, I do have a video. The image uploaded is different but the process is the same.
Cut the Heat Transfer Vinyl:
Size the design to fit your shirt, mine is sized about 9.5 x 11.5 inches.
Lay heat transfer vinyl onto the mat with the shiny side down.
Mirror the design, and cut.
Apply the Design:
Weed your design using a weeding tool. The Cricut BrightPad or a light table can come in handy to help see those lines when weeding.
I cut mine into three pieces, the helmet, eyes, and mouth. But looking back I should have done it all in one. It would have saved vinyl. Not sure what I was thinking.
First, apply the helmet by centering the design on the front of the shirt and pressing it into place with the EasyPress.
Once cooled, carefully peel back the clear backing. If you come to a spot that did not adhere to the shirt, simply lay the clear backing down and reapply the EasyPress.
Then add your eyes and mouthpieces to the shirt and repeat with the EasyPress.
I made my husband one as well on a navy blue shirt.
Our Crafting Essentials List:
Title:
How to Make a Star Wars Stormtrooper T-Shirt
Mentions:
heat transfer vinyl, t-shirt designs
Keywords:
Stormtrooper t shirt
Last Updated:
June 1, 2023