This is a sponsored post on behalf of Jen Hadfield Home+Made. All opinions are my own because I love giving you helpful tutorials!
Last week Jen Hadfield from Tatertots & Jello sent me a bundle of her totally awesome new product and asked me to make something fun. I was completely honored and excited to play with all of these products.
You can see her complete line on Amazon.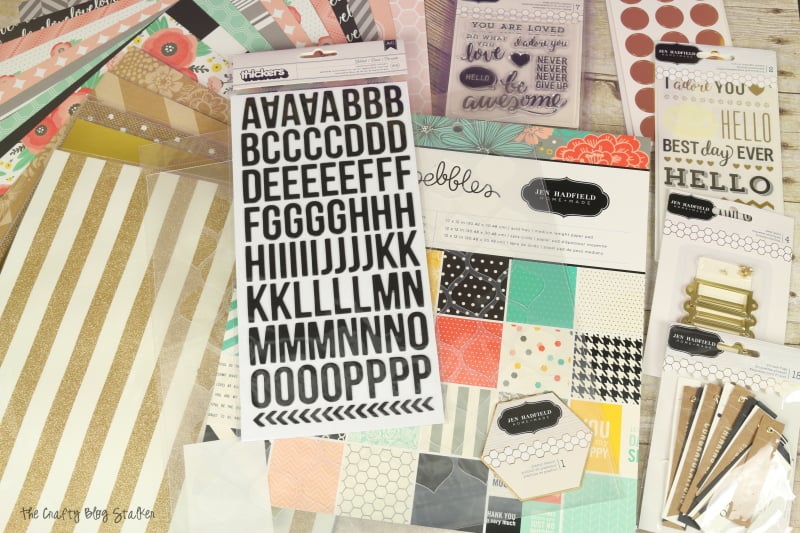 I knew right away that I wanted to make a pennant banner out of this beautiful paper.
Did you know that you can cut 8, 6-inch pennant banner pieces out of 1, 12x12 sheet of paper? And it's not that hard!
How to Cut 8 Pennants out of 1 Sheet Tutorial Video
Like videos? I do have a video tutorial if you would prefer to watch the tutorial. Please subscribe to my YouTube Channel so you don't miss out on any future video tutorials!
Supplies Used to Make a Fabulous Paper Pennant Banner
Items linked below may go to similar items when exact items couldn't be found online. Links are affiliate so when you purchase, I will get a small kickback to help fund the next tutorial!
How to Make a Fabulous Pennant Banner
After the pennants are cut out, it's time to layer and design the banner. I used the gold foil cardstock to cut my letters out, and I have to tell you, this paper is shiny, sturdy, and gorgeous!
Then I chose a coordinating cardstock and cut out label shapes to layer on the pennants. I sued the Big Shot to cut out both the letters and the label shapes.
I love adding ink to paper. I think it adds texture and makes it so it doesn't look so flat. To do this scrape the edge of the paper or cardstock on a coordinating ink pad.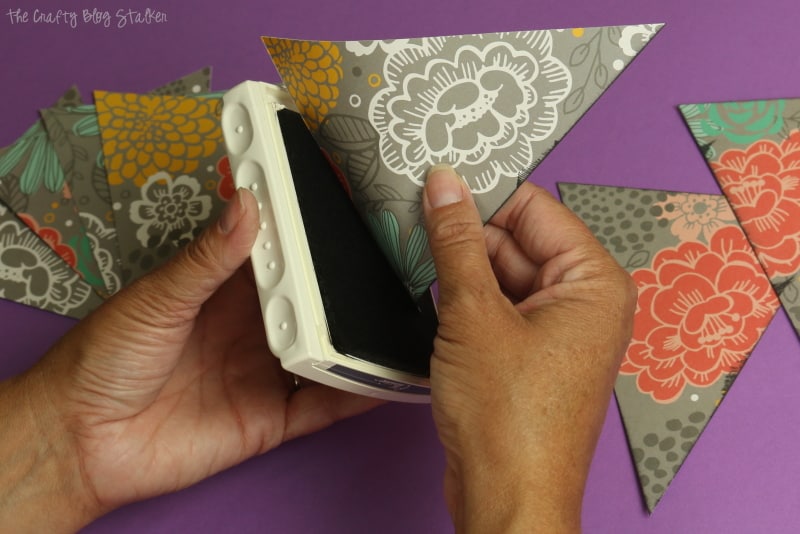 Ink the edges of the pennant banners and the label shapes. Don't they look awesome?!
The next step is layering. I used adhesive foam dots to make the layers "pop" and stick up from each other a little bit. This also helps add dimension so the layers of paper aren't so flat.
Do you ever have that moment of panic, when you're all done but not sure if you spelled it right? Yeah, I got them to this point and said, "uh oh!" I may have googled fabulous to make sure I didn't mess up - whew. I'm good. 🙂
I used a hand hole punch to punch holes in the corner to run the ribbon through.
When the banner was finished I hung it on my daughter's bed because she needs to know how fabulous she is every morning and night.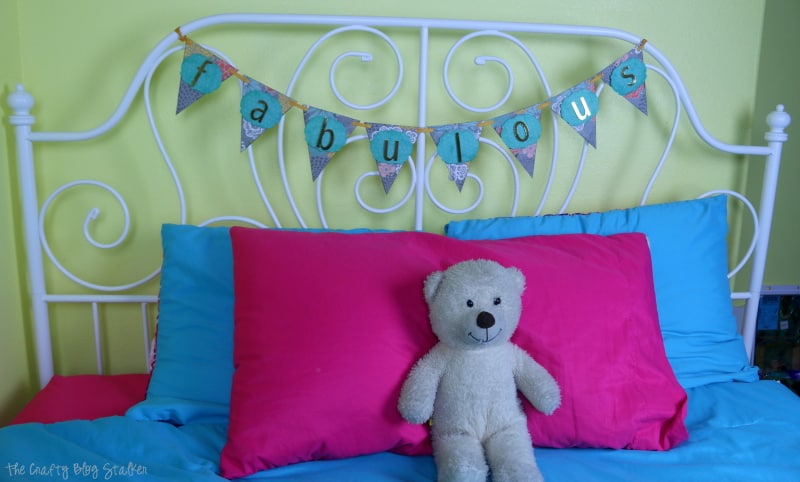 Since you can make 8 pennant banners out of one sheet of paper, what other words could you make for your banner that are 8 characters or less? I thought of family, summer, smile, and welcome.
Share and leave a comment below and tell me what word you would make?
Our Crafting Essentials List:
Title:
How to Cut 8 Paper Pennants from of 1 Sheet
Mentions:
30 Minutes or Less, Paper Crafts, Sponsored
Last Updated:
August 9, 2023