Make a Paper Sphere! Fun party decorations or beautiful home decor. An easy DIY craft tutorial idea perfect for any theme or event.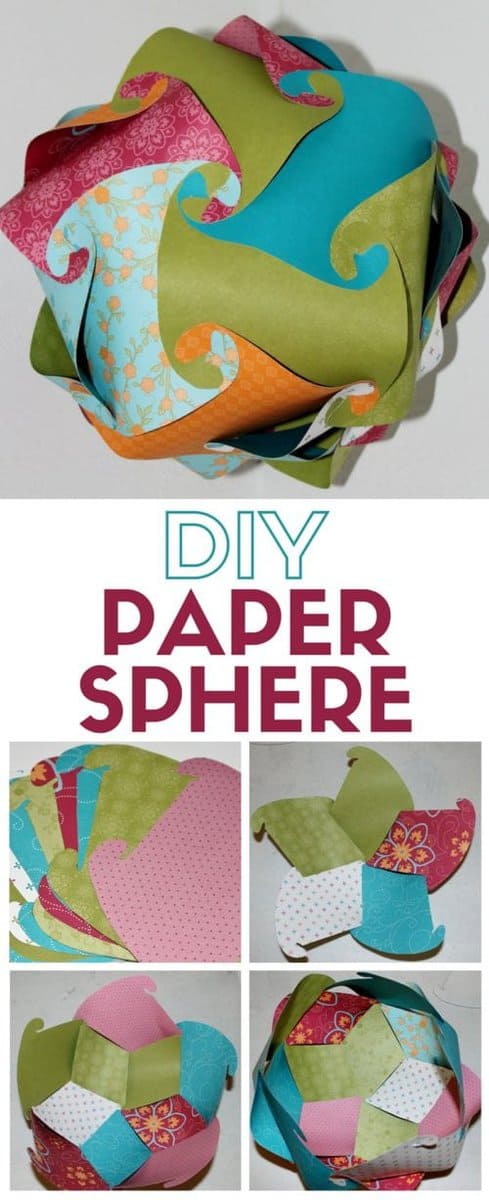 Have you seen these Paper Spheres? I saw one at a woman's show and thought it was absolutely amazing. It was made out of plastic, not paper and was real lamp - how cool is that?! But the price tag was a little steep at $100 and decided I could easily make my own... right?
While searching Pinterest for a project tutorial, I found this one and became super excited to get started.
I found a tutorial on Instructables but had a hard time opening their template. I found PDF template that I could open, so this tutorial came by combining the two.
Supplies Used: Some links may be too similar items when exact items couldn't be found online.
How to Make a Paper Sphere
Print out the template and trace onto chipboard so you have a sturdy pattern piece that can easily be traced over and over again.
Trace and cut out 25 shapes out of the pattern scrapbook paper.
I immediately started trying to assemble and it really is like a great big jigsaw puzzle. I tried for about an hour and was getting very, VERY frustrated because I couldn't get it to work and I thought I was following the tutorial, but it still wasn't working. I finally had to get up and walk away, or I was going to loose it.
I let it sit for a couple of days and then sat down to try again. It still took me a while to figure it out, but I got it! YAY! So while Instructable's tutorial is great I am going to add a couple of tidbits so hopefully, you won't get as frustrated as I did.
Just a warning: This is a difficult project. I will try to answer questions where I can, but it really just takes playing with it and figuring out how it all goes together.
Following the tutorial, make your base. (I actually made two bases and then connected them together instead of building from the bottom up).
This is the same piece turned over.
Holding the base on your lap, put the next row on the base. Do that to both bases.
What the sphere looks like looking in.
Now, this is where it gets a really confusing. If you look at the pieces you will see that each side of the piece slopes in a different direction. For the first several steps, assemble all the pieces going the same way. The next row you are going to want to turn the pieces over so they slope in the opposite direction and assemble the next row. In the next picture, I tried to show you the direction of the pieces by using these signs < > as the direction of the piece. Only do this to one base because this is the center row.
Put the 2 bases together, connect the tabs, and you have a sphere!
Hang with a piece of ribbon or fishing line.
This project was a doozy for me, BUT after all of the time I spent being completely ticked off at this project I was so glad that I figured it out!
I hung it the corner of our family room where the kid's computer sits. There is something so satisfying about finishing something that gave you such a hard time. It makes you appreciate it even more!
Where would you hang a paper sphere? Leave a comment below to share.
And let's be friends on Pinterest so you can see all the DIY projects I'm pinning!
You Might Also Like: