Use an Altoid Tin to make a business card holder. An easy DIY craft tutorial idea that will keep your business cards nice and not bent.
This Thursday, Friday, and Saturday I will be attending SNAP!
SNAP! is a creative blogger conference and I am thrilled to be able to go be inspired and learn. And I'm keeping my fingers crossed that I'll get to meet some of my favorite bloggers that I follow!
The first thing I needed to do was design my business cards so I had an effective way to market my blog while at the event. I designed them myself at VistaPrint.com. I know they are pretty simple but that's my style and I am happy with how they turned out.
Then came the question of what do I carry my cards in? Remember this is a conference for creatives so I felt like I needed to be creative with this solution. Most business card holders I found didn't hold that many cards and weren't very cute. It was time to put the thinking cap on and headed to Walmart.
I found it! An Altoids tin!
I do not like Altoids. The mint is just way too strong and I can feel the minty breath come out of my nose when I breathe and that is just weird. But the tin they came in will work perfectly!
Supplies Used: Some links may be too similar items when exact items couldn't be found online.
How to Make Business Card Holder with an Altoids Tin
Cut a piece of scrapbook paper 2 ¼ x 3 ⅝ and use a corner rounder punch on the corners so the rectangle fits perfectly on the lid./p>
You can leave it as is, but I decided to get a little creative and decorated the top with rubber stamps and an owl paper punch I already had.
Adhere the rectangle onto the front of the Altoids tin with some Hot Glue.
Cut another piece of pattern paper the same size as the first and glue it to the inside lid of the Altoids tin. There you have it, a cute Business Card Holder that holds plenty of cards!
This would also make a great Gift Card Holder! (See I haven't taken off my thinking cap off yet!)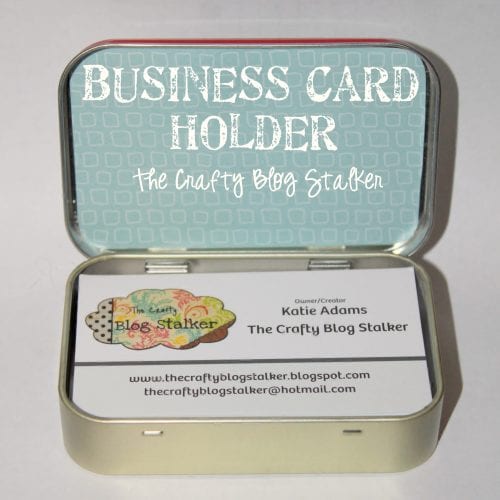 How do you carry and organize your business cards? Share and leave a comment below!
Our Crafting Essentials List:
Title:
How to Make Business Card Holder with an Altoids Tin
Mentions:
dollar store crafts
Keywords:
business card holder
Last Updated:
June 1, 2023