These goodie bags are so easy to make and they're perfect for any party or celebration.
Giving party favors at the end of an event or celebration is a great way to tell your guests "Thank you for coming!"
I know I am always excited to peek inside and see the goodie or goodies that I am bringing home with me.
The bag itself doesn't need to be too elaborate, but it can be fun to dress it and make it match the event.
The gift bags I am going to show you today, are super simple! Plus you can easily adjust the design to fit any theme or holiday.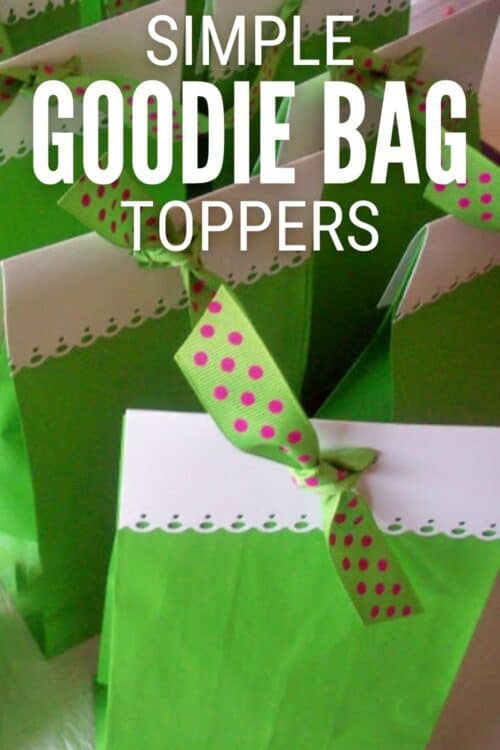 More Gift Bag Ideas:
I love to share our most favorite, tried, and true craft tutorials with you? Like 6 Gift Boxes and Bags Made with Gift Bag Punch Board, Turn an Envelope into a Bag Tutorial, and an Easy Frankenstein Goodie Bags.
Be sure to look around the blog for more craft tutorials!
Supplies You'll Need to Create this Project:
This post contains affiliate links.
Items to put in your goodie bag
The Math Portion:
Before opening the paper bags, measure the width while they are still flat.
My bags are 5 ½ inches wide.
Looking at the bag, determine how far down you want the bag topper to go.
I wanted mine to be about 2 ¼ inches, but that amount needs to double to account for both sides of the bag.
That means I need to cut a rectangle that measures 5 ½ x 4 ½.
Cut as many rectangles as you have bags.
Making the Bag Topper:
Use the border punch along the 5 ½ inch width on both sides.
Fill the Goodie Bags:
Open up the colored paper bags.
And fill them with all of the fun goodies!
My bags were for a fun spa night with friends. I included items like lotion, nail polish, and of course, candy and chocolate.
Attach the Topper:
Fold the white rectangle in half between the two decorative edges.
Place the topper over the top of the bag, making sure that the bag edges are folded inward.
Use the hole punch to punch two holes through the white cardstock and paper sack.
Grab a cute piece of coordinating ribbon and push an end through each hole.
Tie a knot and trim the ends with your scissors. You are done!
These goodie bags looked so cute with so many of them on the table. I am so excited to give them to my friends!
These bags are perfect for a child's birthday party, could be used to wrap gifts on Christmas, or could even be stepped up a notch for weddings!
What fun things will you put in your party favor bags?
Our Crafting Essentials List:
Title:
How To Make Cute Goodie Bags that are Fast and Easy
Mentions:
30 minutes or less, dollar store crafts, gift ideas, gift wrapping
Keywords:
cute goodie bags
Last Updated:
June 1, 2023