This delicious apple pecan pastry recipe is ideal for breakfast, dessert, snacks, or just about any time of the day. Find this tasty pastry recipe here.
Fresh pastries are a favorite treat of mine.
The best part about pastries is that you can really fill them with whatever fruit flavor you are craving.
Today I am going to show you how I make a super simple apple pecan pastry that is perfect for fall weather.
More Delicious Pastry Recipes:
Did you know that we love to share our most favorite tried and true recipes with you? Like this Blueberry Cream Cheese Pastry, Nutella Puff Pastry, and this Chocolate Caramel Pecan Pastry.
Be sure to look around the blog for more delicious recipe tutorials!
Ingredients You'll Need For This Recipe:
This post contains affiliate links.
This makes 18 individual servings.
Cutting the Puff Pastry:
Pull the Puff Pastry out of the freezer and let it defrost according to the package directions.
Once defrosted unfold the puff pastry sheet and roll it out just a bit with a rolling pin.
Cut the pastry into squares. You should have 9 squares per sheet of Puff Pastry.
Place the squares onto some parchment paper on a baking sheet.
Next, brush the center of your puff pastry squares with your egg wash. Do not brush the sides of the puff pastry because it will not rise.
Combining the Apple Mixture:
Peel, core, and thinly slice your green apples.
Place the apples in a bowl with chopped pecans and stir with the sugar, cinnamon, and nutmeg until everything is nicely coated.
Creating the Pastry:
Place about ¼ cup of the apple mixture in the center of each puff pastry square.
Grab a stick of butter and slice it into 1 tablespoon slices. Then cut each of those in half.
Place a cube of butter on the top of each puff pastry.
While in the oven the butter will melt over the cinnamon/sugar coated apples. This will help cook the apples and will melt with the cinnamon sugar to make a yummy sauce!
Bake:
Preheat the oven to 400°.
Bake for 20 minutes or until golden brown.
Optional Ice Cream:
You could serve the pastry as is, or my favorite way is to add a scoop of ice cream on top.
So delicious!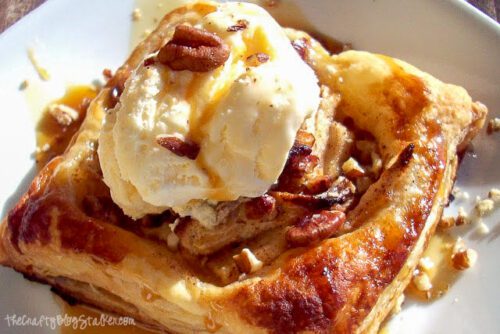 Our Baking Essential List:
Follow TCBS