Turn old vinyl records into beautiful wall art. An easy DIY craft tutorial idea to upcycle a vinyl record into home decor.
Yo. Dena from Hearts & Sharts here, super excited to be doing a guest post for The Crafty Blog Stalker! I'm from the great state of Texas but recently moved to Georgia with the hubs.
I'm lucky enough to be a housewife and spend my days running back and forth from the kitchen to the laundry room to the craft room, stopping occasionally to love on my fat, stinky basset hound.
Supplies Used to Make Vinyl Record Butterflies
Some links may be on similar items when exact items couldn't be found online.
How to Make Vinyl Record Butterflies
First, grab a record. Every time I get into a record related project, I always Google the value of the record on eBay. Well, except for that one time, when I melted this Lynyrd Skynyrd album. Oh well, it made a sweet butterfly.
Next, turn on your broiler and draw your butterfly on the record using chalk or a marker.
I printed out some butterflies, cut them out and then traced around them. I found that the chalk didn't come off so well after the fact, but I just made that the backside of the butterfly.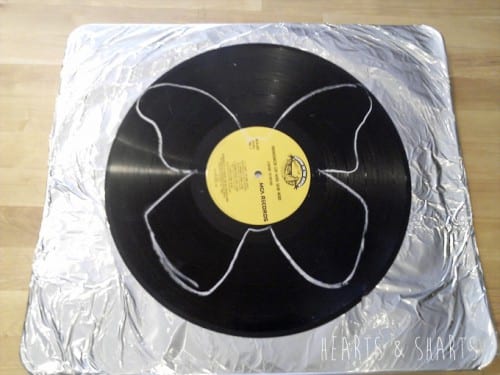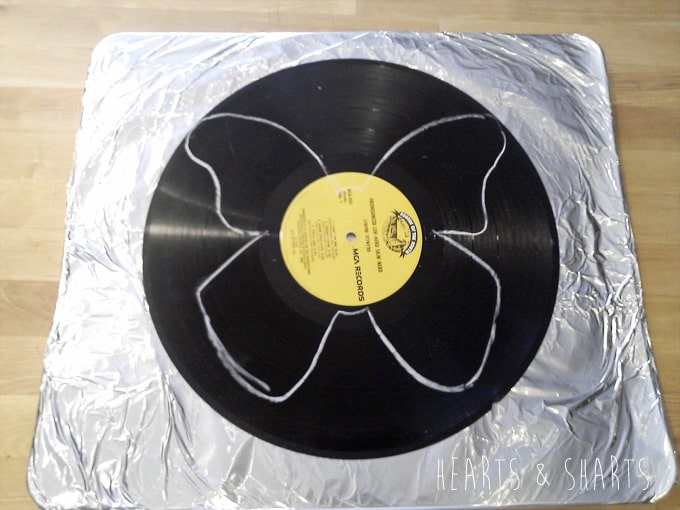 Lay your record on a foil-lined baking sheet and pop it under the broiler.
These melt pretty fast. I left the oven door open a tad so I could keep an eye on it. Once it starts to get soft, pull it out of the oven and cut along the chalk line using scissors. Don't forget to put on some gloves first!
Chances are, the record will cool off before you get the whole thing cut out, just pop it back in the oven for a bit and then continue cutting. I had to repeat this process three or four times before I got it all cut-out.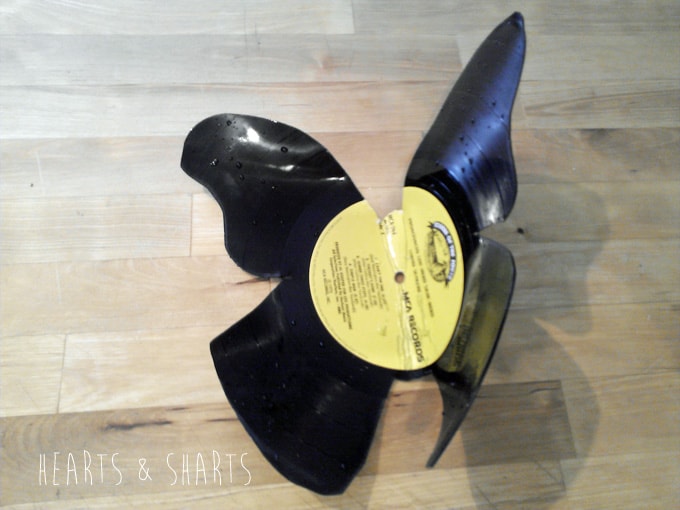 Since this has to happen so quickly, it's hard to take pictures and cut the vinyl while it's hot.
Once the butterfly is cut out, pop it back in the oven one more time to get it soft enough to shape the wings so that it looks like it's flying... er, fluttering, whatever butterflies do.
Once you get it where you want it, you can run it under some cool water to get it to harden up faster, or just hold it in place until it has cooled.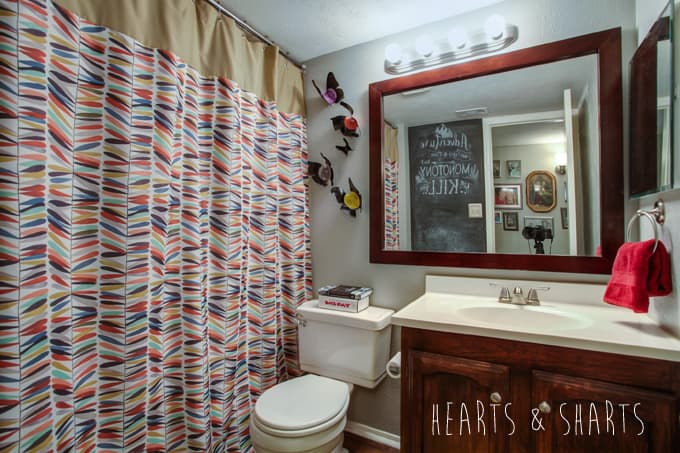 That's it. So simple. And when you're done, you just stick a push-pin in the hole to hang it on your wall.
If you aren't into the record look, you can spray paint it. This would make some great wall decor for a little girl's room; a flock of white butterflies on a painted wall would look magical!
Do you have a favorite upcycled home decor piece in your home? Share and leave a comment below!
Follow me on Pinterest and you can see all the DIY projects I'm pinning!
You Might Also Like These Tutorials: