Has Pokemon Go fever hit your home? Gotta catch'em all! I have to say we love the game at our house! It has been fun going out and about to find our Pokemon and using a Pokeball to catch them. I wanted to make a fun treat that related to Pokemon Go for my family and these Pokeball Cupcakes came to mind. I was worried my idea would not work but I am happy with how they turned out.
Pokemon Go Pokeball Cupcakes
Supplies Needed:
Cupcakes
Frosting
Black, Red, and White M&M's
Frost all of the cupcakes - it doesn't need to be perfect because the frosting will get covered up.
I tried several different ways with the M&M's and the way I liked to decorate best was to first do the edges so you know for sure where everything is going.
Add a second layer of the red and white M&M's
continue until the center is left
Add more black M&M's on each side.
Put black M&M's into the cupcake on their edge to form a circle
Add a white M&M into the middle to finish off your Pokeball Cupcake.
And there you have it! So fun, especially for the Pokemon lovers in your family!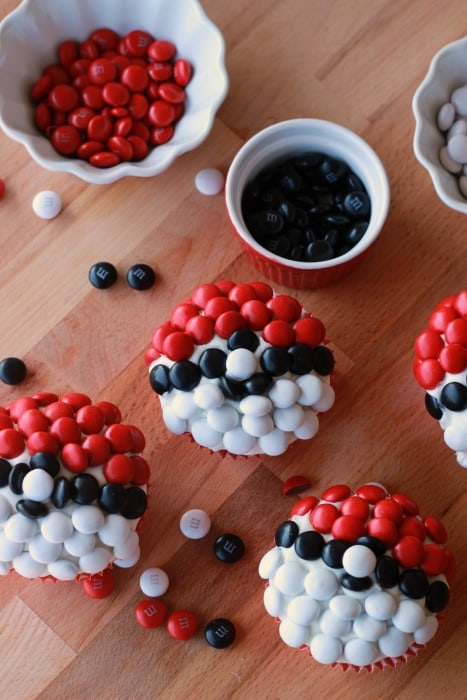 I just love how they turned out! I had about a pound of M&M's (total) and was able to make about 10 Pokeball cupcakes with that amount of M&M's. If you are looking for colored M&M's I found mine at Zurchers. If you don't have a Zurchers by you then order some from Amazon. Here are affiliate links to the colors I used - Black, Red, White. I had a hard time finding white M&M's for a decent price on Amazon - it might be better to buy those in some kind of mix with other colors - like these white and Pink M&M's.
Do you play Pokemon Go with your family? I am currently at Level 20 - oh gotta run and catch the Pokemon in my front yard.
Title:
Pokemon Go Pokeball Cupcakes
Keywords:
Pokeball Cupcakes
Last Updated:
August 14, 2023