Make a beautiful Monogram Charm Necklace. DIY charm necklaces make a great personalized gift for a teacher, bridesmaid or friends!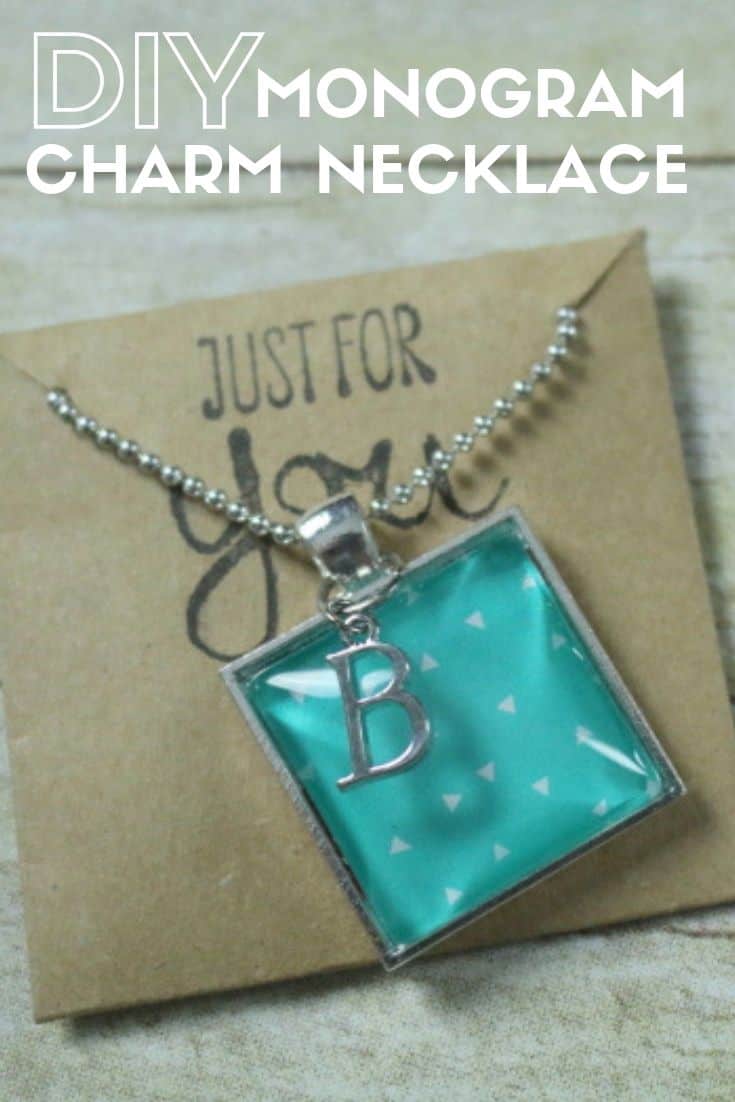 Do you love to give personalized gifts? These Monogram Charm Necklaces are gifts to my team at work and I am so excited to give them!
Most of the necklace components came from craftfantastic.com, and these kits are great for making your own jewelry. They make the process super simple, and the kits aren't very expensive either.
Supplies Used for Monogram Charm Necklace
Some links may be too similar items when exact items couldn't be found online.
How to Make a Monogram Charm Necklace
The kit comes with a glue that you apply to the back of the glass piece and then stick to the paper.
Let the glue dry for a couple of hours and then trim the paper around the square glass piece.
The next step is where the monogram comes in. I found these perfect silver alphabet charms.
Add a silver jump ring to each letter and then attach to the base of the square pendant.
Apply a super sticky dot in the center of the silver metal pendant, peel off the red backing and stick down the patterned paper glass square, and that is really all there is to it.
Of course, we need a cute way to package them! At the craft store, I also picked up these necklace envelopes.
But I couldn't leave them plain! So I added some fun stamping to the front of them.
String the monogram charms onto the 30" fine ball chain and put them in their packaging.
Here are all 8! I didn't make myself one (although I'm wishing I did), and the other person on our team is a guy, and I didn't think he would appreciate it, so he got a big bag of candy instead.
If you like these necklaces you should check out the DIY Jewelry Pendant Necklaces that I recently made.
I also have a tutorial on How to Make a Necklace Envelope if you want to make everything for your gift.
Have you ever made jewelry as a gift before? Share and leave a comment below!
And let's be friends on Pinterest so you can see all the DIY projects I'm pinning!
You Might Also Like:
Title:
How to Make a Monogram Charm Necklace
Mentions:
Monogram Crafts
Keywords:
monogram charm necklace
Last Updated:
June 1, 2023