Breadstick bites are a delicious addition to your family dinner table. A step-by-step recipe tutorial using Rhodes Rolls!
Have you tried the Parmesan Bites from Domino's Pizza? They are super yummy and are definitely a family favorite. 
This recipe is my version of their recipe. I made these up to go with our Baked Ziti and the kids just loved them (so did I).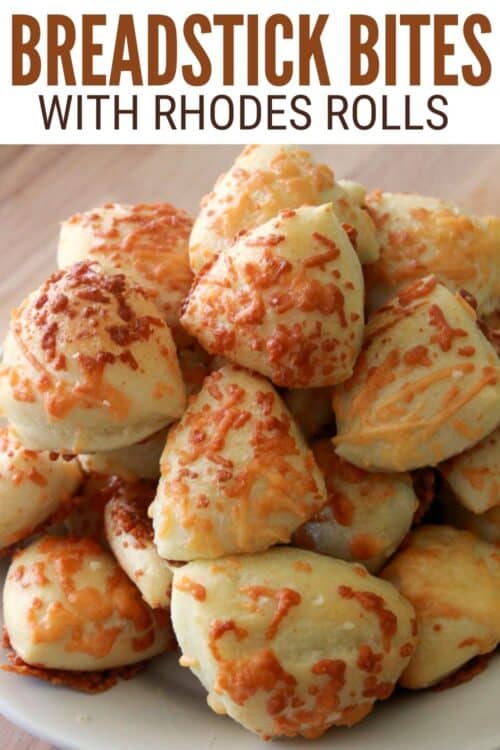 Did you know that we love to share our favorite tried and true recipes with you? Like Sausage Rolls, Coca-Cola Chicken Drumsticks, and these Oatmeal Chocolate Chip Cookies.
Be sure to look around the blog for more delicious recipe tutorials!
Ingredients You'll Need For This Recipe:
This post contains affiliate links.
Rhodes Roll Dough
½ cup Melted Butter
2 cups Parmesan Cheese
Garlic Salt
Alfredo Dipping Sauce
I used Rhodes Rolls for my breadstick bites, but you can make your bread from scratch if you like.
Prepping the Dough:
Put the rolls on a baking sheet and let them thaw for several hours. Here they are straight from the bag frozen.
They double/triple in size once they are thawed.
Once thawed cut in half. Then cut in half the other direction.
Coating the Breadstick Bites:
In one bowl melt the butter, and in another put your grated parmesan cheese.
Roll the dough bites in the butter until nicely coated, then place in the cheese and roll until nicely coated.
Place on a cookie sheet lined with parchment paper. The parchment paper will keep the bites from sticking to the cookie sheet.
Sprinkle on some garlic salt to your liking. Bake them in a 350-degree oven for about 15 minutes or until they are golden.
Once out of the oven spread more butter over the top of each breadstick bite.
Don't these look delicious?
Serve them with a yummy Italian dinner or with some sauce for a snack.
Our Baking Essential List:
If you love this recipe tutorial, please give it a five-star review and help me share it on Facebook and Pinterest!
Title:
How to Make Rhodes Breadstick Bites
Keywords:
rhodes breadstick bites
Last Updated:
June 29, 2023