This shop has been compensated by Collective Bias, Inc. and its advertiser. All opinions are mine alone.#SoHoppinGood #TopYourSummer #CollectiveBias
Delicious Banana Split Sundae Push Pops help beat the heat this summer. This recipe is easy to follow and sure to please. A great dessert or snack recipe.
Man it's hot outside! I live in Utah and feels like winter and summer each last 5 ½ months and the spring and fall barely exist. It got hot fast and now we are right in the middle of the hot summer.
So what do you do when the kids are from school but it's too hot to go outside and play? Make delicious Banana Split Sundae Push Pops and bribe them with one to cool off after they have spent some time outside. Hey, I'm a mom of four and not above bribery. 🙂
These Banana Split Sundae Push Pops really are so good with all of the flavors of a traditional banana split with the strawberries, hot fudge and of course fresh bananas! All mixed up and ready to eat in a simple push pop.
This recipe has no exact measurements and feel free to omit ingredients and add your favorites! That is why ice cream is such a great summer treat! Toppings can easily be changed to make even the pickiest eater happy and beat the heat of summer.
Banana Split Ingredients
Blue Bunny® Vanilla Ice Cream
Smucker's Strawberry Spoonable Ice Cream Topping
Smucker's Hot Fudge Spoonable Ice Cream Topping
Chopped Nuts
Cut Banana pieces
Push Pop Molds
Use a frozen metal baking sheet to mix your ingredients. This will help keep the ice cream frozen so it wont melt as quickly.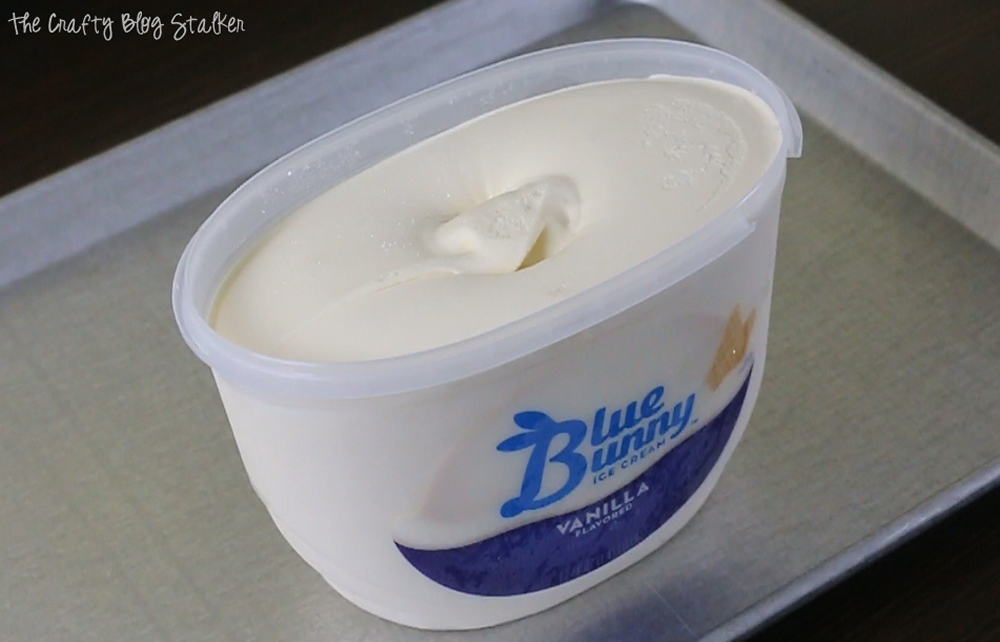 Scoop several scoops of the Blue Bunny® Vanilla Ice Cream onto the frozen baking sheet. I am filling 6 push-pop molds, so I scooped out about 4 cups of ice cream.
Take a couple large spoonfuls of Smucker's Strawberry Spoonable Ice Cream Topping and drop onto the ice cream. We are going to mix it all together so it doesn't really matter where.
Repeat with the Smucker's Hot Fudge Spoonable Ice Cream Topping. You can add as much or as little as you want.
For my 6 push pops I used ½ of a banana and chopped into small pieces and added that to the mix.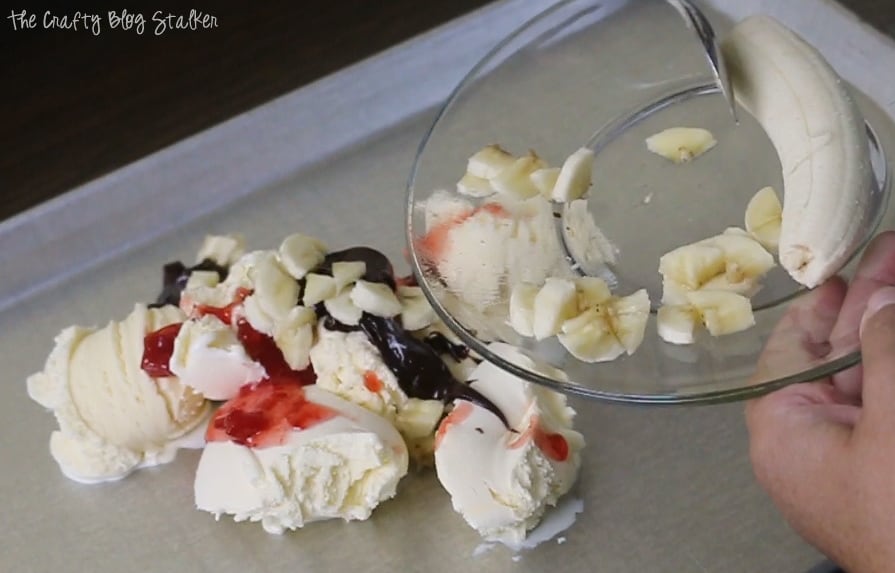 As a finale, a sprinkle of chopped nuts.
Using two wooden spoons combine all of the sundae ingredients.
The ingredients don't need to be well combined, just mixed in.
Spoon the mixture into the push-pop mold till about ¾ of the way full and push the stick part of the push-pop into place.
Put the push-pops in the freezer and let sit for a couple hours before serving.
Then they are ready to serve...
and be gobbled up.
MMMMM, Don't you wanna just lick the screen?! Well, don't do that. Just go buy your own Blue Bunny® Vanilla Ice Cream and Smucker's ice cream toppings.
I purchased my supplies at my local Walmart. I found the ice cream in the frozen dessert isle and the toppings in the coffee isle.
I actually went a little crazy while I was shopping and bought 4 varieties of Blue Bunny® Ice Cream. I love the cool new clear packaging that lets me see the swirls of flavors. Yum!
Like videos? I do have a quick video tutorial if you would prefer to watch the tutorial.
Do you have a favorite recipe that includes ice cream?
Title:
How to Make a Banana Split Sundae Push Pop
Last Updated:
June 1, 2023