Painted ceiling medallions add design and unique wall decor for your home. A simple DIY craft tutorial idea to add style to your home decor.
I saw this idea a while ago and I knew it was a perfect DIY for my blog and my home.  Ceiling Medallions are beautiful, but I decided to change them up a bit with paint and hang them on the wall as art instead of on the ceiling framing a light fixture.
I went to a couple different stores looking for them and found a very small selection, but nothing I was overly excited about.  That is when I headed to online shopping.  I found that Amazon had a HUGE selection and I easily found the perfect medallions to fit my style. The medallions I chose are…
The medallions are super lightweight so they are perfect to hang on the wall.  I am not exactly sure what they are made of, but they are sturdy, lightweight and paintable.  This is how they looked right out of the box.
I chose simple American Acrylic Paint in the colors I want for my room.
I was going to use a sponge brush but decided to go with a paint brush to really help me get in all of the nooks and crannies.
I put two coats on each piece to hide the brush marks and get a good solid coat.  The medallions are very easy to paint, you just really want to make sure that you cover it well with paint and don't miss any spots.
Here are the medallions all painted.  Aren't they pretty already?
Hung them on the wall using command strips. They are super light so light they will stay no problem.  I also matched them with a circle mirror that I purchased at Hobby Lobby.  The whole look came together very nicely and I love how it looks!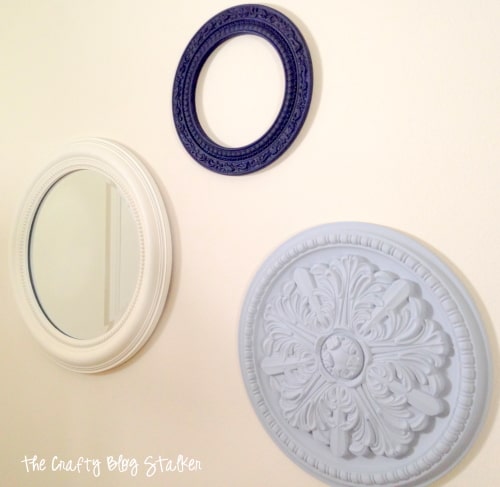 Plus they compliment the furniture that I have in the room too.  I love it when pieces come together to help make a room feel more complete.
Do you have a favorite piece of home decor that you DIY'd? What is it? Share and leave a comment below!
How to Make DIY License Plate Wall Art
How to Paint a Stenciled Door Mat