These are the most Pinterest Pinned tutorials from The Crafty Blog Stalker in 2014. Easy DIY craft tutorial ideas from easy sew projects to yummy recipes.
Another year has come and gone. It has been a very crazy and busy year for me. With travels to Canada, Belgium and several places all over the United States, I am feeling very blessed to have such a fun and adventurous year. This was also a big year for my blog! Since you were there to help me grow I thought it might be fun to show the most pinned posts from 2014 and most pinned EVER!
90% of my traffic comes from Pinterest, so a huge thanks to you for pinning and repinning my content. Keep up the good work.
Let's start with the five most pinned posts of 2014. Of course, we are going to start with number five and move to Number One!
Number Five: 23 Easy Ice Cream Maker Recipes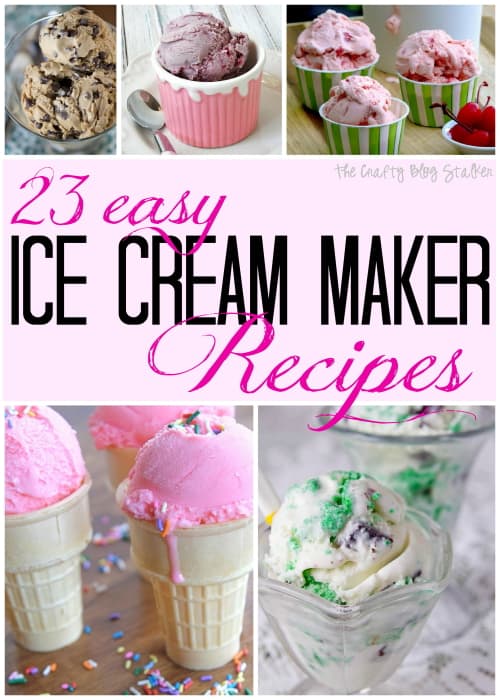 Number Four: Free Printable Paper Toys
Number Three: Coconut Oil Lotion Recipe
Number Two: Fabric Strip Rag Quilt
Number One: 30 plus Bread Maker Recipes
Curious to see what the time top five most pinned are? Then don't stop here, keep going!
Number Five: Best Homemade Lotion Recipe EVER!
Number Four: Best Homemade Ranch Recipe
Number Three: Listerine Foot Soak Analysis
Number Two: How to Make 20 Different Fabric Flowers
Number One: How to Make 20 Different Paper Flowers
Wow. Those were all fun posts to write. I am glad you enjoyed them as much as I did creating them!
Here is to another great year, and keep pinning! Do you have a favorite tutorial post from The Crafty Blog Stalker? Share and leave a comment below and let me know which one!